Tools & Materials
Superportable Sliding Miter Saw
With its 36V battery, this 7 1/2 in. cordless saw can last a day or more on one charge, even at a production-carpentry pace.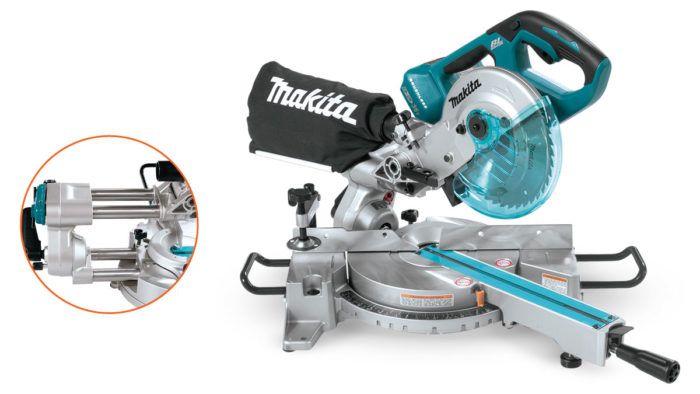 Working as an on-site carpenter, I choose my tools based on a host of qualifications. Size, weight, portability, and accuracy are my main requirements, although accuracy tops the list. For years, the now-discontinued 7¼ -in. Makita LS0714 sliding miter saw has met all of my needs. So when the company released the XSL02Z, a cordless version of that old favorite, I was ecstatic. The question then became about the tool's performance. Sure, it looked to be a carbon copy of the LS0714, but could it perform the same?
I have found that even with its small blade, this saw's crosscut capacity of 113/4 in. at 90° rivals that of larger saws, and its 36v motor makes it a powerhouse. I have not found a board that will bog the motor down. The small blade doesn't deflect as much as larger blades, and since it spins faster (5700 rpm) than the blades on most saws, it makes cleaner cuts with no splintering. The small blade also seems to help in the dust-collection department, an area where the bigger saws I've used or owned don't even come close.
Compared to the more standard two-rail saw setups, I also like the LS0714's four-rail slide design because it improves the saw's accuracy. Extend the saw fully and try to wiggle the head back and forth, and you will see what I mean—there's zero movement.
This saw also has amazing runtime. On medium-use jobs like cutting cabinet frames and small trim, I find I can run the saw for two to three days on a pair of batteries. Even at a production pace, I am able to get a full day's work and still have some juice to spare.
Perhaps my favorite feature of all is how light and compact this saw is. Just shy of 30 lb. with both batteries, it's a breeze to carry one-handed or via the built-in work supports that slide in and out.
One of my few beefs with the saw is the microscopic bevel gauge. I only find it to be a problem on odd angles, however, as common bevel angles have larger markings. When beveling at less common settings, I cut a miter in a block at the desired angle and use it for setting the bevel. It's also unfortunate that this saw bevels only in one direction, but I've gotten used to flipping boards quickly. Another downside is the low rear fence. It maxes out at about 2 in., making it impossible to cut crown and base against the fence.
One significant difference between the XSL02Z and its corded predecessor is the location of the trigger safety. The cordless saw's safety is on the side of the handle, and the location makes holding back the blade guard and depressing the safety with one hand a bit more of a challenge.
Overall, I think the positives far outweigh the negatives on this saw, and I had little trouble adapting to and overcoming the short list of problems because the saw's portability and accurate cutting easily made up for any deficiencies.
Makita XSL02Z
Blade diameter – 7 1/2 in.
Miter – 47° left, 57° right
Bevel – 45° left 5° right
Crosscut capacity at 90° – 2 1/16 in. by 11 3/4 in.
Crosscut capacity at 45° – 2 1/16 in. by 8 3/8 in.
Price – $530, bare tool
Nathan Rinne, a finish carpenter in Roach, Mo.
Photos: courtesy of Makita; bottom courtesy of Nathan Rinne
From Fine Homebuilding #281
More about Makita tools: