Improvised Appliance Sled
Strips of smooth laminate make sliding a new appliance into tight spot a quick and easy job.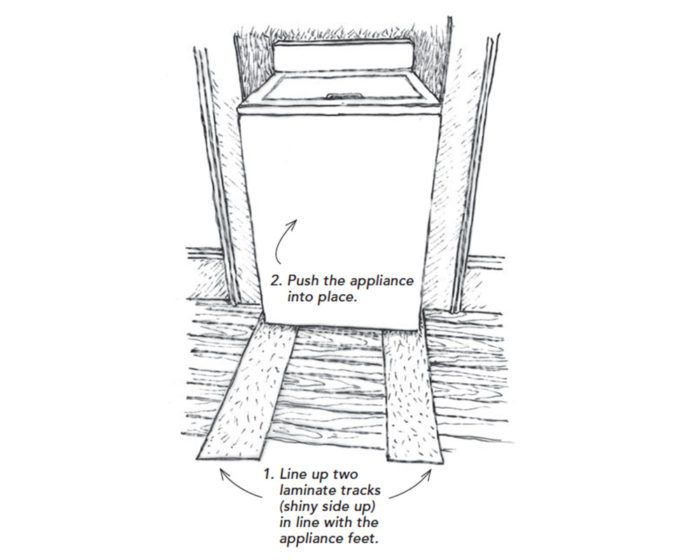 When I need to slide an appliance into a tight space, I take two pieces of plastic laminate—the kind used for kitchen counters—about 4 in. wide and 6 ft. long. Usually I turn the shiny, slippery side up. I place the strips so that they line up with the appliance's feet, creating two tracks into the appliance space. Then I put the feet on the strips and slide the appliance into place. I tilt the appliance slightly to the right or left to free one of the laminate pieces, and then I do the same on the other side. Recently I had to slide a 24-in.-wide stacked washer/dryer into a 241⁄2-in. space. This unit had rubber pads on the steel feet that would not slide on the finished oak floor, so I put the shiny side down and positioned the two strips directly under the appliance feet. The laminate slid easily on the clean floor, and I removed the strips as usual.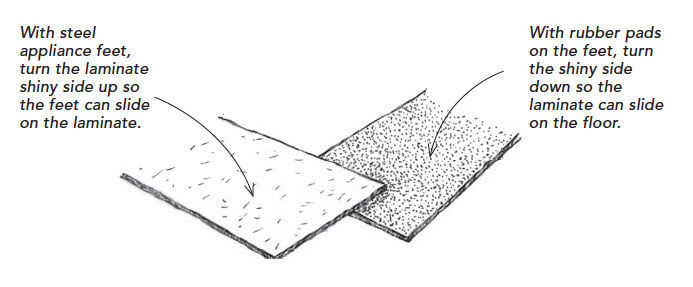 —Stephen Beese, Winston-Salem, N.C.
Edited and Illustrated by Charles Miller
From Fine Homebuilding #281