Vertical Fit: A Modern House Conforms to Strict Height Restrictions
The design-build team persevered to give this four-bedroom home in Austin, Texas, the stature it deserved while meeting tough zoning regulations.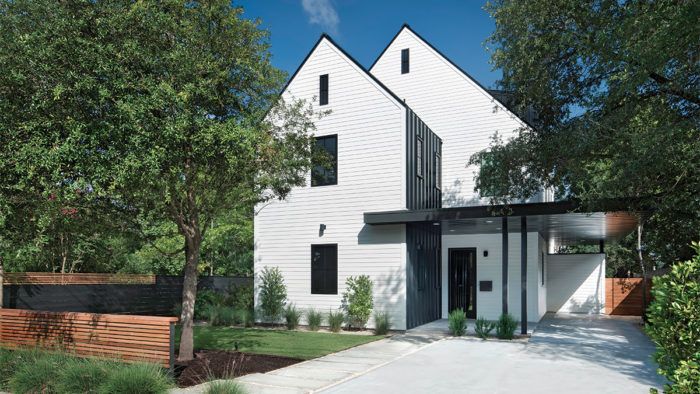 Presented with a tight urban lot that needed to accommodate a four-bedroom/ four-bathroom home, Clark Richardson Architects conceived a strongly vertical two-gabled modern farmhouse. The city of Austin's height and building-area constraints were a constant battle. The challenge was to maintain a cost-effective structural design, address the desire for high ceilings throughout, drain the deck area effectively, and do all of this in an aesthetically pleasing manner. The solution included a "habitable attic"—an open, vaulted space daylit by dormers—on the third floor that conforms to local code exemptions.
The finished attic opens directly onto a floating wood deck atop a recessed roof surface, which allows water to drain directly into the gutter running the length of the primary gable. For a pleasing overall look, gables clad with white fiber-cement siding are outlined in black metal paneling, which wraps into the carport at the front entry, transitioning from roof to wall and down to grade.
More modern homes on FineHomebuilding.com: