Podcast Episode 156: Home Building Across the Globe, Air-Sealing Can Lights, and Parging an Old Concrete Wall
This week's podcast starts off with Matt's insights into residential construction methods in the many places he's lived around the world while writing for the newspaper Stars and Stripes.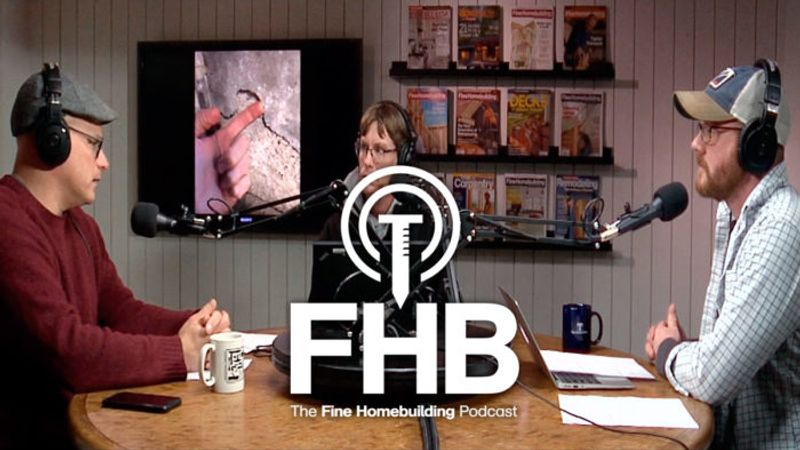 Follow the Fine Homebuilding Podcast on your favorite app. Subscribe now and don't miss an episode:
Because the Fine Homebuilding editors have nothing to report on their personal home-remodeling projects, Patrick asks Matt to recount experiences he's had living in unique homes in Europe and the Middle East. Then it's on to the advice portion of the show, where the guys offer solutions for improving attic insulation, avoiding het loss through leaky recessed lighting, and repairing crumbling plaster or stucco on old masonry foundation walls.
---
Editors' updates: Housing around the world

Patrick asks Matt about the multitude of home styles he'd seen when traveling around the world in his former career as a military journalist.​
But first, a quick look at the progress on Matt's custom workbench…
Related links:
---
Question 1: Blow in cellulose on top of old fiberglass insulation?
Jorge from San Antonio writes: Good afternoon, I am facing a common problem that has been coming up with other listeners. My home was built in 1979 and is as an energy pig.  It's a single story and i would like to air seal the attic before blowing in some cellulose. It currently has a few inches of some, blow in fiberglass insulation, the black stuff that makes your skin itch like the devil.  Now, is it worth removing all the old insulation and properly air sealing with acoustical sealant and spray foam.  Or will I get similar results by just blowing in a mile of cellulose. Thanks.
Related links:
---
Question 2: Improving the air-seal on my caulked can lights?
Chris from Connecticut writes: Hey Guys, Five years ago we moved into our current house in Connecticut (a Cape) and I added eight can lights with LED retrofit screw in bulbs in the living room via access through the second story floor which I cut open, and the holes I drilled in the ceiling. By this point I had read about all of the convoluted ways to try to safely air seal can lights and I promptly disregarded them all in favor of caulking the trim kit to the ceiling drywall. So far as I can tell with a smoke stick they are airtight, and I needn't worry about these bulbs dying for a little while yet, so why the hell isn't everyone doing this?.
Related links:
​
---
Question 3: What's the best way to insulate my crawlspace?
Joey from Boston writes: Hi! I have a question that I think is about air-sealing and insulation.
Our 1st-floor laundry/bathroom gets very cold in the winter, despite the adjacent sunroom, which shares the [forced hot water] heating zone, being pretty comfortable. The 11'x12′ bathroom was added on in the 50s, and because of its location is exposed on 3 sides and has a flat roof above. I think it's also at the tail of that particular heating loop.
Below both the bathroom and sunroom is a crawlspace. There's an opening from the full-height basement, but this is full of AC ductwork so the remaining access is via an exterior window (33″x15″). There's actually a dedicated "unit heater" for this crawlspace with its own thermostat (currently set at 55°), presumably to avoid freezing pipes. There is some insulation between the floor joists, but only under about half of the floor area. Last winter, I spray-foamed some obvious gaps around the foundation and weather-stripped around the window.
I'm not sure what the best, most efficient approach is:
to isolate the living space from the crawlspace by insulating and air-sealing the floor better, and letting the unit heater minimally warm the pipes below, or
to insulate the foundation wall, maybe with spray foam, and just treat the entire space as conditioned. Should I remove the insulation batts in this case? And how high should I set the crawlspace thermostat?
Another option?
Related links:
---
Question 4: How do I clean up my parged basement walls?
Clifton from Portland writes: Hi Guys, I have been slowly renovating my 1916 bungalow in Portland Oregon and recently discovered your podcast!  I wish I had a couple years ago how much great information is available on through Fine Homebuilding.
My question is the next project on my list is to clean up the basement and make it a little nicer for my workshop and utility room.  I have a foundation wall that is about 4 ft high around the whole parameter topped with a pony wall.  At one point someone tried to do a parge coat on the old foundation but in spots it is bubbling off from what I can only assume is where some moisture is coming though.  In researching further I read that parging a cement wall that is mostly lime with a mix of mostly Portland cement will cause this as moisture and minerals being pulled through the concrete will be blocked by the Portland in the mix and cause it to bubble and crumble.  I tested a little bit of the original foundation with some vinegar and indeed got lots of bubble indicting a high lime content.
| | |
| --- | --- |
| | |
I'd like to re-parge the walls to clean everything up as well as protect the original foundation since it is on the softer side due to unwashed sand which was common at the time.  I've read that using a hydraulic lime mixture instead is the way to go so have a couple of questions.
– Would I need to somehow remove all of the bad portland parge or just in the spots where it is bubbling off?
– Does this sound like the direction to be headed in or is there some other way to address the issue as I can't afford any major foundation work at the moment?
Thanks!

Related links:
---
Fine Homebuilding at the 2019 International Builders' Show

If you can make it to IBS (Feb. 19th – 21st) in Las Vegas this year, you can get FREE tickets to the floor show courtesy of Fine Homebuilding.
Also, if you definitely plan to be at the show, email us at [email protected] if you would like a chance to join us for the taping of one our 6 episodes at the Fine Homebuilding booth (at 10am and 3pm each day of the show).
---
This episode of the podcast is brought to you by Benjamin Obdyke and MiTek
This episode of the Fine Homebuilding Podcast is brought to you by Benjamin Obdyke would like to use the special occasion of our 150th anniversary to thank the nuisances that builders and homeowners despise. Our premium products protect from those pesky things like rain, snow, UV rays and the neighbor's sprinkler system. Take HydroGap, a drainable housewrap that eliminates moisture from your wall assembly. Or the new InvisiWrap UV, an all-black WRB, perfect for long-term moisture protection behind open joint siding.  Come hang out with our awesome team and see our sexy new solutions at the International Builder's Show, booth C7250. 
Also brought to you by MiTek for Breakthroughs in Building. MiTek offers integrated Solutions…for more affordable, sustainable, safe, healthy, efficient and resilient homes. As a diversified, global supplier of software, engineered structural connections, engineering services and automated manufacturing equipment, MiTek provides a technologically advanced, high-quality, and reliable approach to building better homes with better technology.  Work with the industry leader to solve the labor shortage, reduce cycle times and eliminate waste.
We hope you will take advantage of a great offer for our podcast listeners: A special 20% off the discounted rate to subscribe to the Fine Homebuilding print magazine. That link goes to finehomebuilding.com/podoffer.
The show is driven by our listeners, so please subscribe and rate us on iTunes or Google Play, and if you have any questions you would like us to dig into for a future show, shoot an email our way: [email protected]. Also, be sure to follow Justin Fink and Fine Homebuilding on Instagram, and "like" the magazine on Facebook. Note that you can watch the show above, or on YouTube at the Fine Homebuilding YouTube Channel.
The Fine Homebuilding Podcast embodies Fine Homebuilding magazine's commitment to the preservation of craftsmanship and the advancement of home performance in residential construction. The show is an informal but vigorous conversation about the techniques and principles that allow listeners to master their design and building challenges.
Other related links