Why I Build: Brent Kelosky, Wood-Flooring Specialist
A second-generation flooring contractor explains how a job well done is as much about the way you run your business and treat your clients as it is about your level of craftsmanship.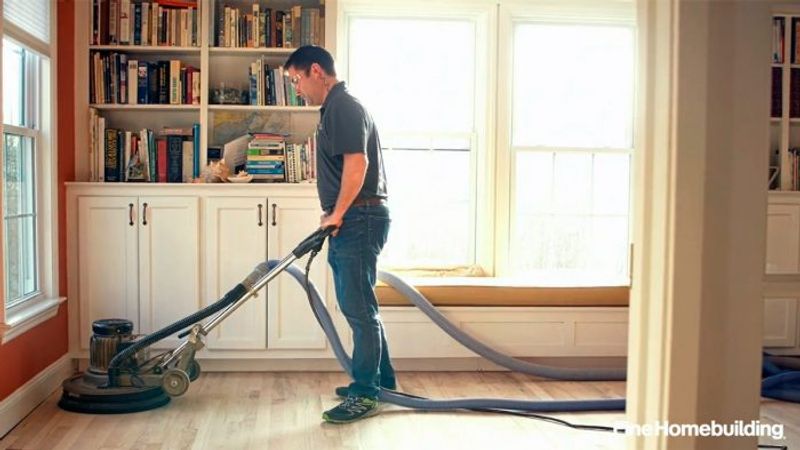 I got into the business because it was my father's business, and I grew up watching him go out and do quotes and different aspects of the sales process. I think I was probably 17 years of age when I actually started doing some labor in the field; 18 when I fully started. I've always enjoyed sanding, primarily — I have a lot of experience in installations as well, but sanding has sort of always been my passion. Most people don't understand what it's going to look like. You start with an old floor, and as you're working through the process, it's changing so drastically that they're [the client] going to work and then they come back, open up the door, and just the look on their face is satisfying. It makes you feel good. It makes you feel that you've really accomplished something for the day. Wood Floor Designs is the name of the company, and we've been in business since 1991.
I think we have a higher level of quality and that makes us better. Why? It's in every aspect. We answer the phone. It sounds silly, but a lot of my competitors, they have answering machines or an answering service, so we are there to communicate with somebody from the very beginning. We visit every project. A lot of my competitors, again, have a one-price-fits-all price or quote. We don't do that. We quote the project based on how difficult it is and what it's going to take from a time standpoint and labor standpoint to make that happen. So we spent a lot more time in the estimating and the evaluation process, but in the end, that's how you know what the client expects and you make sure that you're hitting those needs.
Today we're going to a project that is a prefinished mix of red- and white-oak floor that has a fair amount of fading that has happened from the sunlight coming in. So anywhere where there was an area rug, or a plant, or furniture sitting—it's darker. And then around that area is exposed to sunlight and has faded. There are three rooms and the customer decided to have the whole area refinished and stained to eliminate the fading, and also just to rejuvenate the urethane surface. We have a belt sander on site that you use to sand the majority of the floor area from course to fine grit and that is to remove the finishes and level the floor, get out any gouges, scratches, and the fading that we're seeing. Then we have an edger that is used to sand the perimeter up to and about 3 or 4 in. from the wall and then we hand-sand and hand-scrape the corners to remove the finish that's left in that area.
It is hard to find good people. It's a hard job. It's a dirty job. It takes a lot of skill, and I would say you're not proficient at least until you have a year under your belt. But if you get the right guy, we jokingly say you become a termite. You know, you get the sawdust in your blood. They stick; they love it. And we're very fortunate. I have employees that have been with me 20 years.
Refinishing a floor is definitely craftsmanship. It is something that is very difficult to learn and learn well because you have to have the eye. You have to be able to see what's happening to the wood and understand what's happening to the wood and understand what you're doing and how that's going to impact that the next phase. Not everybody has that. That's something that is learned, but you also have to have that in you to some level. I build because I enjoy it. I've always enjoyed it. I get a lot of satisfaction from it and it gives me opportunities. It gives me opportunities to help people. It gives me opportunities to work with people, meet people, and transform things. I really enjoy that aspect of seeing something change and bringing something back to life. It's extremely satisfying.
Brent Kelosky is the author of  the article "Refinish Your Wood Floors" and vice president of Wood Floor Designs in Koppel, Pa.