A She Shed Tucked Into an Urban Setting
A forgotten greenhouse in San Antonio, Texas, finds new life as a rustic backyard living space.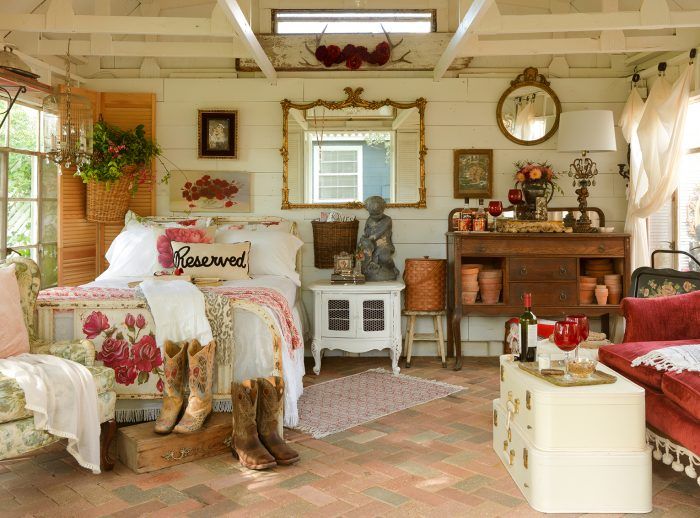 The restoration of this once tumbleweed of a greenhouse with a leaky roof, may have seemed daunting to most. This old building was a perfect opportunity to create a backyard getaway for relaxation, reading a good book with a cup of coffee and hanging out with friends and family. The tattered treasure is in an urban neighborhood located just a stone's throw from downtown San Antonio, Texas. The homeowners had recently purchased a home and this little gem came with it, free of charge! 
Structurally, the shed needed a major buttoning up. The rickety roof was first on the list. Worn shingles were replaced with a metal roof built to last a lifetime. Next on the list was the structure itself. Everything was questionable, but not beyond repair. To get things started, the back wall of windows was covered by a sturdy wall of shiplap. Next, the side windows were scraped, repainted and caulked to make them both beautiful and functional. The entrance to the shed also needed some attention. New French doors were installed in keeping with the open-air environment.  Flooring was another issue that needed to be addressed. Texas brick, indigenous to the area was an obvious and perfect choice.
Once the basics were completed, attention was turned to the finishing touches. Vintage and reclaimed were what the homeowners and designer, Sue Whitney decided on for the desired feel and look. With that in mind, old shutters turned into shelving and doors, a rescued awning was installed and reclaimed stair railings were added to the mix. Last, but not least a quaint little side alley was created between the shed and the privacy fence. Pebbles and pavers were the only two components needed to complete this part of the project.
To see more of Sue Whitney's beautiful She Sheds, click here for the Taunton Press book: Junk Beautiful She Sheds, Hundreds of Inspired Ideas for Your Backyard Retreat