Flooring Over Plank Subfloor
Whether or not you need plywood underlayment under engineered wood flooring depends on the condition of the original subfloor.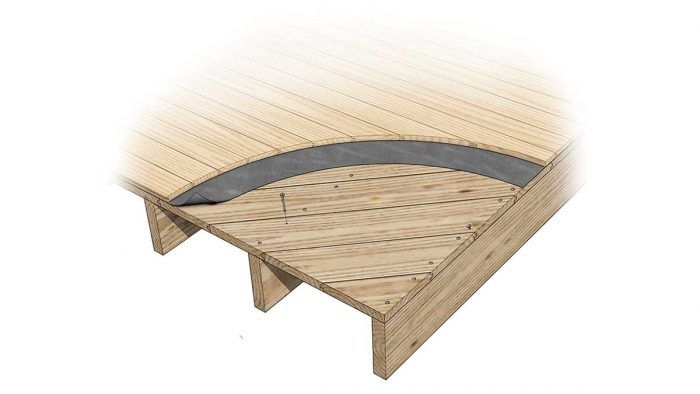 We will be installing engineered wood flooring over an old tongue-and-groove plank subfloor. The subfloor is in good condition, but we are thinking of putting plywood over it before installing the flooring. Is 1⁄4-in.-thick plywood okay, or do we need something thicker? And should we use rosin paper between the plywood and subfloor?
—DAVID via FHB.com
Rudy Kelosky, owner of Wood Floor Designs, Inc., responds:Depending on the condition of the subfloor, you may not need the plywood at all. Solid-board subflooring should be 3⁄4-in. by 51⁄2-in. group 1 dense softwood such as Douglas fir or larch.
Check the current subfloor for flatness, protruding fasteners, and squeaks, and reattach any loose boards. If the board subfloor is in poor condition, use plywood as a clean, flat surface to glue down 1⁄2-in.-thick engineered flooring. If the subflooring is in good shape, nail it down without the plywood, assuming the engineered wood is of good quality and 1⁄2-in. thickness or more.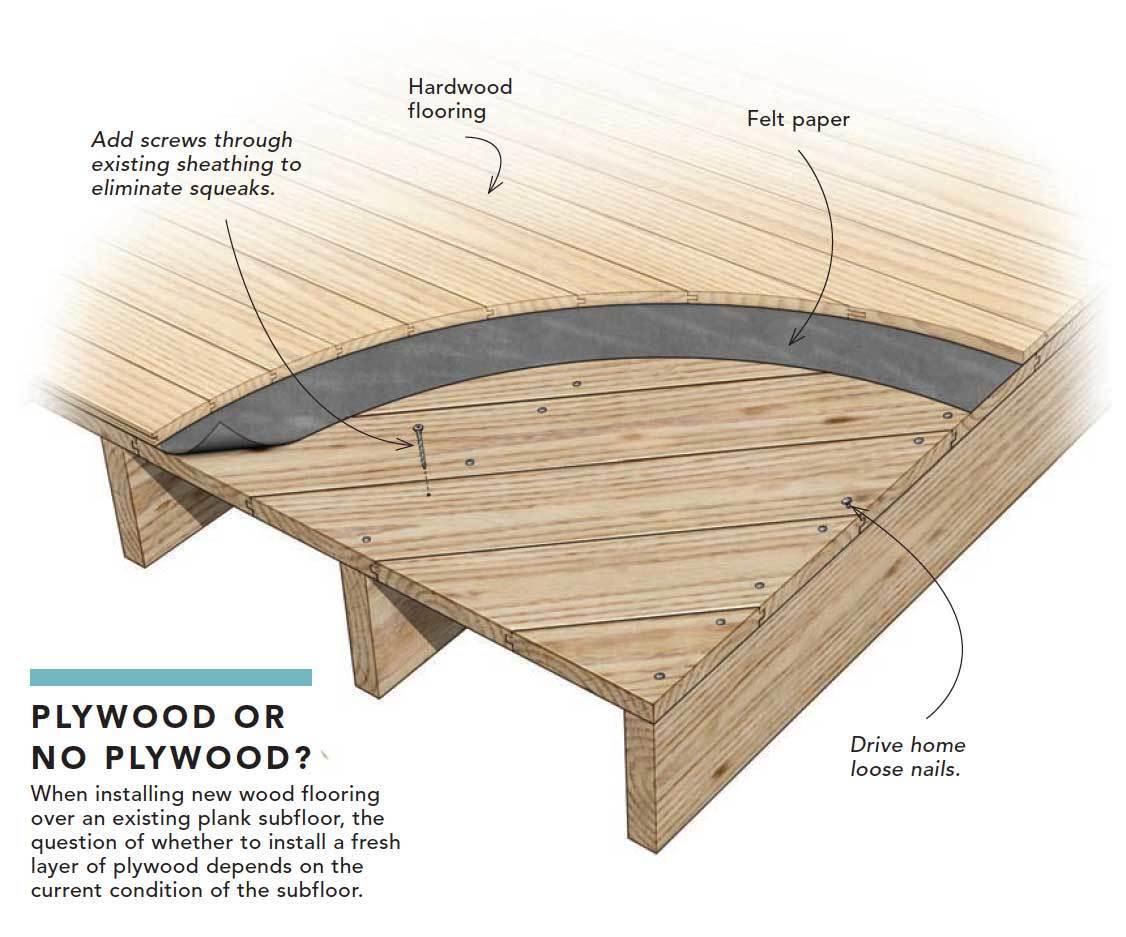 If the current subfloor has tongue-and-groove hardwood planks, check to see if it is attached directly to the joists or if it's on top of another subfloor. If it is attached to the joists, you can use the 1⁄4-in. plywood to establish a flat surface and separate the two hardwood surfaces to avoid the expansion and contraction differences between the two hardwoods. If it's on top of another subfloor, remove the tongue-and-groove hardwood to get down to the lowest subfloor level. Check for squeaks and flatness, and install plywood if needed.
As for the rosin paper, it may help with squeaks between the subfloors, but you are better off addressing the root cause, which is proper installation of subfloor and hardwood. Follow the manufacturer installation recommendations, and inspect the subfloor and fix the squeaks before installing the flooring. It is best to use #15 felt paper as a moisture barrier between the subfloor and hardwood if nailing down, or between the subfloors if gluing.
Drawings: John Hartman
From Fine Homebuilding #286
More about flooring installation
11 Wood-Flooring Problems and Their Solutions – For flawless wood floors, avoid these installation and finishing mistakes.
Save Time With a Prefinished Wood Floor – Factory-finished products mean less work on site, but they demand a more careful installation.
Install Wood Flooring Series: Laying Out Flooring – Making all calculations, adjustments, and layout marks before you lay the first board will get you professional results on your next flooring project.