Podcast 198: Is It OK to Insulate Around an Electrical Service Panel?
The Fine Homebuilding editors revisit the topic of finding odd stuff in old walls before tackling questions about doors, insulation, exterior painting and more.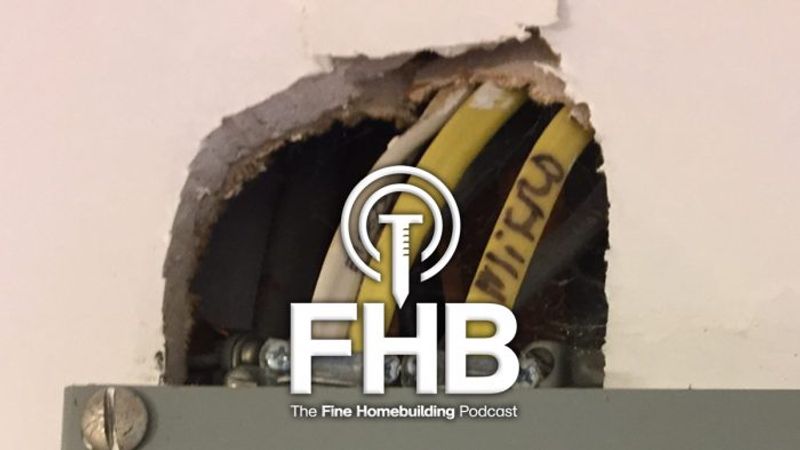 Follow the Fine Homebuilding Podcast on your favorite app. Subscribe now and don't miss an episode:
Justin, Matt, and Rob kick off the show by reminding everyone that there are only a couple weeks until the Fine Homebuilding Summit and there are still a few tickets available for this educational event focused on the fundamentals of high-performance, high-quality home building. After reading some listener feedback, the crew discusses possible solutions for five separate questions from the Fine Homebuilding Forum and the FHB Podcast inbox, including how to replace floor joists, how to cut a hollow-core door, how to finish a wooden basement door, how to insulate around an electrical panel, and whether or not primer filler is a substitute for filling and sanding old siding.
---
Listener Feedback:
Listener feedback #1
Mason Lord, owner of Hudson Valley Preservation Kent, Connecticut, writes, In a recent podcast you were chatting about things you've found during remodels. One time we found a time capsule in a column on a Greek Revival home in Dutchess County, NY. I remember my excitement as I crawled up about six feet into the column to retrieve the package nailed to the wooden disk that helped keep the staves of the twenty-four inch diameter columns in position. Carefully wrapped in newspaper, and held together by twine, the letter gave the names of who worked on the house and the date of construction as June 26, 1845.
Related links:
Listener feedback #2
Doug from Florissant, CO writes, On #195 you discussed dealing with spray foam, adhesive and tape after the fact. About 1 year after finishing our house my string trimer sent a rock into the thermo pane glass in our back door. I ordered replacement glass and didn't expect any problems doing the install. When I started to remove the cracked glass I discovered that it was secured in the door with VHB tape. It was much harder to remove than any 100 year old glazing putty I have ever encountered. I used clear silicone to set the replacement.
---
Question 1: What's the best way to replace damaged floor joists during a remodel?

Steve writes, We are in the process of remodeling our home and have ran into several "hacked" floor joists above the kitchen. The old bathroom was above the kitchen and whoever ran piping really did a number on the floor joists. We ended up removing the subfloor and removing 9 joists. (Rough cut 2x10x16)
When sizing new joists to install, would it make more sense to install an LVL perpendicular to the room and then install new joists and use joist hangers to attach to LVL? Or just run the joists the entire span of the room? Room is about 16' 7" and the space above will be a bed room.
Would the LVL make more structural sense or not?
Related links:
---
Question 2: How much can you cut off of the top and bottom of a hollow-core door?
Nick writes, Anyone have a good feel for how much you can cut down a masonite bifold door?  From the top or bottom, or both?
I have  a potential client that needs all the doors to his closets replaced, and he spec'd primed and painted masonite units.  The house has non-standard door openings, so some of the doors need to be cut down anywhere from 1/2 to 1 3/4″.  The 1/2″ is probably more doable than the 1 3/4″, but thought someone might have firsthand knowledge by how much you can cut these things down.
Related links:
---
Question 3: What's the best way to finish a wooden bulkhead door?
Dave writes, I am replacing my wooden bulkhead door using the FHB article, Better Looking Bulkhead Doors. My house is in Connecticut and the bulkhead is on the south side of the house.
The doors, trim, and siding are all going to be cedar. Originally I was going to follow the article's suggestion and finish the new bulkhead with exterior acrylic paint. But now the wife wants me to use with a weatherproof sealer of some kind so the pretty cedar isn't hidden. A penetrating oil finish sounds like an easy way to go, but I am not crazy about having to redo it frequently. I have used Spar varnish on a door threshold which came out great, but it took multiple coats to really look good and wasn't cheap even for a quart or varnish.
Does anyone have a suggestion that falls somewhere between the two? Easy to apply, looks great, and will hold up for a decent amount of time.
Related Links:
---
Question 4: Can I insulate with spray foam around an electrical box?
John writes, My 1970 Maryland house was very poorly insulated when we bought it 4 years ago. I've upgraded the insulation by blocking the unused fireplace, covering unused windows with plastic, sealing egregious attic penetrations and by blowing in loose fiberglass full into to the attic. This one spot in the basement is vexing me. How do I safely insulate around my electrical panel?
Will an electrician curse my name if I fill it with spray foam?
Thanks for a great magazine and podcast.

Related Links:
---
Question 5: Will I still have to fill and sand cracks and chips in siding if I use Peel Bond Primer ?
Ethan writes, Just bought our first home and about to repaint the exterior. The house is almost 100 years old – the paint on the clapboard is peeling in certain areas (down to bare wood), alligatoring on the windows, and chippy paint on the rafter tails.
My previous approach on other products was scrape/sand, apply a high-build primer and sand smooth. I've been looking at Peel Bond Primer which, on paper, has the ability to bind old layer and self-level low spots. Dries clear, but also tintable and applied 30 mils wet?! I think I see the purpose from a production/commercial side as way to reduce prep work. But this my house..
Any first hand experience?
I find it hard to believe its going to spot-level 8 layers of paint next to bare wood – can it be sanded though?
What about a high build primer over the PB primer – Any product recommendations?
Can it be sprayed with a Graco Magnum X5 (tip commendation)?

Related Links:
---


Learn more and register for the Fine Homebuilding Summit.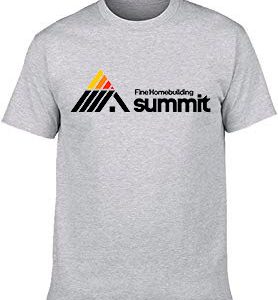 ---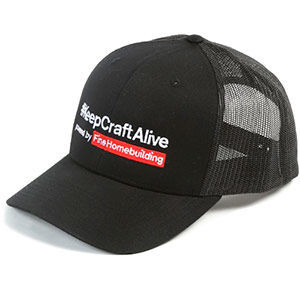 #KeepCraftAlive

KeepCraftAlive hats help celebrate the value of true craftsmanship–plus 50% of all proceeds from every hat sold go to the #KeepCraftAlive Scholarship Fund, supported by Fine Homebuilding and SkillsUSA.
Buy a #KeepCraftAlive hat or t-shirt
---
This episode of the podcast is brought to you by MiTek and The Bilco Company
Brought to you by MiTek ProSeries Structural Wood Screws, the new standard in wood screws. MiTek's ProSeries Screws are code compliant, reduce labor time, and are available for many fastening needs. And now the MiTek ProSeries line includes the WSTS Truss/Stud Screw. The WSTS includes an installation angle tool and driver bit to help you drive every screw at the exact angle needed without complicated jigs or measuring. Reverse thread angles on opposite ends of the screws provides higher load capacity while a fully threaded shank allows for more flexible installation. Get through the job faster, easier, and stronger with MiTek ProSeries WSTS Truss Stud Screw. Visit Mitek-Us.com and search Pro Series for more information.
And by The BILCO Company. Basement improvements are one way for homeowners to add livable and saleable square footage to their homes. BILCO basement doors and egress window wells provide access to finished basement areas and add light, ventilation and code-compliant emergency egress. Whether it's a family room, game room, home gym or even an extra bedroom, get more out of your basement with BILCO. For more information visit BILCO.com.
---
We hope you will take advantage of a great offer for our podcast listeners: A special 20% off the discounted rate to subscribe to the Fine Homebuilding print magazine. That link goes to finehomebuilding.com/podoffer.
The show is driven by our listeners, so please subscribe and rate us on iTunes or Google Play, and if you have any questions you would like us to dig into for a future show, shoot an email our way: [email protected]. Also, be sure to follow Justin Fink and Fine Homebuilding on Instagram, and "like" the magazine on Facebook. Note that you can watch the show above, or on YouTube at the Fine Homebuilding YouTube Channel.
The Fine Homebuilding Podcast embodies Fine Homebuilding magazine's commitment to the preservation of craftsmanship and the advancement of home performance in residential construction. The show is an informal but vigorous conversation about the techniques and principles that allow listeners to master their design and building challenges.
Other related links