Eichler Revised
With low-slung roofs and strong horizontal lines, this new build embodies the renowned midcentury-modern style.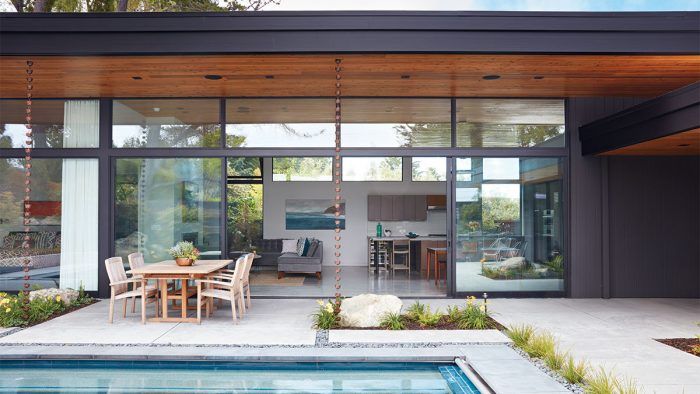 "We learned an important and costly lesson about making design decisions using a digital 3D-rendering tool."
– John Klopf, Klopf Architecture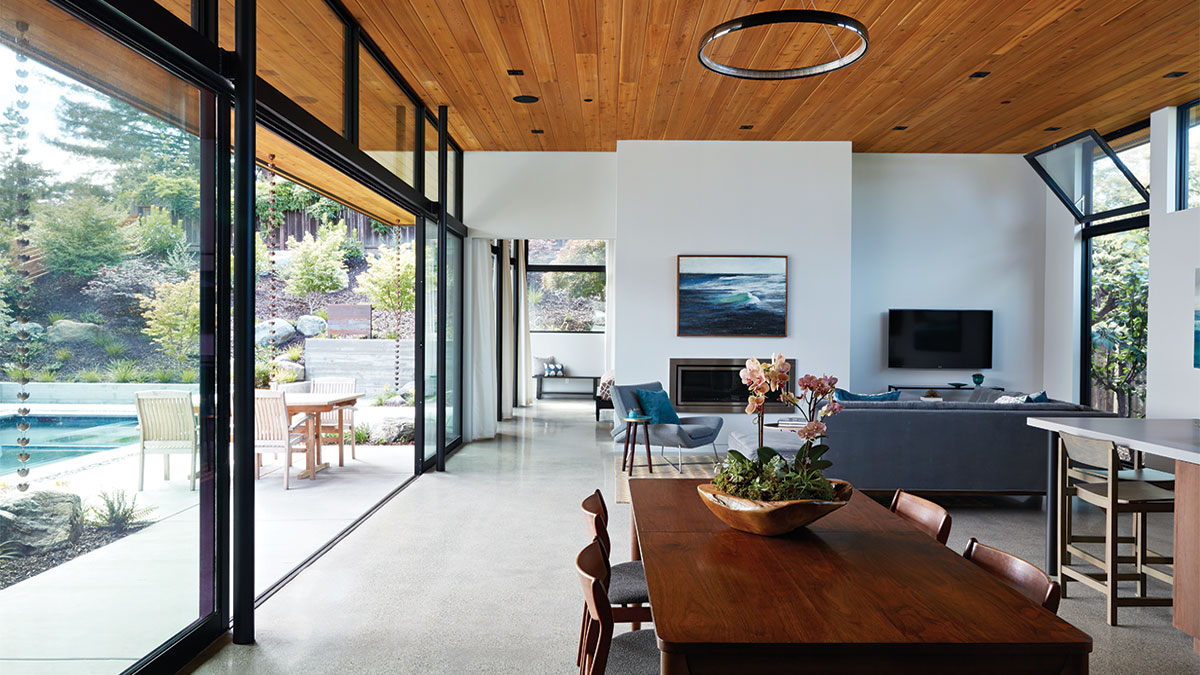 This project by Klopf Architecture was inspired by the Eichler house that occupied the lot originally before succumbing to fire. Located in San Mateo Highlands—an enclave of houses built by developer Joseph Eichler beginning in the mid-50s—the new build embodies his renowned midcentury-modern style, the hallmarks of which include low-slung roofs, strong horizontal lines, flat-roof eave overhangs, dark vertical siding, and solid-panel doors.
Initially, the team considered reusing what little was left of the existing structure and expanding on it. When that approach proved impractical, they designed a new home that contemporizes the Eichler aesthetic. Because Eichler's mass-production homes were not optimized for their specific lots, building new was an opportunity to rethink the site. The uncommonly deep lot allowed the team to reorient a larger, more linear multigenerational family home. Now facing south, the house benefits from a breezeway connecting the main house to an in-law unit, allowing both structures to open onto a new pool and gardens. (view a 3D walkthrough of the entire property on the architect's website: klopfarchitecture.com/project/glass-wall-house/)
Unlike original Eichlers, this house is devoid of exposed posts and beams; western red cedar ceiling decking masks them. However, in Eichler fashion, the cedar runs continuously from inside to out, enhancing the indoor-outdoor feeling with an added advantage: It conceals a cavity for lighting, wiring, and insulation.
Though the results are streamlined, the process included a significant snag. During the rough-framing stage, it became evident that the front of the house was too tall because the height of the rear volume had been carried through to the front elevation. Aesthetically, it worked against the goal of blending with the neighboring single-story homes. Principal John Klopf decided to absorb the cost of the mistake; he had the front framing completely redone, lowering that section by 3-1⁄2 ft. to bring the horizontal roofline in line with the adjacent houses.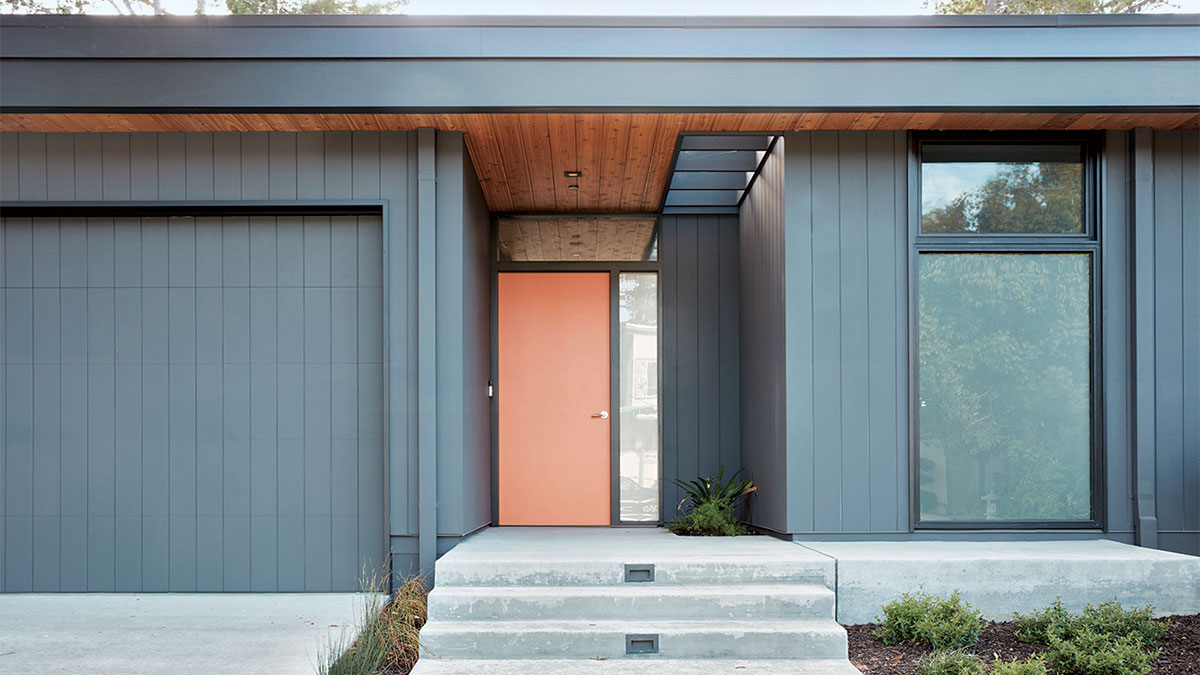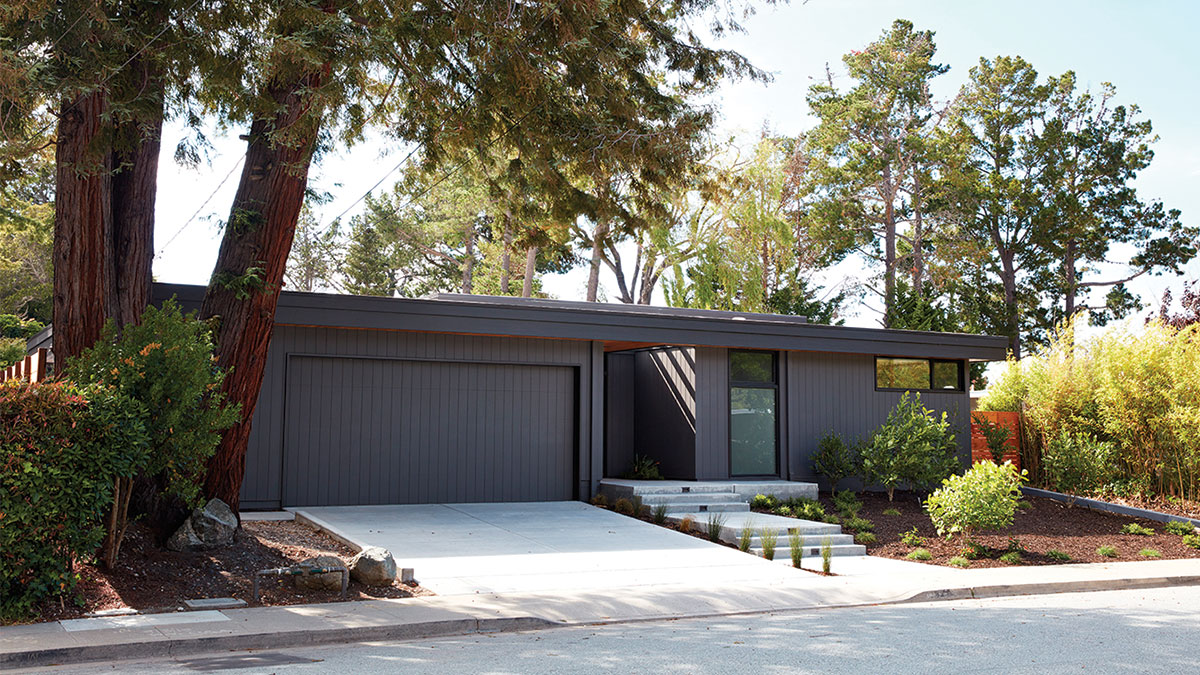 Designer Klopf Architecture, klopfarchitecture.com
Builder Calvert Ventures
Location San Mateo, Calif.
Photos Mariko Reed
From Fine Homebuilding #288
More modern architecture homes:
Mid-Century Eichler Revamped – Lewis Builders balances classic details with modern livability in this complete makeover of an iconic Southern California house.
Midcentury-Modern Minute – Additional photos of "Updating Midcentury Modern" houses.