Tools & Materials
Supercapacity Sliding Miter Saw
The Skilsaw SPT88-01 12-in. worm-drive miter saw is powerful and has class-leading crosscut capacity.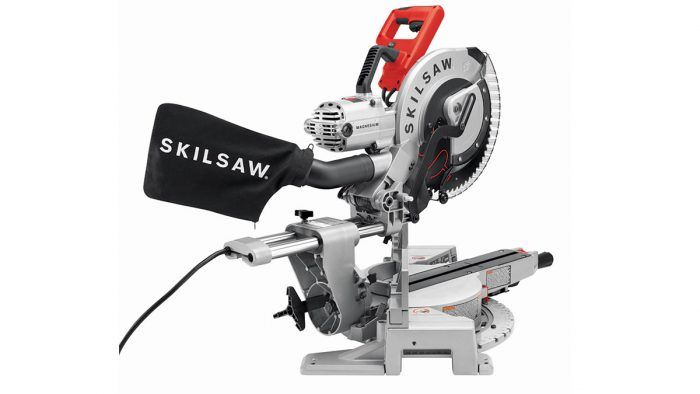 My first "rite of passage" tool purchase as a young finish carpenter was a 12-in. sliding dual-compound-miter saw, and few tools have made me feel more like a carpenter. Fast forward a couple of decades and now we're cross­cutting bigger materials, many of which are wider than a standard 12-in. slider can handle without flipping the board.
But the Skilsaw SPT88-01 worm-drive dual-bevel 12-in. sliding miter saw is not a standard slider. It has a few extras that set it apart. For starters, it can cut 14 in. by 4 in. at 90° and 10 in. by 4 in. at 45°. Set the bevel to 45° and it can cut 14 in. by 2 in. at 90° and 10 in. by 2 in. at 45°. Powering this impressive cut capacity is a 15-amp motor with the same worm-drive gear system that first made Skilsaw famous.
We've used the saw for framing and exterior trim for a few months. Its high-torque drivetrain helped it plow through pressure-treated 4x6s, LVL headers, and composite exterior trim. Left- and right-bed extensions help with long material and there's a spot on the base for storing the crown-molding stops and wrenches that come with the saw. Our saw came 90% dialed-in out of the box, with only the bevel indicator and stops needing a minor adjustment. I'd say that dust collection is about the same as any other slider.
At 51 lb., the saw is on the lighter side for a 12-in. slider, but it can be difficult to move in and out of the house because of its large footprint. Carrying it is made somewhat easier by a sturdy top handle and handles in the base. The saw has performed well and because of its class-leading crosscut capacity, it's become our go-to saw for framing and exterior trim. It's a little big for basic interior trimwork, but it works great outside and in the shop.
Find the Skilsaw SPT88-01 on Amazon.com
Weight: 51 lb.
Bevel stops: 0°, 22.5°, 33.9°, 45°, 48°
Price: $600
Ian Schwandt, a carpenter in Kent, Conn.
Photo: Courtesy of Skilsaw
From FineHomebuilding #288