Tools & Materials
Upgraded SawStop Job-site Tablesaw
Improvements to The Jobsite Saw Pro's fence, table, and dust-collection system make it a stronger competitor in the portable saw market.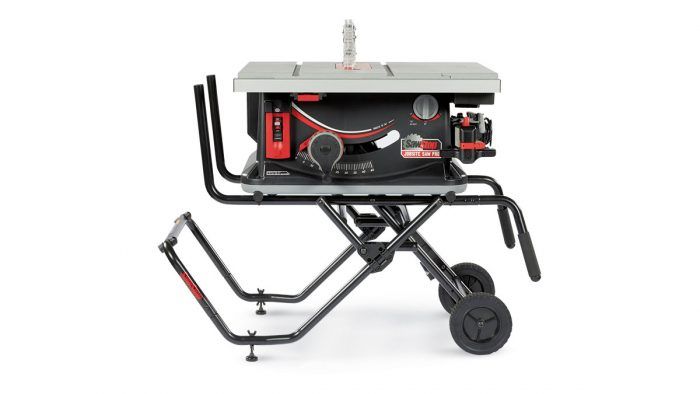 When the original SawStop Jobsite tablesaw was introduced about five years ago, it was revolutionary. Putting aside its finger-­saving technology, the controls and features were simply better than those found on any other portable tablesaw. Notably, the elevation control takes the blade from below the table to full height in a single turn. The bevel control has detents at every degree and a separate control for splitting degrees. It has onboard tool storage and a smartly designed stand that doubles as a cart to move the saw. The company recently launched a replacement to the original Jobsite Saw, called the Jobsite Saw Pro. It has the same features as the original and some new ones.
Watch a video review of the new Jobsite Saw Pro
So what's new? The updated version of the saw, which I've been testing for several months, has two additional inches of table in front of the blade so it's easier to position sheet goods before a cut—and it also means you can crosscut wider stock without a sled. My favorite new feature is the redesigned rip fence that includes an auxiliary fence that's about 5⁄8 in. tall, giving more room for your fingers when cutting small stock. It works great and because it's exactly 1 in. wide, it's an easy adjustment to use the built-in rip scale. The new saw also has a dust-collecting blade guard.
I really like this saw and think it remains the best job-site portable. Unfortunately, at $1400, it costs nearly as much as a basic cabinet saw. However, it might prevent you (or an employee) from cutting off a finger. Think about what that would cost. The new SawStop is nice, but it's not so different from the original that it's worth replacing if you already have that model. But if you're using another portable tablesaw, it may be time to switch.
Find the SawStop Jobsite Saw Pro at Amazon.com
Table size: 31-1⁄4 in. by 24-5⁄8 in.
Price: $1400, plus $100 shipping
Dado insert: $30
Patrick McCombe, senior editor
Photo: Courtesy of SawStop
From Fine Homebuilding #288