2019 FHB Summit: Presenters, Course Descriptions, and Schedule
Fine Homebuilding's inaugural builders' Summit featured a dozen industry leaders presenting two days of informative seminars.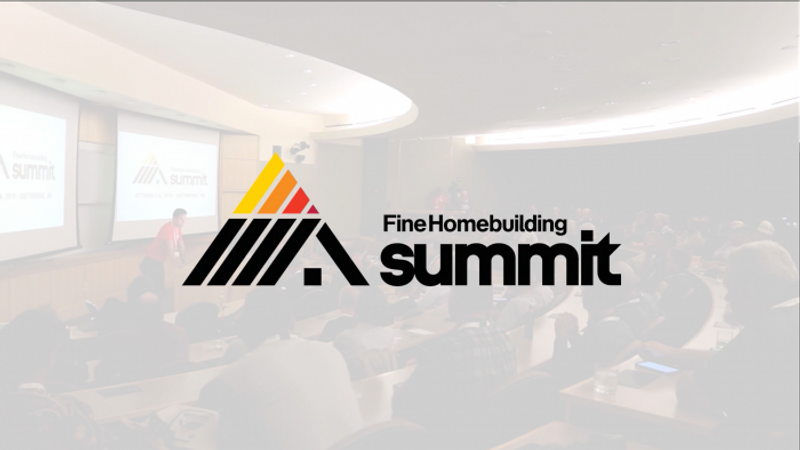 Below is a recap of the 2019 FHB Summit–For details about this year's event, visit finehomebuilding.com/summit
---
On Oct. 2-4 2019, Fine Homebuilding–along with Green Building Advisor and Keep Craft Alive–brought together building-industry experts, influencers, and select manufacturers to share their knowledge and insights through an intense, collaborative learning experience. This seminar featured eleven experts from various fields, each presenting on topics within their area of expertise, all in service of the same agenda—building better homes.
2019 Summit Presenters
This seminar featured a dozen experts from various areas of the residential design and construction industry, each presenting on topics within their area of expertise, all in service of the same agenda—building better homes.

2019 Summit Course Summaries
Opening Keynote:
---
Home Building in 2039: What Stays the Same, What Changes, and Why? – Peter Yost
We'll kick off the event with some thoughts from a legend in the building science community who has spent more than 30 years in the industry. Drawing from his work with NAHB, USGBC, the Department of Energy, the EPA, Building Green, Green Building Advisor, and several universities, Peter Yost will share his predictions for what the world of building will look like 20 years from now, and how to prepare for it.
Banquet Keynote:
---
Positioning for Success – Steve Baczek
We all strive to do a good job, and we all think we know what that might be. Architect Steve Baczek will share what he considers to be the criteria for quality building, how to achieve it, and why we all should care. Baczek believes our responsibility extends beyond the physical task of getting a home built, and for most of us, that's why we are in this business. He will discuss how we all can walk out of the room with a better perspective, and execute success.
Breakout Sessions:
---
Building Codes:  Common Violations & Coming Changes – Glenn Mathewson
Since 1927, model codes across the country have been modified and published every three years.  In this presentation code expert Glenn Mathewson will cover the new, the old, and the anticipated, as well as the process the ICC uses to constantly shape their codes to fit our ever-changing society. Insights and background on topics such as roof framing, decks, residential fire sprinklers, electrical and solar, and energy codes will be included.
Building Science Fundamentals – Peter Yost
Confused by building science theory and application? It's all about how energy and moisture move on, through, and off of our buildings. In this session, Peter Yost boils it all down (or is that "condenses" it?) into an easy-to-understand package that any building professional can use to better understand their buildings. This session is a must for building performance "newbies" but can definitely be a refresher and a challenge to our building science veterans to add to the foundation with their own insights.
Building Science Puzzles – Peter Yost
Ok, enough with all the building science theories; how does it work in the real world? When Peter Yost does building investigations or assessments, they are no longer theoretical. Join him for a look back at some of his recent building investigations, which he lays out as puzzles for attendees to solve together, with some special prizes for those who get the answers first.
Design with the Builder in Mind – Steve Baczek
Achieving high levels of energy efficiency is relatively easy on paper, but doing it in the field while maintaining a level of comfort for the builders and subcontractors is a whole different challenge. In this class, Steve Baczek will discuss the faulty logic of designers specifying materials that are costly, hard to acquire, or unfamiliar to the tradespeople who will be installing them. The goal? Become conscious of the effort needed to fulfill such requests, and balance that with the expectation that builders will handle their installation or technique with the strictest attention to detail.

Easy Path to Airtight Construction – Jake Bruton
Minimum airtightness requirements are here, will continue to be part of the code, and will soon be a larger part of selling a home to clients. A systematic approach to air-sealing can produce very low air leakage numbers at a reasonable price. Here you will learn Jake Bruton's methods for regularly achieving 1ACH50-tested homes without dramatic changes in process, budget, or building materials.
Keep Water Out or Nothing Else Matters: Focus on Roof – Mike Guertin
Roof flashing fundamentals and underlayment detailing take on added importance when building high performance homes and retrofitting old homes.  Even small and intermittent leaks can result in costly damage to roof sheathing and framing. Mike Guertin will look at reliable details for critical roof flashings – and how exterior continuous insulation and rainscreen gaps impact the way flashings are designed and installed.
Keep Water Out or Nothing Else Matters: Focus on Walls – Ben Bogie
As buildings are either electively or municipally made tighter, drying potential decreases and proper water management becomes paramount. In this session we'll cover basic principles of the physics of water as it relates to our buildings, old school principles that are often overlooked but still relevant, as well as new school products and methods. Attendees will walk away with the confidence to properly detail just about any building to a high level of performance.
How to Build Well, Simply – Martin Holladay
Martin Holladay will provide designers and builders with guidelines for building a simple, affordable, energy-efficient single-family home, and will list the errors that often trip up designers and builders. Of course, some home buyers may be more focused on finishes and bling than quality construction. If you are building for that type of client, this isn't the session for you. But if you want to develop a reputation for building durable, comfortable, low-energy homes, Martin will steer you in the right direction.

Pretty Good House 2.0: Practical Low Carbon – Michael Maines
Building on the basics of the now popular "Pretty Good House" movement, Michael Maines will make a case for what's next: a focus on low carbon. Attendees will learn why it's critically important to reduce the embodied carbon, as well as the operating carbon, in our buildings, and discuss a range of realistic ways to do so. The majority of this session will focus on construction details and materials that are practical and effective.
Stucc-oh-no-you-don't! – Christine Williamson
Stucco is the topic that keeps many building experts up at night, and for good reason: code-minimum installation guidelines are a recipe for disaster, and many big builders are rolling the dice on their liability because they calculate their share of remediation will still be less expensive than doing it right in the first place. Luckily, we will have Christine Williamson–a building scientist, consultant, and the creator of the educational @buildingsciencefightclub on Instagram—in the house to explain what we're up against, how we got here, and the specific solutions designers and builders can put in place to more intelligently manage risk.
Making the Most of Minisplits – Jordan Goldman
Minisplit heating and cooling systems, both ducted and ductless, are one of the most frequent topics of discussion in the Q&A section of GreenBuildingAdvisor.com. In this session, Jordan Goldman–a specialist in energy modeling, HVAC systems, and master of all things mechanical for Boston-based ZeroEnergy Design—will take a deep dive into minisplits, including an honest discussion of strengths and weaknesses, how to best put the technology to use, common mistakes to avoid, and ample opportunity to ask questions from an expert.
A Look Back: Why We Build the Way We Do – Brent Hull
The past can be an excellent teacher, especially when it comes to building. Simple ideas like trim and moldings all the way to windows and doors all have a history, with a lot of influence on how we build today. In this class Brent Hull will take a broad-strokes look at historical building techniques and traditions to better understand how they end up in our homes today, and how to get the details right so we can build better, longer lasting homes today.
2019 Summit Schedule
WEDNESDAY: October 2, 2019
4 pm –
Registration opens
5 pm – 7 pm
Cocktail Reception & Appetizers in Visions Restaurant
– Live recording: Fine Homebuilding Podcast in Salon C
7 pm – 8:30 pm
Welcome, and General Session
Prism Auditorium         Keynote: Presentation by Peter Yost
Home Building in 2039: What Stays the Same, What Changes, and Why?
---
THURSDAY: October 3, 2019
7:30 – 9 am
Breakfast in Visions Restaurant
9 am – 10:30
Insight Series: 15 minutes per speaker – Prism Auditorium
– Steve Baczek – Design with the Builder in Mind
– Jordan Goldman – Your HVAC is (Probably) Oversized
– Glenn Mathewson – Don't Like the Codes? Change 'em
– Brent Hull – Historical Solution for the Housing Crisis
– Martin Holladay – Still Fighting the Same Battles 30 Years Later
10:30 – 11 am
Morning Break/Vendor booth walk-around
11 am – 12:30
AM Breakout sessions:
Prism Auditorium – Peter Yost –Building Science Fundamentals
Meeting Room 1 – Jordan Goldman – Making the Most of Minisplits
Meeting Room 2 – Brent Hull – A Look Back: Why We Build the Way We Do
Salon A – Ben Bogie – Keep Water Out or Nothing Else Matters: Focus on Walls
Salon B – Steve Baczek – Design with the Builder in Mind
12:30 – 1:30
Lunch in Visions Restaurant
1:30 – 3 pm
PM Breakout sessions 1:Prism Auditorium – Jordan Goldman – Making the Most of Minisplits
Meeting Room 1 – Brent Hull – A Look Back: Why We Build the Way We Do
Meeting Room 2 – Peter Yost – Building Science Puzzles
Salon A – Ben Bogie – Keep Water Out or Nothing Else Matters: Focus on Walls
Salon B – Jake Bruton – Easy Path to Airtight Construction
3 pm – 3:30
Afternoon Break/Vendor booth walk-around
3:30 – 5 pm
PM Breakout sessions 2:Prism Auditorium – Martin Holladay – How to Build Well, Simply
Meeting Room 1 – Jake Bruton – Easy Path to Airtight Construction
Meeting Room 2 – Christine Williamson – Stucc-oh-no-you-don't!
Meeting Room 3 – Glenn Mathewson – Building Codes: Common Violations & Coming Changes

5 pm – 7 pm
Happy Hour
Exhibitor Atrium – Live recording: Fine Homebuilding Podcast
7 pm – 9 pm
Banquet:
Crystal Ballroom – with Keynote: Steve Baczek, Positioning for Success
---
FRIDAY: October 4, 2019
7:30 – 9 am
Breakfast in Visions Restaurant
9 am – 10:30
Insight Series: 15 minutes per speaker – Prism Auditorium
– Christine Williamson – Why Buildings Fail
– Mike Guertin – Coping with the Revolution in Building Materials
– – Special Presentation by Schluter Systems
– Michael Maines – Pretty Good House
– Peter Yost – Building Science Puzzles
10:30 – 11 am
Morning Break/Vendor booth walk-around
11 am – 12:30
AM Breakout sessions:

Prism Auditorium – Christine Williamson – Stucc-oh-no-you-don't!
Meeting Room 1 – Martin Holladay – How to Build Well, Simply
Meeting Room 2 – Peter Yost – Building Science Fundamentals
Salon A – Mike Guertin – Keeping Water Out or Nothing Else Matters: Focus on Roofs
Salon B – Mike Maines – Pretty Good House 2.0
12:30 – 1:30
Lunch in Visions Restaurant
1:30 – 3 pm
PM Breakout sessions:Prism Auditorium – Steve Baczek – Design with the Builder in Mind
Meeting Room 2 – Peter Yost – Building Science Puzzles
Meeting Room 3 – Glenn Mathewson – Building Codes: Common Violations & Coming Changes
Salon A – Mike Guertin – Keeping Water Out or Nothing Else Matters: Focus on Roofs
Salon B – Mike Maines – Pretty Good House 2.0
3 pm
Event Closes