Widening Deck Stairs with Composite Materials
A skilled carpenter offers advice for framing a safe and code-compliant staircase when renovating an existing elevated deck.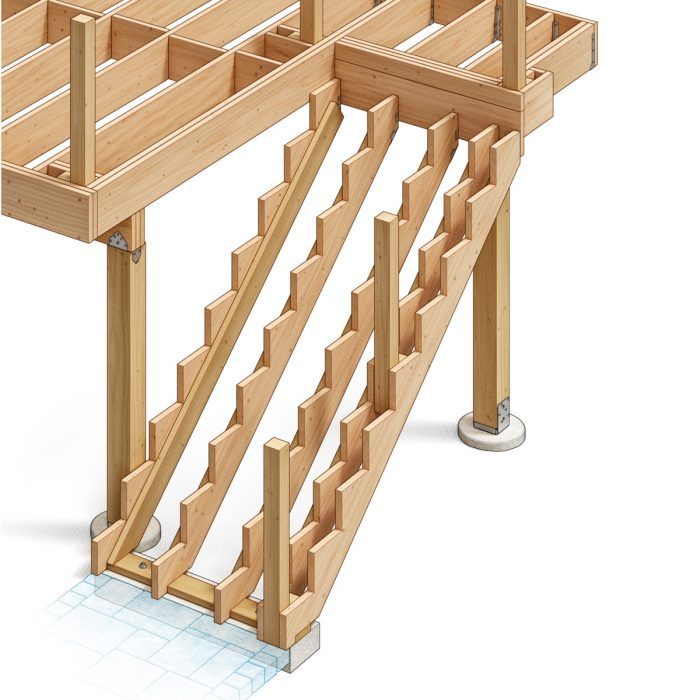 I'm looking at upgrading my 20-year-old deck. I want to widen the 30-in., 14-tread stairs and replace the decking and treads with composite material. That said, I've never built deck stairs with more than four treads. I have cut 2x12s for stringers in the past, but I am leery of a stringer this long and high with so many cuts. The existing stringers are solid 2x material with 2×4 cleats as tread supports. The new treads will be 4 ft. wide, so I know I'll need more stringers, but I'm wondering what the best approach is. Are there exterior-rated LVLs? If the lumber seems good on the existing stringers, can I reuse them? I also thought a post and new concrete pier might be a good addition to support where the stairs connect to the deck beam, but I'm not sure if this is overkill.   —Curt Lyons via email
Ian Schwandt, a lead carpenter at HVP Corp. in Kent, Conn., responds: Based on the specifications you mentioned, I think your best option is to build a completely new set of stairs (your existing stringers could be used as finish stringers if that is the desired finished appearance). The driving factor in needing new stringers is your plan to change to composite decking for the treads; that material is typically about 1 in. thick, while the existing 2x treads are about 1 1/2 in. thick.
When stair stringers are laid out, the bottom riser is shortened or dropped by the thickness of the stair tread to ensure an even rise for each step in the staircase. Because your stringers have been cut to accommodate 2x treads, changing the treads out for thinner material would result in a shorter rise for the bottom step (and a larger rise for the last if you were simply swapping out decking of equal thicknesses). This kind of variance in riser heights is a tripping hazard, so code doesn't allow it.
I'm not aware of any exterior-grade LVL material, but pressure-treated 2×12 material could be a viable option depending on the span of the stairs. The Prescriptive Residential Wood Deck Construction Guide (DCA 6) limits the span of cut stringers to 6 ft. measured horizontally from the building. Solid stringers can span up to 13 ft. 3 in., though you'd need either additional stringers or solid 2x subtreads and subrisers between them to support the composite decking. One good option for strengthening the stringers is to sister additional lengths of 2x material to each side.
Manufacturer specs for the composite decking you choose will largely dictate the spacing of stringers or other supports. Trex, for example, requires 9-in.-on-center stringer spacing for some of its products, and 12 in. for others. So you'd need at least five stringers for adequate support without subtreads. Some other manufacturers allow wider stringer spacing.
As for the post and pier, that probably is overkill. An easier-to-install Simpson Strong-Tie ZMAX stringer connector will provide a strong connection at the deck rim joist. But you could add two posts and a header under the stringers at the midpoint of the stairs to eliminate any bounce and add strength.
From Fine Homebuilding #290
---
RELATED STORIES