Digging in Small Spaces
Remove dirt at a fast pace with this pipe-and-vacuum setup.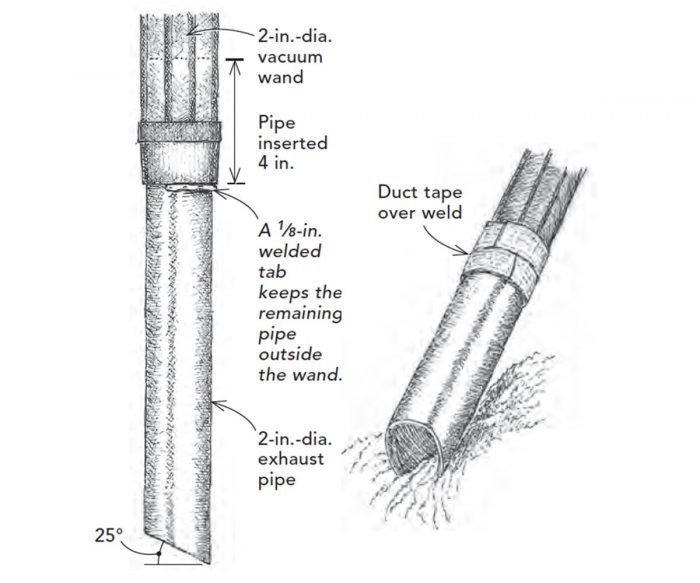 Have you ever tackled the task of digging small holes in tight places, perhaps to run a PEX water line or an underground conduit? I've developed a system that really works. I start with a shop vac with a 2-in.- diameter vacuum wand, and I insert a 2-in.-diameter by 16-in.-long piece of car exhaust pipe into it, leaving 12 in. of the pipe exposed. To keep the pipe from sliding into the wand, I weld a 1/8-in.-thick tab 4 in. from the end, but a short sheet-metal screw would work as well. Wraps of duct tape over the weld make the connection airtight. Cutting a 25° bevel on the tip completes the rig.
To use, push the tube forward and scrape at the soil to loosen it, and the vacuum sucks it up. To lengthen the tool, just add as many sections of plastic wand as you need. With two shop vacs, a laborer, and a wheelbarrow, it is amazing how much dirt you can remove from a tight space in a short time.
—David Crosby, Santa Fe, N.M.
Edited and Illustrated by Charles Miller
From Fine Homebuilding #294