Podcast 289: Dorian's Corian, Butchered Floor Joists, and Saggy Drywall
Rob, Kiley, and Patrick hear from listeners about log homes and PT substitutes before taking questions on separating sinks from solid-surface countertops, fixing a joist under a tub, and what to do about saggy drywall.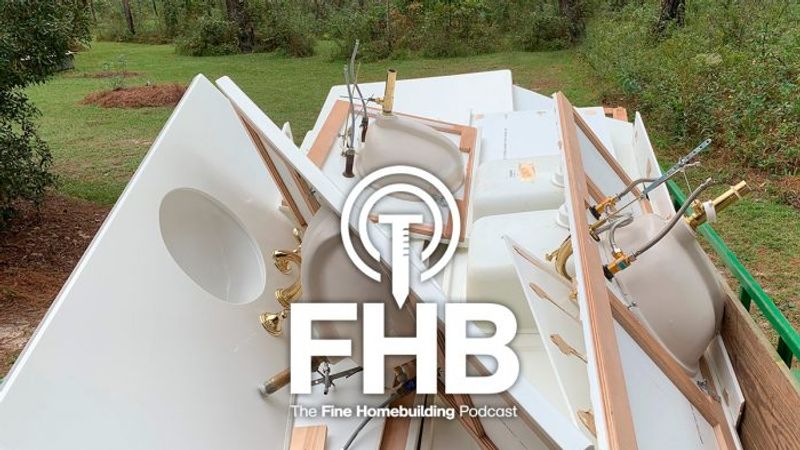 ---
Follow the Fine Homebuilding Podcast on your favorite app. Subscribe now and don't miss an episode:
Help us make better episodes and enter for a chance to win an FHB Podcast T-shirt:
www.finehomebuilding.com/podcastsurvey
Phillip thinks we should give logs a chance. Nate suggests a PT alternative, and Adam wants to know our blower-door numbers. Barbara askS for help freeing undermount sinks from solid-surface countertops. Nathan needs a fix for his butchered floor joist. Jon and Adam ask about air-sealing asphalt-fibrous sheathing. Cory seeks a solution to his saggy shop ceiling.
---
Editor Updates:
Rob's new tree table project
Kiley's clean air concerns
Jeff's appliance repairs
Patrick's blower door test 1150 CFM, Carol's Rain garden
---
Listener Feedback 1:
Phillip writes: What's up podcast crew? I was a little surprised by the negative opinions of log homes. We recently blower door tested a new construction milled log home here in upstate NY. It came in at 1.4 ACH50. The logs were sourced and milled locally and eliminated the need for high embodied energy products like drywall, insulation, and siding. The roof had large overhangs to protect the logs and I was thoroughly impressed with the attention to detail in all aspects of this house.
After seeing and testing this house I think there is something to be said for the potential of log homes. More research is definitely needed. As always, thank you for an awesome podcast and keep up the good work.
---
Listener Feedback 2:
Nate writes: On the PT lumber shortage: I just wanted to mention an alternative I hadn't heard anyone discuss yet. In the area where my wife and I are starting a cabin build, PT 2x6s are completely wiped out of stock, and the treatment plant for the local supplier is having a hard time even getting enough long raw stock to treat to make more 2x6s. They were nearly out of 2x8s as well, so I couldn't even just buy wider and rip them down. So what to do for 2×6 sill plates for my slab on grade cabin? I found that LP makes LSL lumber that is treated for use as sill plates. Earlier this year, it was more than double the cost of treated 2x6s, so I had shrugged off this option. But after the lumber price increases, it was pretty competitively priced, and, it was actually available. For some, it may be an acceptable alternative to not being able to do your project at all right now.
Related Links:
---
Listener Feedback 3:
Adam from Chittenango, NY writes: Hello Air Sealing Podcast, Before I get to my question I must say I am disappointed in the fact that none of the podcast crew has the ACH rating of their home listed on the website. It should be a requirement that every one on the Air Sealing Podcast that has a profile page on the website should be required to list the ACH of their house and any powered outbuildings on their profile page. Even better update the ACH yearly and keep a historical record of any changes. Since you have admitted that you have your own blower door there really is no excuse for not sharing!
Related Links:
---
Question 1: How can I remove sinks that are glued to a solid-surface vanity countertop?

Barbara writes, H
Hello Podcast Crew,
I was just gifted a trailer full of Corian with undermount porcelain sinks and Baldwin Brass faucets. I can't believe my good fortune!
I want to disassemble it all to store until somebody gives me lumber and fasteners to build the rest of a house. I've been watching for a sale on Milwaukee 12V oscillating multi-tools because you've all said they're a great tool to have. If I had one, would that be the tool to get these sinks off the counters? Because I can go get one. Cutting the silicone with a knife is hard on my hands.
What about jamming a coping saw blade or broken scroll saw blade in the gap and working that around? Think that might work? There's wood reinforcement on the counters that may get in the way of a tool if I work from the bottom. How much offset do those oscillating tools have? I guess I could use the tool to cut the wood off first. I don't think that glue is silicone though. It's more like a polyurethane glue.
Once I get those bathroom counters off the top of the pile I can address the physical impossibility of the 8' counter with integrated double sink. And there's a section with integrated laundry sink and a solid piece the size of a dining table. It would be a great cutting table for sewing. These pieces must weigh hundreds of pounds though. I need an oscillating multi tool and a telehandler.
Thanks for any ideas!
P.S. I got all this from my Aunt Dorian. Dorian's Corian. It sounds like a children's book. Now if something like elves or talking animals could get under the tarp overnight and cut away all that silicone for me that would be awesome.

Related links:
---
Question 2: How can I repair a joist that was cut to make room for a tub drain if the drain pipe is in the way?

Nathan writes, Hello FHB crew! I have a ceiling/floor joist issue that has me stumped on how best to proceed. Some time ago, we discovered a leak coming through our kitchen ceiling, which turned out to be an issue with the bathtub drainage plumbing. After 8 plumber visits, over 2 different plumbers, we seem to have got the leak taken care of. However, once I turned my attention to patching the ceiling back up, I noticed that someone apparently thought it was a good idea to completely cut through the floor joist in order to run the bathtub drain plumbing. I've included some pictures so you can see for yourself. How do you recommend going about this repair? I'm especially worried about the weight of the bathtub — a cast iron, claw foot bathtub — being directly above that severed floor joist. Given the bends in the plumbing run, there really isn't enough space to sister another joist across the gap. Any advice would be much appreciated!
Related Links:
---
Question 3: More questions about dealing with old fiber-board sheathing

Jon in St Louis writes, Hey guys. I've attached some pics of the sheathing on my house and garage. It's JUNK!
I at least know that a plastic vapor barrier was installed behind the sheathing on the house. Not so much on the garage though, which I'd like to insulate. Oh, did I mention my brick reservoir cladding?
Is this a case for the 5-sided box of 15# felt inside of the stud bays? Any other options? Please help!
Thanks for your help and for all you do.
And Adam R Chittenango writes, We had planned to do air sealing on our 1960s era Cape when we replaced all of the siding. I expected this to be a fairly straightforward process of removing the soffits, add sheathing up to the underside of the roof deck and then just wrapping the house in some peel and stick. When you pointed out in episode #251 that my walls are sheathed in Celotex instead of Plywood or OSB that put a monkey wrench into what I had assumed was the most straight forward part of the project. I can't find a peel and stick membrane that documents that it works over Celotex or fiberboard.
So, the options that I can find are:
fluid applied membranes, I found at least one that says it works with fiberboard, but it sounds like a mess and I worry about detailing the gaps between sheathing.
run some zip sheathing directly over the Celotex
remove the Celotex and resheath with zip system. While this would obviously cost more I could then also insulate the stud bays from the outside and maybe update some electrical wiring.
Are there any other options that I am missing? Do any of these options have problems that should eliminate them?
Oh and just to make sure no time is wasted on "airtight drywall" as an option. I honestly believe that airtight Drywall is a cop out on the part of builders the same way SIP panel manufacturers stating that the ridge must be airsealed beyond what is possible is a cop out. Airtight drywall will only stay air tight if no one actually lives in the house. Over the past 60+ years all of the following actions have been normal in houses and every one of them would compromise the air tightness of drywall: adding lights, adding additional outlets, adding ceiling fans, running phone wire, running cable, running audio wire, running networking wire, drywall anchor, etc. And that list does include the uncontrollable issues like foundation settling, plumbing repair and other uncontrollable damage.
Related Link:
---
Question 4: Should I install plywood on my garage ceiling before installing drywall?
Cory writes, Hi there, currently listening to your podcast from episode 1. Work 10 hour days 6 days a week so I've currently listened to about 50 hours of you guys talk.
My question:
My garage was a one car, then the previous owner added a second bay onto it making it a 2 car garage, the addition being my "workshop". The ceiling has 24" centers, and just about every piece of drywall is sagging at the joint. I've been in my attic, which has nothing but insulation and a plastic vapor barrier.
I'm wondering, if I pull all the Sheetrock down, can I hang say 1/2"-3/4" plywood on the ceiling, and then hang Sheetrock to the plywood? My reasoning is, a.) keep the Sheetrock held up securely, and b.) it's my workshop, so I have lights, and a jet air purification unit hanging from the ceiling. If there's thick plywood behind the drywall, I'll have have to look for a stud again, and will be able to hang things wherever I want from the ceiling.
Any thoughts or opinions would be appreciated. I'm not a pro, just recently re-sheetrocked a wall in my house so now I'm a pro.
---
END NOTE:
Visit the Taunton Store  •  Magazine Index  •  Online Archive   •  Our First Issues   •  All Access
---
---
Help us make better episodes and enter for a chance to win an FHB Podcast T-shirt: www.finehomebuilding.com/podcastsurvey
---
If you have any questions you would like us to dig into for a future show, shoot an email our way:

[email protected]

.
If we use your question we'll send you a FHB Podcast sticker!
---
FHB Podcast T-shirts!
Represent your favorite podcast! Available in several styles and colors. Made from 100% cotton. Find the Podcast t-shirt and more cool products in the Fine Homebuilding Store.
---
Fine Homebuilding podcast listeners can get 20% off anything in the Taunton store, including the Renovation, 5th Edition.
Use the discount code FHBPODCAST to take advantage of this special offer.
---
We hope you will take advantage of a great offer for our podcast listeners: A special 20% off the discounted rate to subscribe to the Fine Homebuilding print magazine. That link goes to finehomebuilding.com/podoffer.
The show is driven by our listeners, so please subscribe and rate us on iTunes or Google Play, and if you have any questions you would like us to dig into for a future show, shoot an email our way: [email protected]. Also, be sure to follow Fine Homebuilding on Instagram, and "like" us on Facebook. Note that you can watch the show above, or on YouTube at the Fine Homebuilding YouTube Channel.
The Fine Homebuilding Podcast embodies Fine Homebuilding magazine's commitment to the preservation of craftsmanship and the advancement of home performance in residential construction. The show is an informal but vigorous conversation about the techniques and principles that allow listeners to master their design and building challenges.
Other related links