Tools & Materials
Smart, Sturdy Worktable
The Dash-Board workbench has a large table, adjustable legs, and a sturdy housing, making it easier to work outside the shop.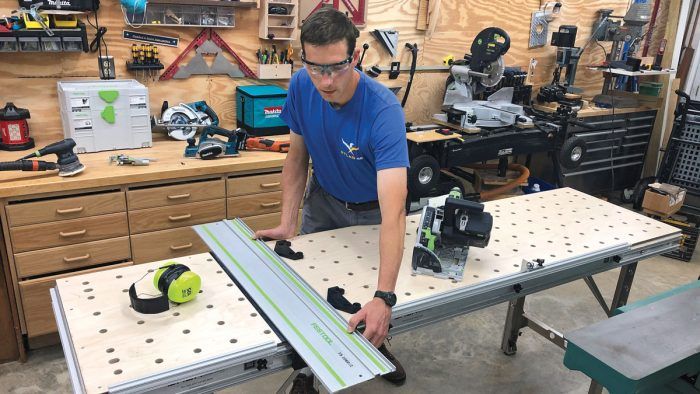 In the shop, it's pretty easy to construct durable benches at optimal height, but at the job site is another story. For years, I used plywood or an old door resting on sawhorses, and I have even turned garbage cans upside-down for a work surface­—disappointing solutions at best.
Fortunately, better options have come along. I've used Festool's MFT, a great portable bench, for several years now. The ability to accurately line up a saw track perpendicular to a fence was a game changer, and the 20-mm grid simplifies almost every clamping or work-holding task. But without buying additional leg braces, the bench is rickety and has a small work surface.
I have also tried torsion-box benches like those championed by Ron Paulk. Unfortunately, they are a little unwieldy to move, and you have to build a fence and figure out a way to make the guide rail perpendicular to it. While researching solutions, I stumbled across the Dash-Board, carpenter Rob Schumacher's solution to portable workbenches. After using this bench for the last eight months, I would not want to work without it. It's better than the Festool and Paulk benches in the following ways:
The 25-in. by 92-in. table has a 20-mm grid and a replaceable strip for the track-saw kerf. Despite its size, it weighs about 60 lb., so I can set it up myself.

All four legs are adjustable for uneven terrain.
It won't wobble or flex. You can even hand-plane.
It's easy and foolproof to square the guide rail every time.
The optional guide-rail hinge and front support are precisely machined marvels. The optional door/panel support makes it easy to place doors and panels at an ergonomic height.
The optional fences are 48 in. (left) and 16 in. (right), and include a precise flip stop.
The Dash-Board isn't just a workbench­—it's an elegantly-designed, ergonomic solution to the problems faced by finish carpenters working outside their shop. With its easy setup and functional design, the Dash-Board has significantly improved my job-site efficiency and comfort. With all of the accessories, the Dash-Board costs about $2150, which may give sticker shock to some, but to me it's worth every penny.
Arthur Henderson, MD, ER doctor and remodeler
Photo: Courtesy of Virginia Henderson
From Fine Homebuilding #296