Small Prefab With a Big Impact
This predesigned solution for an accessory dwelling unit has a contemporary and spacious interior that belies its small size.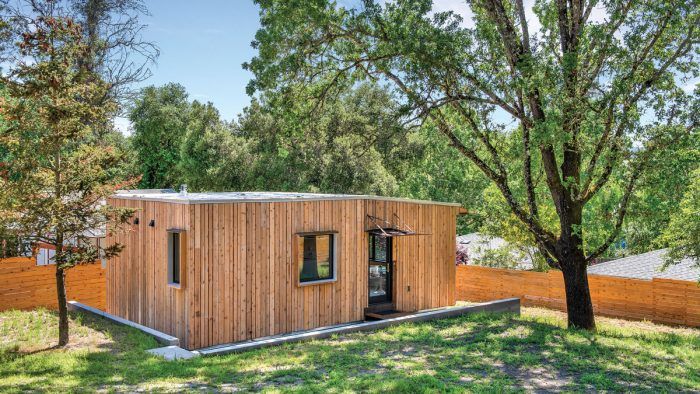 Alchemy's lightHouses are a predesigned solution for ADUs (accessory dwelling units) used as replacement housing, cabins or guest houses, short-term rentals, home offices, or age-in-place dwellings. Plant Prefab, a California-based factory, executed this carefully crafted beta-prototype lightHouse to provide temporary accommodation while a larger house is built on the same lot.
The structure embraces the luxury of less with its spacious interior and contemporary specs and finishes including its unique exterior light with awning and ID plate. The simple but elegant kitchen has a solid white-oak storage shelf and a storage bench with movable backs that convert to sleeping space. A minimalist storage core contains the utilities, a washer/dryer, and a sprinkler system. The fully tiled bath has a zero-threshold shower, frameless glass panels, and a touchless faucet on a Dornbracht Alape sink.
Delivered as a complete prefabricated module, the envelope is very low energy, with exterior insulation and a sustainable cedar rainscreen skin. Alchemy's lightHouse system complies with most city or county ADU guidelines. They are placed on permanent full, perimeter, or slab foundations and can be designed to be built atop a new garage structure.
Designer Alchemy, alchemyarch.com  
Builder Plant Prefab, plantprefab.com

Location Sebastopol, Calif.   
Photographer Brian McCloud
From Fine Homebuilding #301
---
RELATED LINKS