Tools & Materials
Comfort Dictates Heating and Cooling
Because the FHB House is a spec house, the builder is especially concerned about homeowner comfort.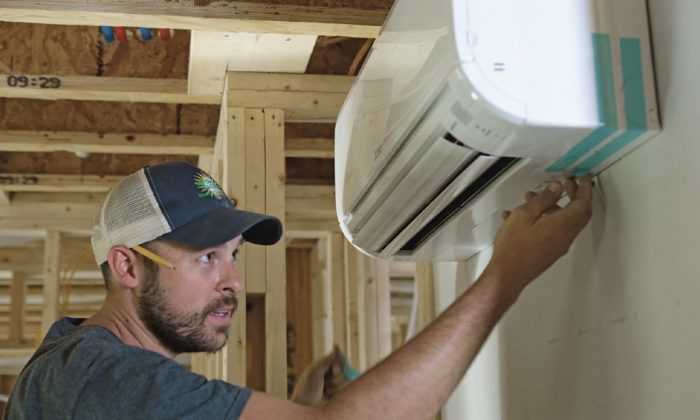 Like many high-performance houses, the FHB House relies on a minisplit system for heating and cooling. In this case, the Biebels chose a Mitsubishi M-Series unit designed with an emphasis on the heating mode. The heat pump works at outdoor temperatures as low as -13°F, which will get the homeowners through the Vermont winter.
Often, case studies of net-zero homes discuss the problem of sizing heating systems for the low demand of an extremely airtight and highly insulated house. With minisplits, the solution is often to rely on just a single indoor head unit per floor. This approach works in a custom home where the homeowners can weigh in on the tradeoffs. They can decide if they'll be happy keeping bedroom doors open when the room is not in use and if they're willing to accept the few-degree temperature variation from the set point when doors are closed.
Because the FHB House is a spec house, Tim is especially concerned about homeowner comfort. Complaints of discomfort from new owners who are used to heating and cooling sources in every room could impact sales of homes in the development. To head off any issues, he wanted each of the three bedrooms to have its own head unit. The great room also needs a head unit, so the house needs at least four head units. Connecting four indoor units to a single compressor requires a branch box, which adds material and labor costs. Instead, Tim chose to use two compressors and add an additional indoor unit in the kitchen. He freely admits that the capacity of the two 24,000-Btu compressor units installed in the FHB House is overkill, but the cost of the additional capacity was less than $800 more than installing a single compressor with a branch box. Now, every room except the bathrooms has its own heating and cooling unit, so homeowners can adjust the temperature in any room, and the second compressor ensures there is still heating and cooling on each floor (enough to keep the house comfortable) if one compressor fails.
Please enjoy the entire complimentary PDF article by clicking below.
View PDF