Podcast 390: Long-Lasting Porches, Less-Slippery Steps, and Building Partitions on Laminate Floors
Mark, Rob, and Patrick hear from listeners about home battery systems and tented tile before taking listener questions about rotted porches, slippery steps, and building partitions on top of laminate flooring.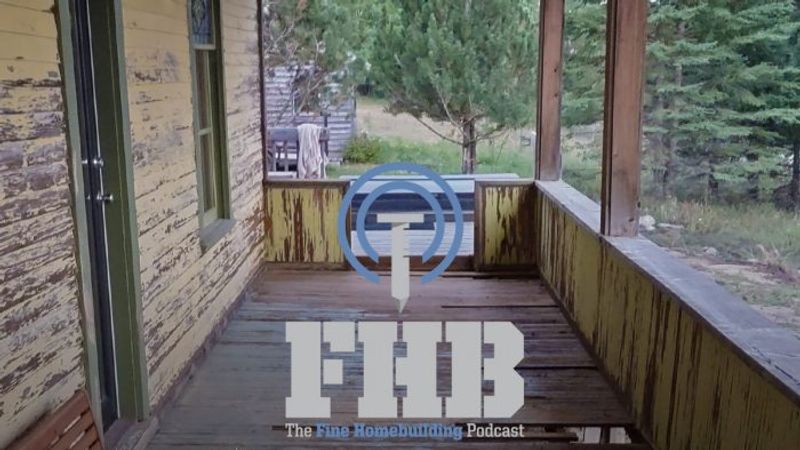 ---
Follow the Fine Homebuilding Podcast on your favorite app. Subscribe now and don't miss an episode:
Help us make better episodes and enter for a chance to win an FHB Podcast T-shirt:
www.finehomebuilding.com/podcastsurvey
George alerts us to additional home batteries. Adam cooled his cape with a ducted minisplit. Shaughnn has some thoughts on Mike's problem tile floor. Doug asks for advice fixing his porch. Larry asks how to paint his porch steps and make them less slippery. Steve wants to build a closet on top of his laminate floor.
---
Editor Updates:
Rob's travels
Mark's house and his ProTalk Podcast
Jeff's deck redux
Patrick's stairs
​
---
Listener Feedback 1:
Charles with his house on Lake Winnipesaukee writes: Dear Patrick and FHB Crew, please let your audience know that, in addition to the Generac product mentioned in episode 384 there are many US manufacturers that make this gear such as Midnite Solar, Outback Power, and Xantrex (now owned by Schneider) and others.
Your questioner needs to do several things:
1. Size the battery bank. This is the most expensive part of any battery system. Kilowatt hours are expensive.
2. Select a battery inverter and size this based on the peak loads (kW not just kWhr)
3. Ensure that the battery inverter and the generator can talk to one another.
4. Get an electrician savvy enough to wire the whole thing together
I personally have had great luck working with the people at Outback Power who are very well versed in what type of system your listener needs. Maybe good people to have on the ProTalk series?
Thanks so much, George
---
Listener Feedback 2:
Adam in Waterdown Ontario writes: In episode 384 you all spoke about the idea of an air handler for cooling the second floor of a Cape. I have a similar situation with 3 bedrooms and a bath and that's the solution I chose. I have a Mitsubishi ducted minisplit air handler with one air intake in the hallway and 4 outputs one in each bedroom. I've included a floor plan and a few pictures of the setup. It's definitely a pricey option but should be way more efficient and a lot less duct work eating up rooms if you could even get it where you need it.  The ducted unit looks after bedroom 1, 2, 3 abs the bathroom. And there is a minisplit head in the master bedroom to do it and the master bath. The heating in shoulder seasons will be looked after by the heat pump but in the winter I have hydronic heat in the floors. I would love if anyone has insight on heating an existing basement with hydronic heat. I love the idea of keeping the heating loops in the floor but I'm not willing to rip up and insulate the floor and re-pour it. Currents the walls have closed cell spray foam with a continuous vapour barrier on the existing slab. I feel like me options are 2" r8-10 foam then flooring with a couple radiators or a hyronic flooring system like Roth radiant panel system then flooring in top. Both are around 2" in height. The basement is 7' tall so I am a little concerned with the head height. Do you think the in-floor heat is viable with this amount of insulation or are the radiators a better idea?  The only other option I can think of is radiant panels on the ceiling but I can't find any info on that and I have no idea if that's viable. Lastly, I'd love to avoid putting a subfloor on top of the foam as the slab isn't very level and I don't want to have to drill anchors through the vapour barrier. Thoughts? Thanks for all your help. It has been invaluable in building/ renovating my families new home!
Related Links:
---
Listener Feedback 3:
Shaughnn writes: Hello FHB team, While listening to episode 386 and hearing about Mike's problem tile floor, I found that it was a perfect opportunity to draw attention to Tile Council of North America's "Handbook for Ceramic, Glass, and Stone Tile Installation." Specifically, the failure featured in the podcast episode could have been "mostly" avoided had the installer followed TCNA recommendation EJ171 for Expansion Joints. A proper ANSI 118.4 (or better) thinset mortar and adequate coverage might also be in play here? And, the telegraphed wandering crack through the field of the porcelain does indeed suggest some amount of movement in the slab. It is possible that this movement is occurring at a control joint in the slab though, in which case we refer back to TCNA recommendation EJ171.
An uncoupling membrane would NOT, as was suggested in the episode, protect this installation from tenting on it's own. Expansion joints and an open perimeter are the first line of defense against tenting. The uncoupling membrane lends itself after those precautions have been taken.
Cheers! –– Shaughnn, Sales Professional, ARDEX Tile & Stone Installation Products
Hi Patrick, Yes. I was a tile installer for 32 years before becoming a manufacturer rep for ARDEX. While an installer, I was also an admin over at the John Bridge Tile Your World forum. I love the trade and really enjoy helping people noodle through their projects so the forum was a nice way to decompress after 12 hour days on my knees.
Tenting is commonplace. It's most often experienced in commercial or production installations because the pace is high and the level of adequate training is low. There's also the factor that the required expansion joints are usually unwelcome by designers, owners, and contractors. The telegraphed crack is another separate issue though. As was mentioned, I'd be curious to see the backs of those tiles to check coverage, notch size, and to see if latent contaminates had been left on the slab prior to spreading thinset.
---
Question 1: What's the best way to vent the space beneath my porch to prevent rot?
Doug from Bemidji, Minnesota writes: Dear FHB crew, First off, I want to say thank you for your dedication to making, in my view, the best podcast out there on building and building science. I always appreciated Matt's input on topics and am very sad to hear that he is leaving. I'm sure you will all do a great job filling in for him with all of the building-code details and building-science geekery of wall assemblies and venting.
| | |
| --- | --- |
| | |
Ok, now for my question. I am working on restoring my home that was built in 1915 up here in northern Minnesota, climate zone 7. This old house has been testing my resolve since we purchased it almost two years ago with surprise after surprise behind every wall and beneath every floor. My most recent project is the large covered front porch, which is unusual on homes in our area but it happens to be our favorite feature of this house. I am currently working on repairing floor rot and reinforcing the floor joists to reduce floor deflection. As you can see from the pictures, the porch is open to the elements from the sides such as rain and snow. I am planning to add floor drains to prevent standing water where the water doesn't drain through the porch fir flooring. My main concern is venting below the porch which is where all of the moisture ends up and seems to stay trapped. I'm thinking this has contributed to the floor rot that I am repairing now. The porch is skirted with vertical boards that have a 1/8″ gap between them. Can I add vents to encourage airflow underneath? Should I consider a vent fan that is either always on or has a humidistat?
Thank you for your help!
Related Links:
---
Question 2: Should I use paint or stain for my porch stairs and is there anything I can apply to make it a non-skid surface?
Larry in Evanston, Illinois writes: Hey Patrick and the gang! Love the podcast–listening to it gives me the motivation to keep working on remodeling my 1925 bungalow, which is currently in year 5 of an originally projected 1-year project. So much for my estimating skills (or lack thereof). The stairs to my enclosed back porch need to be refinished, as the stain applied by the prior owners wore off long ago. I have a couple of quick questions:
1) Would you recommend paint or stain? I have no preference other than wanting a finish that will last as long as possible.
2) Is there anything I could apply to the finish to provide a non-skid surface? Although the stairs are mostly protected by the roof overhang, snow and ice do accumulate at times during our cold northern Illinois winters. My 13-year-old dog has trouble navigating the stairs and I'd like to do whatever I could to prevent her from slipping on the stairs (wouldn't hurt for me, either). Can I add sand or a gritty substance to the paint or stain? Could I apply non-slip treads to the stairs after refinishing them? Other possibilities?
3) What caulk would you recommend between the treads and risers? I'm assuming a water-proof silicone?
I realize this question is not about air sealing, roof construction or blower door tests, but hopefully you can help me out. Appreciate any advice you might have.
On a totally unrelated topic, you've talked about all-electric homes in a few podcasts recently and I thought you might find this interesting. My Dad built (literally) our small 3-bedroom ranch house in northwestern Ohio in 1955 and one of the interesting features was radiant heat embedded in the popcorn plaster ceiling. I never gave it a second thought growing up in the house but my older brother (a retired HVAC tech) has told me it was a very efficient mode of heating, especially since we also heated the full basement. Apparently, we paid a set monthly amount, and once a year the electric company billed us for the difference between used and paid. My brother indicated that often we didn't pay anything that month. It was one of the first Gold Medallion Reddy Kilowatt homes in our area – here's a link regarding that program. I recall that it was an even, albeit dry heat, most rooms had their own round Honeywell thermostat, there was a ton of fiberglass bat insulation in the attic, and maintenance was obviously non-existent. BTW, the walls were also tongue-in-groove knotty pine throughout most of the house. Why? I have no idea, but I don't think I've ever been in a regular home since then, i.e., not a cabin in the woods, with knotty pine walls. Just a bit of history for your enjoyment.
Keep up the fantastic work!
Related Link:
---
Question 3: What's the best method to remove laminate flooring to install a new wall?

Steve writes: A few years ago, we installed laminate flooring on a plywood subfloor in 24'x36′ second floor room. Now that we've used the space awhile, we want to add a wall to create a closet. I know the best approach is to cut out the laminate to make a channel for a sole/ bottom plate. The big downside is that this will create a lot of very fine dust, there is a lot of furniture, and that side of the room has no windows.
I'd rather cut a 4″ hole in the laminate every 2 feet, then use 3″ round pieces 3/4″ thick to create platforms for the sole plate to sit on. This would allow the laminate floor to move, and controlling the dust would be far easier.
I'm not seeing any downsides to this approach, but maybe you guys would….
Thanks!
Related Link:
---
End Note:

Self-esteem and trade work: In Gary Katz's interview with Mason Lord for FHB's 40th Anniversary, Gary talks about having the feeling of inadequacy because he's a carpenter. Trade work is simply not sufficiently valued in this country along with many other types of important jobs. Gary's words have really stuck with me. I find what he said really troubling. I'd like to ask readers if they've had similar feelings of inadequacy owing to their jobs. Do you still feel that way? If not, how did you get through it?
---
Check out our latest Project Guide: Siding & Exterior Trim!
Check out our new 2021 FHB Houses:
Visit the Taunton Store  •  Magazine Index  •  Online Archive   •  Our First Issues   •  All Access
---
Help us make better episodes and enter for a chance to win an FHB Podcast T-shirt: www.finehomebuilding.com/podcastsurvey
---
If you have any questions you would like us to dig into for a future show, shoot an email our way:

[email protected]

.
If we use your question we'll send you a FHB Podcast sticker!
---
FHB Podcast T-shirts!
Represent your favorite podcast! Available in several styles and colors. Made from 100% cotton. Find the Podcast t-shirt and more cool products in the Fine Homebuilding Store.
---
This episode of the Fine Homebuilding podcast is brought to you by Benjamin Obdyke.
Benjamin Obdyke would like to thank the nuisances that builders and homeowners despise. Our premium products protect from those pesky things like rain, snow, UV rays and the neighbor's sprinkler system. Take HydroGap SA, the first self-adhered drainable housewrap that combines a true air barrier and drainage gap. Or InvisiWrap UV, an all-black WRB, perfect for long-term moisture protection behind open joint siding. Backed by an unmatched 25 year warranty, Benjamin Obdyke's UV-Protected Rainscreen System not only features InvisiWrap UV, but HydroFlash UV+, a high performance, vapor permeable flashing tape. Visit benjaminobdyke.com to learn more about their comprehensive, durable systems.
---
Fine Homebuilding podcast listeners can now get 20% off anything in the Taunton store, including Insulate & Weatherize.
Use the discount code FHBPODCAST to take advantage of this special offer.
---
We hope you will take advantage of a great offer for our podcast listeners: A special 20% off the discounted rate to subscribe to the Fine Homebuilding print magazine. That link goes to finehomebuilding.com/podoffer.
The show is driven by our listeners, so please subscribe and rate us on iTunes or Google Play, and if you have any questions you would like us to dig into for a future show, shoot an email our way: [email protected]. Also, be sure to follow Fine Homebuilding on Instagram, and "like" us on Facebook. Note that you can watch the show above, or on YouTube at the Fine Homebuilding YouTube Channel.
The Fine Homebuilding Podcast embodies Fine Homebuilding magazine's commitment to the preservation of craftsmanship and the advancement of home performance in residential construction. The show is an informal but vigorous conversation about the techniques and principles that allow listeners to master their design and building challenges.
Other related links