Podcast 386: Job-Site Protection, Failed Floor Tile, and DIY Spray Foam
Colin, Rob, and Patrick hear from listeners about window condensation before taking questions about polished concrete, failed tile, and canned spray foam.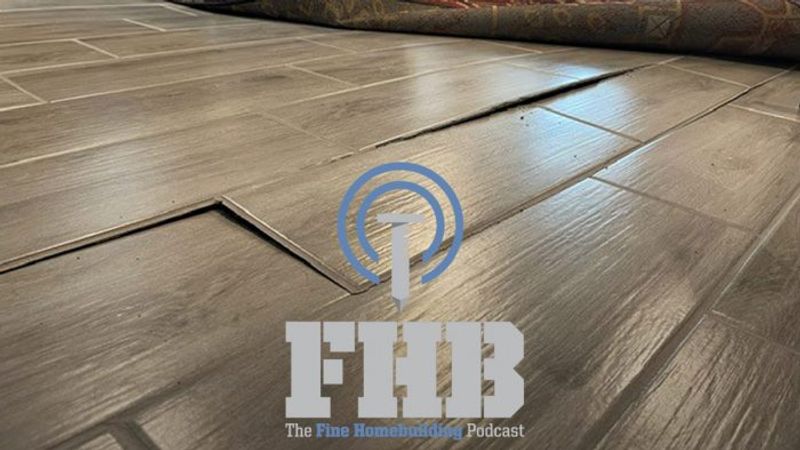 ---
Follow the Fine Homebuilding Podcast on your favorite app. Subscribe now and don't miss an episode:
Help us make better episodes and enter for a chance to win an FHB Podcast T-shirt:
www.finehomebuilding.com/podcastsurvey
Barbara asks for more questions from warm climates. Ryan reminds us of reputable information regarding window condensation. Tim points out that the California Fine Homebuilding house has mineral wool on its roof. Scott asks about protecting polished concrete. Mike shares photos of his sister's failed tile floor. Nic asks about canned spray foam. George looks for advice on his rough plaster walls.
---
Editor Updates:
​
---
Listener Feedback 1:
Barbara writes: Dear FHB Podcast, I was so delighted when you featured Bee's questions on today's podcast. She was trying to decide between 2×6 stud walls and no exterior insulation versus 2×4 stud walls plus exterior insulation. Of course, the podcast has tackled this topic many, many times, so you might be wondering why Bee's situation made me bend my ear towards the laptop speakers and intently listen?
It's because she's in climate zone 2. Houston, I think. So instead of my eyes glazing over for another conversation about insulating a home in New England or Minnesota, FINALLY I can hear discussion of a home that's relevant to me. I live in Sacramento, CA, climate zone 4a. Hot, mixed. Aside from the humidity factor, our insulation needs are very similar. Anyway, just wanted to say thanks for including a discussion about home I can relate to. You probably know your audience includes a vast number of Californians, Arizonans, and Texans. Thanks for tossing the occasional bone!
P.S. Bye, Matt… I'll miss you! Loved your intelligent contributions over the years.
---
Listener Feedback 2:
Ryan in Redondo Beach, CA writes: Hi FHB Crew! Regarding the question on window condensation from episode 378, I'd highly encourage the person that wrote the question to watch Enrico's recent webinar where he covers this exact topic (and tons of other fantastic info). It was hosted by a semi-reputable group of folks too! 😉
Related Links:
---
Listener Feedback 3:
Tim writes: Hey gang. Been a minute since I've written. Sort of surprised you didn't mention the FHB California House. I believe that whole thing was wrapped in mineral wool. Maybe take a breeze through that series for a refresher.
Related Links:
---
Question 1: How do I protect my polished concrete floor and the exposed wood columns located in high-traffic areas?
Scott writes: I'm starting up a new project up in central Oregon. It's got a polished, radiant heated, concrete floor. They're beautiful, but the amount of time and effort that it takes to keep the floor from getting scratched and dinged always blows my mind. I'd love to hear y'all discuss pros and cons of different techniques you have used in the past, or products I may not have heard of. I've done complete covered protection systems, with plastic/Tyvek at bottom and plywood/Masonite/ramboard on top. The problem with this method is that you always get some dirt under the protection, which ends up grinding into the slab. Also, the slab doesn't breathe if you use something impermeable like plastic, leading to color variations I've actually had decent success by doing minimal coverage, but then you are relegated to endless extra hours of sweeping/vacuuming. Any advice would be greatly appreciated. PS, also curious about what you have done to protect exposed, large wood columns that are in high-traffic areas. Thanks!
Related Links:
---
Question 2: The builder says nothing is wrong with the foundation, so why does the floor tile keep popping up?
Mike writes: Hi there, I am a builder in central Oregon and southeastern Utah. I take a lot of pride in my work and endeavor to use best building practices when I build or remodel. My wife and I both enjoy listening to your podcast. Recently, my sister had a tract home built in Las Cruces, New Mexico. She moved in September 2020. Last week she sent us a series of photos of her tiled floor which I have included. The photos are truly shocking!
The home is built slab on grade. My first thought when I saw the photos is that she has movement in her slab. I encouraged her to have someone look for structural issues. Below is the response from the builder: "We wouldn't cover that as we have not encountered any structural issues — everything you are experiencing is what other homeowners have experienced and as we have taken up tile we have not found anything wrong with the foundation. The tile soaks up moisture and expands and it has no where to move except for it to pop up — that is what you are experiencing now."
So maybe?? What do you think? The tile is porcelain. Minimally though, this could have been prevented by adding an uncoupling membrane, like Ditra, under the tile. What a disaster. The entire house is tiled, so they have to move out to have it repaired. There is a piece of me that feels that you get what you pay for. There is no way I could build a house for what they paid. It's so frustrating when even your own family won't listen when you explain why they should choose a different builder. Thanks and looking forward to upcoming podcasts.
Related Links:
---
Question 3: Should I use Seal Spray Foam for insulating in tight spaces in an attic?

Nic writes: Hi everyone! I want to say firstly, thank you for all you do. Your info and knowledge has been an incredible help to me in my air-sealing and insulation adventures. I've just barely started on my way towards a "net-zero" house. My quarantine project has been part of my living room where I've learned quite a bit about how badly this kind of work sucks 🙂 I'll attach some photos if you'd like to see.
Here's my question, or maybe what I'd like to point your attention towards. Not sure if you've seen these for the show or not: Seal Spray Foam.
Seems like a can of regular "caulk" type spray foam like Great Stuff, but it comes with a fan-spray tip per can. So when you spray it, it actually coats like a two-component spray foam insulation.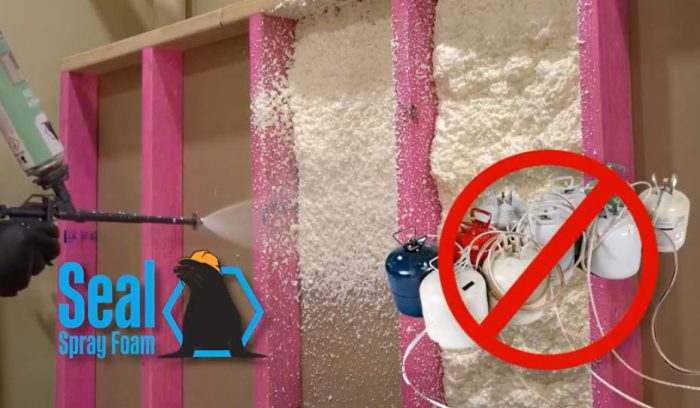 Can you comment on what to make of this? This would be a GODSEND for a DIY'er like me who imagines hauling up two 40-lb canisters into my attic to be some inner circle of hell…..
Thanks for all you do, keep up the good work.
Related Links:
---
Question 4: What in the heck are these walls made of??

George in Buffalo, NY writes: Dear FHB Podcast, I have a puzzling question for you and any insight would be great!
I moved into a 1946 single-story Cape house this May in Buffalo, NY and have been slowly working on taking out the poorly done drywall patchwork that was done, in hopes of repainting. The current color is quite intense (RED, IT'S SO RED EVEN THE CEILING IS RED) and was very clearly applied over some flaking or deteriorating interior finish. I am just going to assume that there is lead paint underneath and will cross that bridge when I get there.
My question is: What in the heck are these walls? Looking through an old penetration, there are two clear layers of 1/2″ material. However, it looks like no drywall I have ever seen. Am I playing with fire here or is this no big deal? Thanks so much, George
Related Links:
---
Check out our latest Project Guide: Siding & Exterior Trim!

Check out our new 2021 FHB Houses: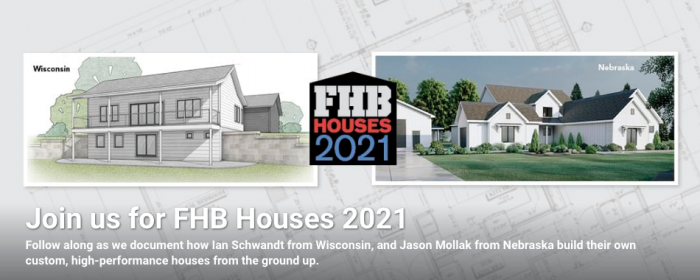 Visit the Taunton Store  •  Magazine Index  •  Online Archive   •  Our First Issues   •  All Access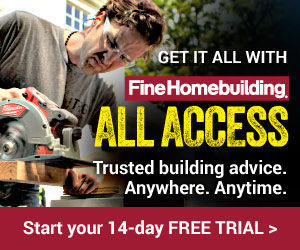 ---
Help us make better episodes and enter for a chance to win an FHB Podcast T-shirt: www.finehomebuilding.com/podcastsurvey
---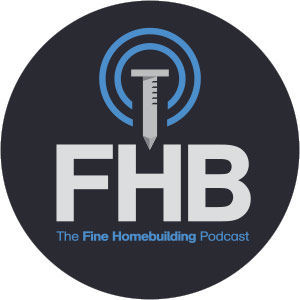 If you have any questions you would like us to dig into for a future show, shoot an email our way:

[email protected]

.
If we use your question we'll send you a FHB Podcast sticker!
---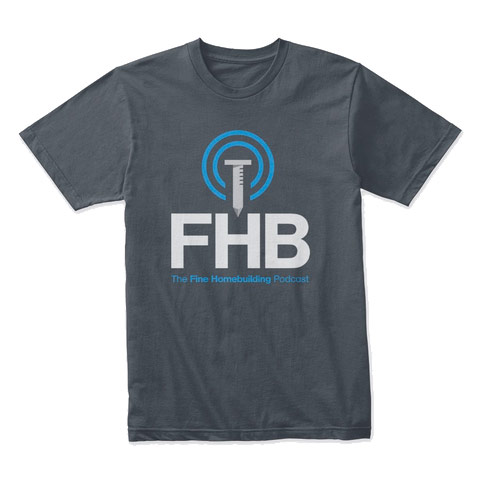 FHB Podcast T-shirts!
Represent your favorite podcast! Available in several styles and colors. Made from 100% cotton. Find the Podcast t-shirt and more cool products in the Fine Homebuilding Store.

---
This episode of the Fine Homebuilding podcast is brought to you by Benjamin Obdyke.
Benjamin Obdyke would like to thank the nuisances that builders and homeowners despise. Our premium products protect from those pesky things like rain, snow, UV rays and the neighbor's sprinkler system. Take HydroGap SA, the first self-adhered drainable housewrap that combines a true air barrier and drainage gap. Or InvisiWrap UV, an all-black WRB, perfect for long-term moisture protection behind open joint siding. Backed by an unmatched 25 year warranty, Benjamin Obdyke's UV-Protected Rainscreen System not only features InvisiWrap UV, but HydroFlash UV+, a high performance, vapor permeable flashing tape. Visit benjaminobdyke.com to learn more about their comprehensive, durable systems.
---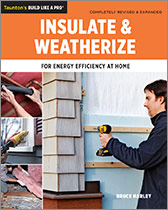 Fine Homebuilding podcast listeners can now get 20% off anything in the Taunton store, including Insulate & Weatherize.
Use the discount code FHBPODCAST to take advantage of this special offer.
---
We hope you will take advantage of a great offer for our podcast listeners: A special 20% off the discounted rate to subscribe to the Fine Homebuilding print magazine. That link goes to finehomebuilding.com/podoffer.
The show is driven by our listeners, so please subscribe and rate us on iTunes or Google Play, and if you have any questions you would like us to dig into for a future show, shoot an email our way: [email protected]. Also, be sure to follow Fine Homebuilding on Instagram, and "like" us on Facebook. Note that you can watch the show above, or on YouTube at the Fine Homebuilding YouTube Channel.
The Fine Homebuilding Podcast embodies Fine Homebuilding magazine's commitment to the preservation of craftsmanship and the advancement of home performance in residential construction. The show is an informal but vigorous conversation about the techniques and principles that allow listeners to master their design and building challenges.
Other related links