Tools & Materials
Create Precise, Fast Joinery With a Box Joint Cutter
Freud's 8-in. Box Joint Cutter sets up faster than a dado-blade set and cuts precise groves and box joints in two sizes.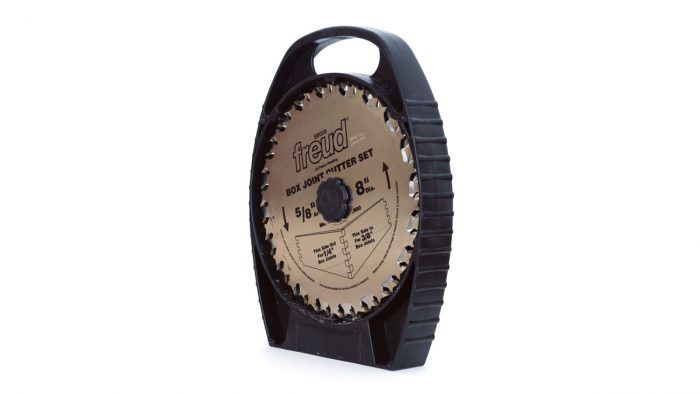 Freud's 8-in. Box Joint Cutter Set ($95) has been a favorite of woodworkers and cabinet­makers for many years. Its two blades cut precise 1⁄4-in.- or 3⁄8-in.-wide box joints and grooves. Compared to a dado set, two groove sizes might seem limiting, but this is offset by their fast setup and precise cutting, which results in box joints or grooves with flat, square bottoms and zero tearout. I put these cutters through a workout on a recent built-in project. Using loose-spline joinery for web frames and carcase construction, the cutter's 1⁄4-in. groove perfectly matched my 1⁄4-in.-thick MDF splines, making web-frame glue-up fast and easy. Where hidden dust panels were needed, I opted for 1⁄4-in. plywood, which is slightly undersized and slid easily within the grooves. For paint-grade frame-and-panel construction, I used the same setup but switched back to MDF for the panels. The tight-fitting MDF aided in aligning frame members as I pocket-screwed them together. 
You can use slot cutters and straight bits in a router table for these joints, but the Box Joint Cutter eliminates the tearout that sometimes comes with router-cut joinery. When it came time to build 15 drawers, I employed a tongue-and-rabbet joint that uses a single setup on the tablesaw to cut the drawer sides and the fronts and backs. This requires a groove exactly half the thickness of the drawer stock. For 1⁄2-in. stock, I used 1⁄4-in. grooves. For beefier drawers made from 3⁄4-in. stock, I used 3⁄8-in. grooves. The 1⁄4-in. setup was also ideal for grooving the sides and fronts for the drawer bottoms. Few specialty tools can do so many things. 
– Rodney Diaz, creative director 
Appears in Fine Homebuilding #303 titled "Precise, Fast Joinery"
---
RELATED LINKS: