Tools & Materials
Getting a Stiff Floor From the Right Subfloor Sheathing
Builder Bryan Uhler explains why using the subfloor sheathing from AdvanTech is better than using commodity OSB and gives clients a sense of assurance.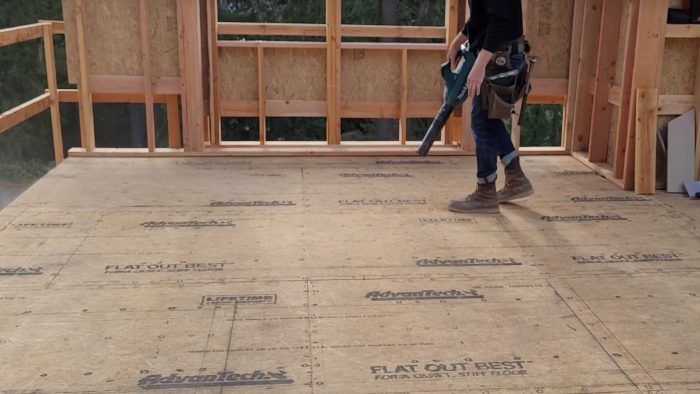 Pioneer Builders, Inc. has used Huber AdvanTech subfloor sheathing off and on for quite a few years and the main reason we do so is because of the product's stiffness.
The reason stiffness is important to us has to do with our business model—we build high-performance spec homes, and we must differentiate ourselves from competitors. One way we do this is by building to the "feel" of the structure. I strongly believe that a prospective buyer can experience a subconscious positive or negative feeling based on the "strength feeling" of a home. If you've ever been in a high-rise building that has movement to it, the resulting sense of an unbalanced equilibrium can be really disconcerting. In a real-world application, floors that move up and down more translate to the person experiencing that movement as instability. This leads to a discussion of deflection, which we'll talk about later.
What is stiffness and why is it important?
The easier a material bends, the less stiff—or rigid—we'd say it is. In the case of AdvanTech, the sheets of material are stiffer both because of the ingredients and the manufacturing process. One of the primary material inputs that stiffens the product is the use of MDI adhesive (methylene diphenyl diisocyanate), while phenol formaldehyde is a typical adhesive used in commodity OSB. MDI actually bonds via chemical interaction whereas phenol formaldehyde is more of an adhesive that physically bonds, or creates physical bonds, at the surface of the materials. In other words, the way AdvanTech is formulated and manufactured results in a more monolithic, uniform product at the molecular level, which then produces a denser product.
Considering the whole floor
In my opinion, the support system of the floor assembly and the finished floor material should be factored in, not just the subfloor. First, we'll address the support system. There are a number of factors that affect the bounciness (i.e. rigidity) of the floor-support assembly, and these are like dials that affect the end result.
Total joist span is important. The further the ends are apart, the more potential there is for bending. Also, joists that are more closely spaced stiffen the floor, while wider spacing makes the floor less stiff.
Depth of joist, species of wood, and series of joist (in the case of I-joists) also affect the end result of stiffness. We often set our joists spaced at 24 in. on center. All things being equal, this will be a bouncier floor (i.e. more deflection) than a floor with joists set closer together. This is because there is less total structural support for the floor (fewer total joists) and the spacing of the joists is higher. In other words, the potential load (weight) bearing on the floor gets spread over less material to hold the weight. The stiffness of the AdvanTech sheathing helps bridge that gap. As for the finishes that we use, our finished-floor surfaces are always solid hardwood, tile, or carpet. Using hardwood and tile, with tile underlayment, results in stiffer floors in those locations. Carpet is used in bedrooms and closets or lower-traffic hallways. The feeling of solidity isn't as important in those spaces due to the nature of a softer finished floor. Note that the spacing described above (24 in. o.c.) may not meet all industry association standards for all types of flooring installation, so go in with eyes open as far as potential callbacks due to the tile cracking or deflection of the hardwood floor. We tighten the spacing of the joists when the floor is tile, but we haven't had callbacks when the floor is hardwood or tile.
This floor assembly doesn't result in a floor that is stiff like concrete. It is nice to have a little shock-absorbing characteristic; it's really about finding a sweet spot of stability and comfort.
There are other reasons someone might specify AdvanTech, namely moisture resistance and nail-holding power. While we can get a lot of rain when we build in the Pacific Northwest, we've found that these characteristics aren't as critical. If the house is dried out properly, materials tend to perform just fine. However, the relationship between stiffness, moisture resistance, and fastener holding power may be related. For a commodity OSB, if a floor gets wet and shrinks, the nails may not hold as well. Also, because commodity OSB isn't as dense as AdvanTech, the fasteners are also less likely to hold. Couple that with the lower stiffness of commodity OSB, and the higher deflection and movement may result in squeaks—callbacks for squeaks can be costly and time-consuming.
As an aside, we've had commodity subflooring get so saturated that it experiences what might be called "punching shear," which is when a material dropped onto that material, when saturated, literally punches through the material. That's never happened when we've used AdvanTech.
What are the cost considerations?
In terms of cost, here is how I approach these options. Our typical floor-joist spacing of 24-in. on-center joists saves us materials, and in the case of floor joists, can lead to higher levels of insulation. We also use this joist spacing because it involves less materials for the framers to handle. Our subfloor thickness is 23/32 in. Ultimately, by using AdvanTech instead of commodity OSB, we save money on the joists-side of the assembly and increase the cost of the subfloor side of the equation. It's important to factor in total cost of installation (macro view) in addition to the cost of an individual product (micro view).
Most people who buy a home aren't interested in the floor diaphragm of the structure. But they may very well experience an innate feeling of stability and therefore calmness by standing on a solid floor. This is why we use AdvanTech subflooring.
Photo courtesy of Bryan Uhler
---
RELATED LINKS