Podcast 408: Wrinkly Metal Roofs, Job-Site Jointers, and Basement Finishing
Patrick, Mark, and Colin hear from listeners about design software and rain-water collection before taking questions about oil canning in metal roofs, benchtop jointers, and basement finishing.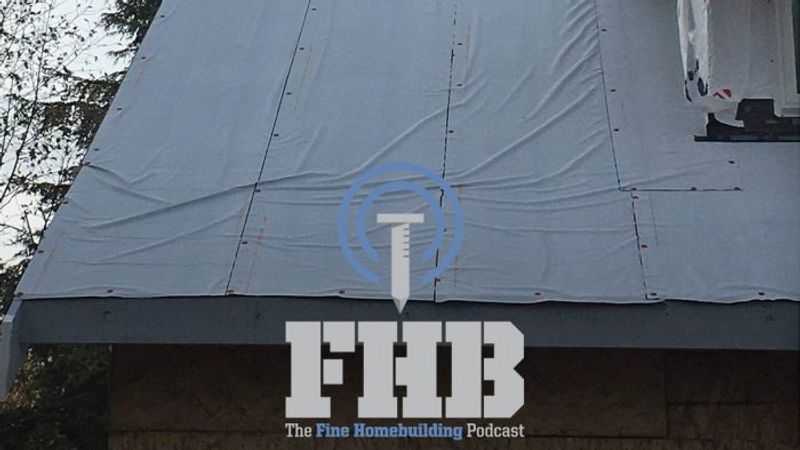 ---
Follow the Fine Homebuilding Podcast on your favorite app. Subscribe now and don't miss an episode:
Help us make better episodes and enter for a chance to win an FHB Podcast T-shirt:
www.finehomebuilding.com/podcastsurvey
Zachary shares his thoughts on design software. Jesse updates us on his career change. Daniel thinks we should be collecting our roof water. Kevin asks about finishing his cold-climate basement. Jon talks about his air-sealing efforts and inexpensive IR cameras. Zack worries his metal roof will be wrinkly. Andy asks if listeners use small jointers on the job site. Keven asks if his basement finishing plan is a good one.
---
Editor Updates:
Colin's stairs and bathroom, VT house
Mark's house
Jeff's deck

Patrick's trip to Stahlstown, Pa.
---
​
Listener Feedback 1:
Zachary from Annapolis, MD writes: Hello FHB Podcast, I thought I'd weigh in as well on the discussion of CAD programs. I'm a high school technology and engineering teacher who has been teaching various CAD platforms for 10+ years. While I don't teach any architecture classes this year, I have in the past plus I do some light remodeling jobs in the summer where I use some CAD programs to help me. Additionally, I'm in the process of writing a building science class that will start to be taught next school year and have been looking at programs for that.
You had mentioned Sketchup and your hatred for it. It does operate differently from pretty much any other CAD program and that does make it difficult. If you take the time to set it up and learn it, it can be extremely powerful. Also, it has a very strong community with a lot of support which is a big advantage. So, if you take the time, it's a great program, but it does have quite a curve.
Chief Architect is pretty amazing software but is pretty expensive. You can design some truly amazing things in it, and it will take care of all of the framing, structure, etc., for you. It also has a lot of fixtures, furniture, landscaping, and many other things to add to make it look like a true home. I would recommend it for anyone doing total remodels or additions, but not if you're just doing a single room or part of a room. For that I would recommend Chief Architect's other program, Home Designer. This is essentially Chief Architect lite, and has many of the visual and design aspects of Chief Architect but not the extensive customization and structural aspects. It's also extremely easy to use, and I would say most people could simply start playing in it and figure most of the software out. I would say for the original question that this would probably be the best program for them due to its price and features.
There is also Autodesk Revit, which is a monster of a program. It's what is used to design commercial and industrial buildings, as well as large housing projects. Its price reflects its abilities, and while it is extremely powerful, its significant overkill for anyone doing some remodeling work. Thanks for the great podcast,
Related Links:
---
Listener Feedback 2:
Jesse writes: Dear FHB crew, I wrote to you last year seeking advice on how I might find a career that was more fulfilling while still using my hard-earned skills, you read and discussed my email on episode #265. Well, it's been a heck of a year and I thought I'd check-in and catch you up on that journey. I'm not sure this is worth reading on air, though maybe someone can be encouraged by my story, I at least hope the podcast crew will appreciate an update. I will try to make it short but I apologize in advance as I'm sure it won't be.
First, I would like to tell you just how much all of your responses meant to me. I had a listening party with some close friends the day after it went live, and I still reference your thoughts to this day and consider episode 265 to be a turning point in my life. Thanks to Kiley, Rob, Jeff, and Patrick for their great advice and kind encouragement. So, shortly after 265 aired, I started researching architecture school and I thought, for a hot minute that that's what I was going to do, but as I am already a two-time college dropout and after consuming countless hours of YouTube videos from architecture students suffering through their studies, I ultimately decided against it and have never looked back. So I put my head down and focused on my remodeling job, trying my hardest to push through my discontent until something better presented itself. By spring, my mental health had reached an all-time low and I quit my job and moved to Missouri with my mother to get my feet under me again.
While I was researching life paths and studying philosophy to distract myself from boredom, I started doing handy-man work through an app called TaskRabbit and it wasn't long before I realized that I was right where I belonged. I have never felt more fulfilled with my work than while bouncing around town, meeting a plethora of interesting folks, and solving myriad problems two hours at a time. And the app has been a great resource for me to get back to work with minimal stress and no boss. It's also allowed me to travel for weeks at a time and continue receiving income simply by changing my location in the app. I could honestly go on for days about how cool it is to have the ability to live the "digital nomad" lifestyle with blue-collar skills (and maybe I should say more, I don't know) but I digress, on with the story.
Another potential life path I had been considering was to host a burgeoning YouTube channel (because it's that easy, right?), so I bought an old camera off eBay and I went on a walk to learn how the thing works. I quickly fell in love with photography and now, 5,000 photographs later, I have not made a single video with it. I'm guessing most of you have some appreciation for photo-journalism and now I do as well! I'm having a blast trying to capture life's seemingly mundane moments in an interesting way.
Furthermore, Kiley had made a comment on my writing ability which really warmed my heart and after a couple friends told me the same thing, I began to take it seriously. I've been putting some effort into learning how to tell compelling stories and I have an idea for a project using written word and photographs to explore the relationship between humans and the structures we inhabit. I just need to work on my follow-through and you may be getting another update from me around this time next year.
Finally, as I write this I am preparing to move back home to Minnesota in December (which is a terrible idea, I know) where I have a growing list of clients waiting for me and a friend is helping me put together a functional system to keep a handy-man business organized. I'm very excited for this next chapter, I just hope it's not as stressful as the last two years have been for many of us. Again, thank you for all the resources you've offered not only to myself and my fellow trades-people, but also to those who hire us, and all the weekend warriors trying to save some cash.
Warm regards, Jesse
P.S. I've included a handful of my favorite photos along with a moody, abstract self-portrait so you can put a "face" to the name. Cheers!
---
Listener Feedback 3:
Daniel writes: Patrick, catching up on some FHB and just listened to episode 396. Instead of worrying about grey water let's get going and collect rain water. Freezing climates still have to worry about freezing, but here in Chicagoland, I can get about 10,000 gallons of water of my ~20×20 shed per year. Collecting rainwater reduces the impact of flash flooding through the whole storm water collection system, reduces stream temperatures for sensitive aquatic life, and can be treated to be potable if desired. Personally, I think this should be a requirement based on lot size. While I'm on my water soap box, sprinkler systems and lawn watering should be illegal or at least pay double the regular rate. Just my $0.02 Thanks for a good podcast I really enjoy hearing all of you folks.
Related Links:
---
Listener Feedback 4:
Jon writes: This podcast made me want to respond with a recent decision I made with my own house remodel, especially regarding chimneys. The house was built in 1944, a single-level slab on grade, with ducts in the poured floor. The house originally had one of the whole house fans that blew air into the attic. A great idea back then, 75 years ago, but these days in this area (Montgomery County, MD) we have nights when the low temp is in the 80s, and often wake up with the outside of the house and windows covered by condensation.
Also, thought I would add that the original attic insulation is Balsam Wool. Kind of interesting. 15 years ago, when we moved in, the house had a broken unsafe oil furnace and propane water heater. We needed to replace the furnace, and decided to switch to a heat pump and electric water heater, just to get rid of any CO and explosion related fuel sources,
The house also had a wood burning fireplace, which had blowers, ducts, etc., installed in the 70's. It was a dud, I tried, put a ton of fuel through it, and it had no impact on comfort or cost. We stopped using it. We considered a new fireplace, but honestly, the cost and other aspects of a new fireplace made us just not care about it anymore.
Our current renovation made us need a new roof, so we took this opportunity to remove the wood burning fireplace, which is being converted to an entryway closet, and removing the old masonry chimney, which only served the old oil furnace and propane water heater.
The removal of the chimney gave us exactly enough sq. ft. to add a laundry closet. The removal of the old fireplace gave us an opportunity to add a nice entryway closet. And more importantly, we have two less holes through the roof, and two less places to air seal.
Also, you mentioned IR cameras, I have one of the first generation Flir-one cameras (the smart phone dongle), which I got based on a story from you guys (I think). It is amazing. On cold days I can see all of my studs through the drywall, and I can see which breakers are using the most current. I can see plumbing, and drains in a poured slab. When we had our renovations done, I could even see where the hurricane clips were in the framing. I am thinking of upgrading to the latest model, hope I won't be disappointed.
Related Links:
---
Question 1: Are the ripples in the roof underlayment going to be a year-round problem, or will they flatten out once the weather gets warmer?
Zack of Bellingham, Washington writes: Hey Fine Homebuilding Podcast. I'm a builder in a little-talked-about area known as the Pacific Northwest, the land of vented roofs and crawl spaces. Despite the little coverage my region gets, I'm a still religious listener of all FHB podcasts.
The question I have is in regards to metal roofs and what's called oil canning, which I believe is when the textures below a metal roof become visible over time through the finished roof. The house my company is building is getting a standing-seam metal roof. The roofers just recently finished installing the peel-and-stick ice-shield underlayment. We've had a lot of rain lately and they obviously had issues with adhesion. My concern is there are a lot of ripples in the underlayment and the fact that over time they'll become visible through the finished roof. Is this a valid concern or is it possible once we get warmer weather the ripples will flatten out under the metal roof and not be an issue? Please share your thoughts on this. Well unfortunately that's all the questions I have this time. Thanks so much for your podcast I look forward to it every week. Keep up the good work!
Related Links:
---
Question 2: Which is better for taking saw marks out: sanding or power planing?
Andy in Roxbury writes: I'm pretty sure no one has ever done benchtop jointers. I'm thinking of buying one as a companion to the job-site tablesaws. We do a lot of stock prep on site for built-ins, casings, base molding, and so on, and we're always faced with how to dress a ripped edge. While either sanding or power planing will take the saw marks out, neither really leaves a square edge.
Got any interest in a comparison article?
---
Question 3: What are your suggestions for creating a comfortable finished basement?

Kevin in Nashua, NH writes: Hi FHB Podcast crew, I have been listening in for the entire time since the first episode, I think! I don't think I have heard about what your suggested basement finishing details yet, but may have missed them? I have an 8-year-old home with what I would consider a very typical New England basement with just under 8' ceiling height now. We are looking to create a big open room for our 3 boys to hang out and watch TV and possibly get a pool table/ping pong table. There is a vapor barrier under the concrete but no insulation under or on the outside of the foundation. I do typically run a dehumidifier in the basement normally just in case type of thing and will want to incorporate some type of ducted dehumidifier to deal with the entire basement which will include 3 spaces after finishing the basement. The full basement is 1,572 sqft and will have a walled off section for a wood shop of about 700 sqft on one side the in the middle storage and utility room of about 380 sqft and then the soon to be finished space of 716 sqft on the other end.
I am thinking about using some type of dimple mat rolls on the concrete floor and taping the seams then will probably using ¾" Advantech subfloor screwed down to the concrete as needed to take out any movement. I will use 2" foam board on the exterior walls directly on the concrete along with taping the seams and also taping the foam to the dimple mat on the floor. Then framing up the walls conventionally on top of the Advantech with some roxul or fiberglass in the walls. Finishing with drywall, carpet, and probably a mix of drywall and suspended tiles on the ceiling.
This will be on its own zone on the forced air HVAC system. I am wanting to try and include some type of ducted dehumidifier / HRV which I can't seem to find much info on. I need to be able to also include the shop and storage area with this to help keep down any moisture off the shop tools as well. If you guys have any specific suggestions, I would be happy to hear them as I really want to build the best I can. I will be doing most all the work myself as I have some free time from my Home Inspection business as the market here is crazy and most people are still forgoing inspections to get their home offers accepted. I know Patrick doesn't think highly of home inspectors but I can tell you it sounds like you may not have had the best experience with yours and we are not all the same! A home inspector also only has about 3 hours to take a noninvasive look over the entire home and we do all try and catch the major items but each home inspector will have a slightly different list for the smaller more common issues around the home! As NH is know as the Live Free or Die State let's just say anything goes in your own home as you can really do all your own work and almost nobody is pulling permits and only larger remodelers are pulling permits so we see some very creative ways of home building!
Related Links:
---
End Note:
Appeal for real estate appraiser for Pro Talk
---
Check out our latest Project Guide: Siding & Exterior Trim!

Check out our new 2021 FHB Houses: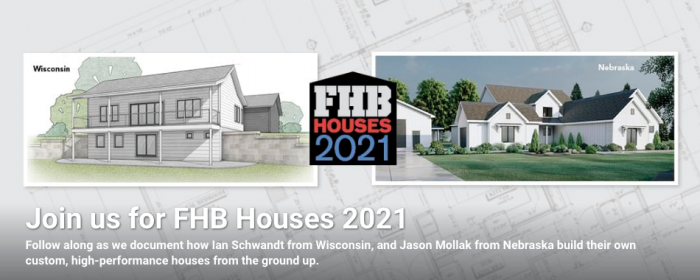 Visit the Taunton Store  •  Magazine Index  •  Online Archive   •  Our First Issues   •  All Access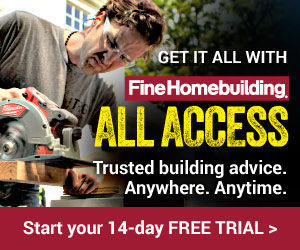 ---
Help us make better episodes and enter for a chance to win an FHB Podcast T-shirt: www.finehomebuilding.com/podcastsurvey
---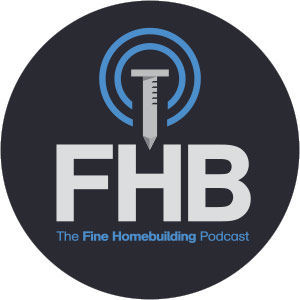 If you have any questions you would like us to dig into for a future show, shoot an email our way:

[email protected]

.
If we use your question we'll send you a FHB Podcast sticker!
---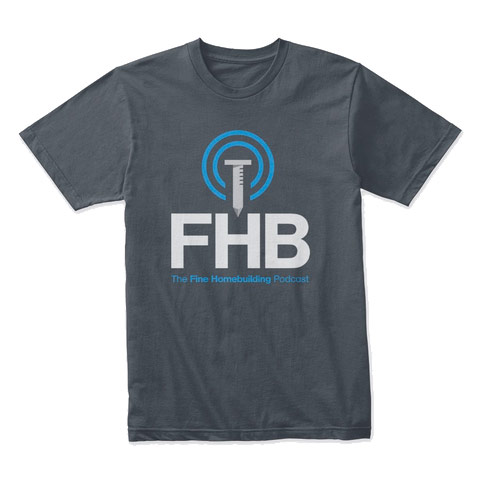 FHB Podcast T-shirts!
Represent your favorite podcast! Available in several styles and colors. Made from 100% cotton. Find the Podcast t-shirt and more cool products in the Fine Homebuilding Store.

---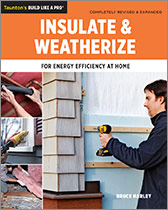 Fine Homebuilding podcast listeners can now get 20% off anything in the Taunton store, including Insulate & Weatherize.
Use the discount code FHBPODCAST to take advantage of this special offer.
---
We hope you will take advantage of a great offer for our podcast listeners: A special 20% off the discounted rate to subscribe to the Fine Homebuilding print magazine. That link goes to finehomebuilding.com/podoffer.
The show is driven by our listeners, so please subscribe and rate us on iTunes or Google Play, and if you have any questions you would like us to dig into for a future show, shoot an email our way: [email protected]. Also, be sure to follow Fine Homebuilding on Instagram, and "like" us on Facebook. Note that you can watch the show above, or on YouTube at the Fine Homebuilding YouTube Channel.
The Fine Homebuilding Podcast embodies Fine Homebuilding magazine's commitment to the preservation of craftsmanship and the advancement of home performance in residential construction. The show is an informal but vigorous conversation about the techniques and principles that allow listeners to master their design and building challenges.
Other related links