Adhesive Layers of Peel-and-Stick Roof Membranes
What materials are used in the self-sealing adhesive layer and are there differences between them?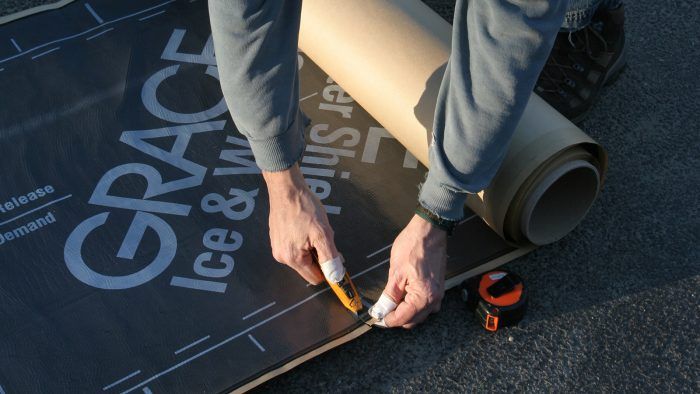 In this series on reroofing, Mike Guertin digs deep into common questions about using peel-and-stick underlayment. Check out the "Related Links" below for more information on this topic.
There are a few different materials used for the adhesive layer of a peel-and-stick underlayment—asphalt and butyl rubber are the most common and a few are made of an acrylic copolymer.
Rubberized asphalt: common, budget friendly
Polymer-modified bitumen—also referred to as rubberized asphalt—is the most widely used and is usually the most economical adhesive. Different formulations of asphalt have different levels of adhesion (stickiness) and different application temperature ranges. Most have a minimum application temperature of 40°F and a high-use temperature of 240°F. "High temperature" versions can be used up to 260°F, but that may not be high enough in areas with hot and sunny conditions and at high altitudes. Asphalt-based peel-and-sticks are incompatible with some low-slope roofing membranes like EPDM and TPO and some plastics, so they can't be applied over them when transitioning between a low-slope roof and a steep-slope roof.
Butyl: costs more, higher temperature
Butyl adhesive peel-and-stick costs between 50% to 90% more than asphalt-based ones. They don't bond as aggressively as asphalt membranes initially, even on a hot day, so they can often be repositioned after placement. Over time, the bond to the roof sheathing increases and rivals that of asphalt and acrylic copolymer types. Most have a low-limit installation temperature of 40°F and a high-use temperature of 300°F. The high temperature makes butyl peel-and-stick a better option for use in hot and sunny locations. Butyl adhesive membranes can be used in contact with other types of roofing products without a reaction.
Acrylics: low temperature & high temperature use
Acrylic copolymer membranes tend to be the thinnest and lightest. They're the stickiest and are also compatible with other roofing and plastics. They're very aggressive even at very low temperatures and some can be applied at temperatures below 0°F. They have a high-use temperature of 300°F, so they're good in hot, sunny climates.
---
RELATED LINKS
Previous:
The Basics of Peel-and-Stick Roof Underlayment
Next:
Edge Flashing for Roofs