Tools & Materials
One-Handed Clamps for Remodeling and Construction
Trigger or squeeze clamps are the go-to choice for home builders because of their convenience, versatility, and powerful grip.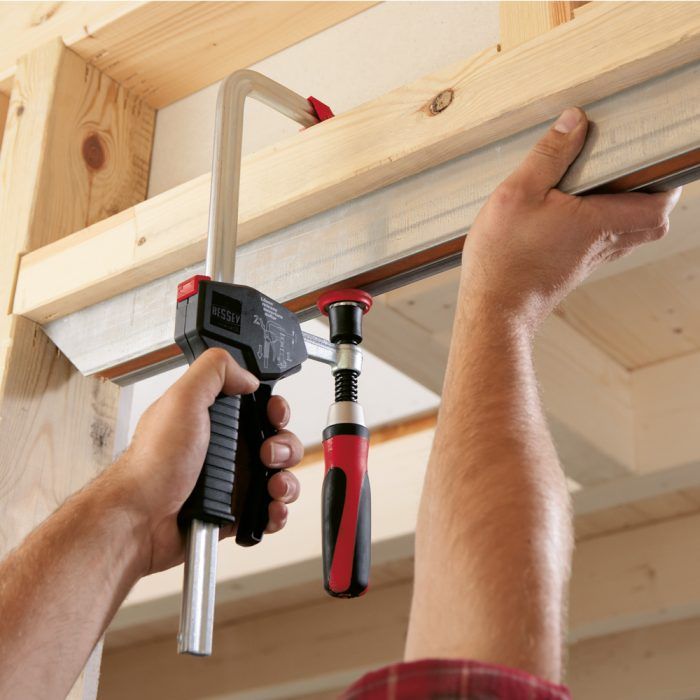 Builders and woodworkers share a lot of the same tools, and sturdy, easy-to-use clamps are some of the tools that anyone who works with wood can't live without. But while a woodshop often has the room and need for dozens of clamps of all types and sizes, a contractor's mobile tool kit needs to be streamlined and versatile, featuring tools that can tackle more than one job quickly and easily. That's where one-handed trigger clamps—aka squeeze clamps—come in.
These clamps have been around for years, so any experienced builder is likely to have a number of them in their truck or workshop already. For those new to these handy tools, a trigger clamp is basically just a bar clamp with a pistol grip and spring-loaded trigger. Unlike a traditional bar clamp, which takes one hand to position and the other hand to operate a lever or screw mechanism that engages the clamp, a squeeze clamp closes on the workpiece by holding the grip and pumping the trigger, allowing you to position and engage the clamp with one hand while having the other hand free to perform some other function.
As with almost every type of tool, there isn't one perfect one-handed clamp for every single job, so it's helpful to compare the features that make the best ones unique and see which matches the work you do most often. I've taken a close look at the most popular trigger clamps on the market, identified the features that seem most practical, and summarized them here to help you choose which clamps are best for you.
---
5 of the Most Capable One-Handed Clamps
Irwin Quick-Grip Heavy-Duty One Handed Bar Clamp
Irwin's QUICK-GRIP clamps were my go-to job-site clamps when I started my career as a carpenter a couple decades ago, and they're still as comfortable to use and robust as they were back then. My favorite feature is the big comfortable button on the reversible end, which makes switching from clamping to spreading mode a quick and reliable process. This is also the only heavy-duty one-handed clamp that I've found with pivoting pads that give you a little wiggle room when grabbing workpieces with surfaces that aren't perfectly parallel. Another feature I was happy to find on the heavy-duty models is a leveling foot that slides along the bar and helps the clamp sit flat when set on a workbench, which makes it perfect for gluing up cabinet doors, butcher-block countertops, or porch post wraps.
Irwin Quick-Grip Heavy-Duty bar clamps range in size from a four-pack of 6-in. clamps for $20 to a 50-in. model for $45. Quick-Grip clamps also come in micro, light-duty, and medium-duty models from 4-1/4 in. to 36 in. ranging from $7 to $30.
---
Jorgensen Heavy‑Duty E‑Z Hold Expandable Bar Clamp
These Heavy‑Duty E-Z Hold Expandable Bar Clamps from Jorgensen have one of the most unique features you'll find on a trigger clamp: a sliding dovetail joint at the end of every fixed jaw that enables you to join two clamps end-to-end for a longer reach. If you pair up two of the 36-in. models, that gives you a 78-in. span, which is 28-in more reach than any single clamp in this category. Another smart design detail is the location of the release trigger. Unlike on many other clamps that put it out in front of the clamping trigger where it might interfere with a workpiece, it's discretely and conveniently built right into the pistol grip. With molded-in rubber pads, Jorgensen's hand grip and clamping trigger are also the most comfortable ones I've seen on any one-handed clamp.
The heavy-duty line of clamps comes in 12-in., 24-in., and 36-in. models, for $25, $30, and $35, respectively. Jorgensen also sells light-duty and medium-duty models ranging from 6 in. to 36 in. starting as low as $11.
---
DeWALT Large Trigger Clamp
Like offerings from most of the other brands, the DeWALT trigger clamps come in a wide range of sizes, from a minuscule 4-1/2-in. 35-lb. clamp that is great for gluing up small molding parts to an extralarge 50-in. model, which at 600-lb. of force is capable of assembling heavy doors or other large projects. What I like about these clamps is that they get the job done quickly, reliably, and affordably. The trigger action is super fast and the spring-loaded button for flipping the fixed jaw into spreader mode is easier to actuate than the chunky recessed buttons on the clamps from other brands I tried.
Prices for DeWalt trigger clamps range from around $7 for the 4-1/2-in. light-duty clamp to $35 for the medium-duty 24-in. model and $42 for the heavy-duty 50-in. clamp.
---
Bessey One-Handed Table Clamp
It's always great to find a tool that can do more than one job well, and that's certainly the case with the Bessey track-saw-guide clamp. The fixed jaw has the familiar flat section that slides into the groove on just about any track to secure it to a workpiece, but that same jaw has a typical clamping pad too. Plus you can flip the fixed jaw around with the press of a button to use the clamp for typical holding or spreading jobs. And the removable 2-in. foot that allows the clamp to grip thin work in saw mode also acts as a jaw extender when you need to clamp around obstructions like a cabinet face frame. At 100 lb. of force it's not as powerful as some clamps in this lineup, but if you've already got a pair of these in your track-saw tool kit, it means you don't have to grab an extra set when you've got your saw on a job.
These 6-in. clamps are avaialble for about $10.
---
Bessey PowerGrip Heavy Duty One-Handed Clamp
The Bessey PowerGrip clamp stands out from the crowd both in how it looks and how it functions. This unique clamp combines the one-handed convenience of a pistol-grip clamp with the power of a traditional screw-style bar clamp. Just like any pistol-grip clamp, you can press a button to slide the clamp close to where you need it and then repeatedly squeeze the trigger to close the clamp against the object you're clamping. The double-acting trigger actually works when squeezed from the grip side or the screw side, giving you more flexibility when positioning it. And with the grip parallel to the bar, this clamp is especially useful for overhead work, like positioning headers or top plates when framing walls. The PowerGrip's trigger will get you up to 200 lb. of grip on your workpiece, then a twist of the screw handle can get you up to 1000 lb. of clamping force—more than any other one-handed clamp I've found.
The Bessey PowerGrip sells for $50 for the 12-in. model and $60 for the 24-in.
More Great Clamps for Builders
While builders and remodelers can get most jobs done with one-handed trigger clamps, they aren't ideal for every type of project. Here are several other clamps that you might consider buying to diversify your tool kit.
​
Collins Tool Co. Miter Clamps

Most experienced finish carpenters have a bunch of these handy little spring clamps in their tool kit because they are indispensable for getting tight joints on mitered trim. The wire clamps have sharp points that pinch narrow pieces of wood together for a perfect fit. They work best when paired with the matching pliers which make opening and positioning the clamps a cinch.

You can buy the clamps and pliers separately, but the best deal is a Collins miter clamp kit that includes 13 clamps plus pliers for $48.

Pony Hand Clamp

When assembling projects with thin sheets or small parts, a hand clamp may be more convenient than a bulky trigger clamp. Some of the nicest ones I've found are made by Pony Jorgensen. Their soft molded rubber grips and curved release trigger make them comfortable to use, and the flexible plastic jaws grip better and are less likely to mar your work than the harder plastic jaws found on similar clamps from other brands.

Pony hand clamps are available in 1-1/2-in., 2-in., and 4-in. models ranging from about $4 to $7.

Bessey GearKlamp

This is sort of a hybrid between the traditional bar clamp and the newer, easier to use trigger-style clamps. The main benefit is that, with the rotating handle being inline with the bar of the clamp, there is no handle or trigger in the way when you need to get a clamp into a tight space, when fastening things like narrow cabinet face frames or railing balusters. The lack of trigger, though, also makes it less convenient to use as a one-handed clamp, as you still might need to hold it in position with your other hand until the jaws engage your workpiece.

The Bessey GearKlamp is available in 6-in., 12-in., 18-in., and 24-in. lengths and sells for $15 to $30.

 
Pony Rapid Acting Band Clamp

This is definitely a specialty clamp, and it's indispensable for awkward jobs like assembling chairs or gluing up complex boxes. You can muddle through these sorts of jobs with a rope or a ratchet strap, but the easy-sliding latches and powerful screw mechanism give this band clamp a leg up over those improvised tools. Bessey has a nearly identical strap clamp if you're partial to their tools, but I felt that I could get a better grip when twisting with the Pony model's textured handle.

You can buy the Pony rapid‑acting band clamp for around $20.
All photos courtesy of the manufacturers.
---
RELATED LINKS