Podcast 418: Future-Proofing Homes, Tile Subflooring, and Going Without Wall Sheathing
Colin, Mark, and Patrick hear from listeners about rusty lug nuts and getting mortar mixes wrong before taking questions about future-proofing electrical wiring, the right underlayment for floor tile, and using foam insulation for wall sheathing.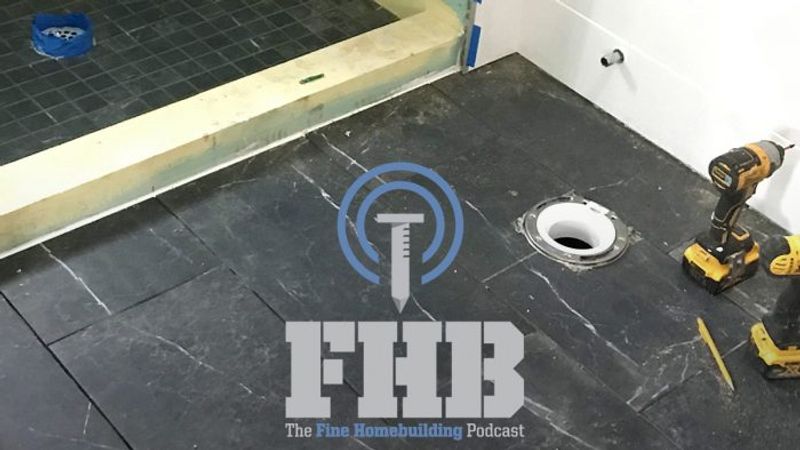 ---
Follow the Fine Homebuilding Podcast on your favorite app. Subscribe now and don't miss an episode:
Help us make better episodes and enter for a chance to win an FHB Podcast T-shirt:
www.finehomebuilding.com/podcastsurvey
Mike has advice for removing rusty lug nuts. Alex tells Patrick to try reading his email correctly. Hellbomb writes in the FHB forum about future-proof wiring. Schmoliver wants to know if particleboard can be used under tile. Alexander asks about shop heating. Jeremiah wonders if insulating sheathing is a better choice than plywood or OSB.
---
Editor Updates:
Colin's tile
Mark's house

Patrick's stairs
---
​
Listener Feedback 1:
Mike from Sunnyvale, CA writes: Dear Fine Automotive Maintenance Podcast, I recently had the same lug nut problem as Jeff mentioned in episode 412. Google provided a simple solution, which is a non-standard sized 20mm 6-sided socket. Large enough to fit over a distorted lug nut, but small enough not to spin. If it doesn't fit, a properly sized hammer will seat it. Although 20mm is non-standard, they carry them at Lowes. They are hidden in a cabinet in the tool section.
---
Listener Feedback 2:
Alex writes: Oh no, I just listened to you read my letter on podcast 412 and you've bungled maybe the most important part…Although it does have portland a significant portion by volume is lime.
The formula for type "o" by volume is:
2 parts lime, 1 part Portland, 9 part sand
Related Links:
---
Question 1: Should I run a single electrical cable through each room in a home?
HellBomb from the FHB Forum: Hey guys! I have been a long time FHB podcast listener and been reading as many articles as I can as I am planning a new home build in a few years and been trying to think of every which way I can to build a "future proof" (i.e. highly maintainable/repairable home) and I have currently been turning my eye towards electrical works. I know I want to support 20a throughout the home and would like each room to have its own breaker. Recently I have had the thought of running a single electrical cable to each room using a gauge rated for continuous 20a connection (12AWG?) and then adding a ceiling mounted junction box to this split the cable so each power outlet (12AWG) and light switch can then be and light switch (16-18AWG) can have its own cable. This would result in more cable usage throughout the project; however, it would make it would result in multiple benefits: 1. Cables are easier to repair and replace if ever needed. 2. Power draw over multiple outlets wouldn't heat cables as much as power requirements increases over the years. Am I overlooking anything? Is the additional connections via the junction box an additional hazard that out weights the possible benefits?
Related Links:
---
Question 2: Is it ever a good idea to install tile over particle board?
Schmoliver from the FHB Forum writes: I am in the process of redoing the flooring in one of our bathrooms and putting down ceramic tile. the bathroom is about 80SF. The existing floor was carpet (terrible idea whoever built the place) except for the toilet area which was vinyl flooring. Once i started demoing the carpet i realized that the subfloor consisted of plywood (thickness unknown) and then particle board glued and nailed/screwed down; about 5/8″ thick.
I know tiling over particle board is a horrible idea, but the bathroom area is tight and demoing out the particle board is something i would like to avoid.
I saw in other forums and asking some other ppl the best way to move forward without demoing out the particle board and came up with the following strategy.
Seal particle board with Regard > install 1/4″ cement board over sealed particle board; screw down only> seal gaps and seams with silicon> tape and apply thin set over seams> apply redgard over seams and maybe screws?> then install tile over cement board (1/4″ thick tile)> grout> caulk perimeter with silicon.
please let me know if this will work? or if i need to change the strategy? or if this is over kill? or if I'm missing anything.
Related Links:
---
Question 3: What is the best way to heat a semi-conditioned garage and workshop?

Alexander from Wyoming writes on GBA: Hi all, Would love to get everyone take on this project.
We are building a new home outside of Cody Wyoming (Climate zone 6 bordering 7) and are planning on starting with the garage/workshop. This will be a semi-conditioned space that will have a minimum amount of heat to keep things from freezing.
-There will be a two-car garage with a single door and a 500 sqf woodshop
-Part of the garage storage area will eventually be used for solar energy storage batteries.
-It will be built into a hillside in the style of a walk out basement partially due to the terrain and for wind mitigation.
-Architect has R19 walls, R40 ceiling, with sheet-rock but would like to up these R values depending on material costs when we start construction.
Right now, I am leaning towards an in-slab hydronic system for the steady state heating to keep it above freezing and then have on-demand heating when the spaces are in use. A wood-stove in the wood-shop and ceiling mounted infrared radiant in the garage.
I am pushing for in-floor since air-sealing is going to be a major challenge in both spaces (the dust extraction system in the wood-shop will be externally vented with makeup air) and feel like heating the slab would be the best way to deal with that.
Ideally, I would like to use a heat pump for the in-floor heating with a propane backup for those extra cold days (-20 happens every winter and -50 is possible). Depending on cost I would like to have the shop zoned separately in case I need to up the temperature over-night for a project that is drying/setting up.
Related Links:
Question 4: With the advent of products that can be used directly over the exterior of a stud wall to create a sheathing-less enclosure and is robust enough to accommodate dense pack cellulose or fiberglass, is "cold sheathing" still a concern for thick (double stud) walls?
Jeremiah from GBA writes: I have been enjoying the questions and subsequent discussion in this form for quite some time. So far I have found the broad range of topics information very helpful.
One topic I haven't been able to find a conversation on is sheathing-less construction. I realize that there are plenty of buildings that don't use OSB or plywood sheathing and simply use Polyiso or XPS as sheathing/continuous insulation /air barrier/WRB over wood framed and wind braced walls. The builders I have seen using this method seem to be selecting this assembly primarily for the cost savings by not installing OSB or plywood and not for any sound building science reasons.
I'm located in mid-western Ontario and have been building for almost 30 years. During my career, I have always used OSB or plywood sheathing. However over the last couple years, my company has been moving in the direction of high performance and passive building which has led us down the path of super insulated walls and all of the good stuff that comes with this method of construction. So my question for this forum is……
With the advent of products like Solitex Mento Plus from Pro Clima which can be used in directly over the exterior of a stud wall to create a sheathing-less enclosure and is robust enough to accommodate dense pack cellulose or fibreglass, is "cold sheathing" still a concern for thick (double stud) walls? To me the idea of installing a skin like this on the exterior with a vented rain screen and using a smart vapour retarder on the interior of a dense packed double stud wall would create a very "dry-able" wall. I realize that OSB or plywood might be necessary at times as a structural requirement but in situations when let in wind bracing is suitable a sheathing-less wall seems to make sense. Also, nice and light to stand.
Ok enough blabbering from me, have at it! I welcome your feedback.
Related Links:
End Note:
Mastered in a Minute videos.
---
Check out our latest Project Guide: Siding & Exterior Trim!
Check out our FHB Houses:
Visit the Taunton Store  •  Magazine Index  •  Online Archive   •  Our First Issues   •  All Access
---
Help us make better episodes and enter for a chance to win an FHB Podcast T-shirt: www.finehomebuilding.com/podcastsurvey
---
If you have any questions you would like us to dig into for a future show, shoot an email our way:

[email protected]

.
If we use your question we'll send you a FHB Podcast sticker!
---
FHB Podcast T-shirts!
Represent your favorite podcast! Available in several styles and colors. Made from 100% cotton. Find the Podcast t-shirt and more cool products in the Fine Homebuilding Store.
---
Fine Homebuilding podcast listeners can now get 20% off anything in the Taunton store, including Insulate & Weatherize.
Use the discount code FHBPODCAST to take advantage of this special offer.
---
We hope you will take advantage of a great offer for our podcast listeners: A special 20% off the discounted rate to subscribe to the Fine Homebuilding print magazine. That link goes to finehomebuilding.com/podoffer.
The show is driven by our listeners, so please subscribe and rate us on iTunes or Google Play, and if you have any questions you would like us to dig into for a future show, shoot an email our way: [email protected]. Also, be sure to follow Fine Homebuilding on Instagram, and "like" us on Facebook. Note that you can watch the show above, or on YouTube at the Fine Homebuilding YouTube Channel.
The Fine Homebuilding Podcast embodies Fine Homebuilding magazine's commitment to the preservation of craftsmanship and the advancement of home performance in residential construction. The show is an informal but vigorous conversation about the techniques and principles that allow listeners to master their design and building challenges.
Other related links