How-To
Make Roof Penetrations Watertight
Learn how to make penetrations in a roof membrane, such as pipes or vent stacks, watertight in this step-by-step process.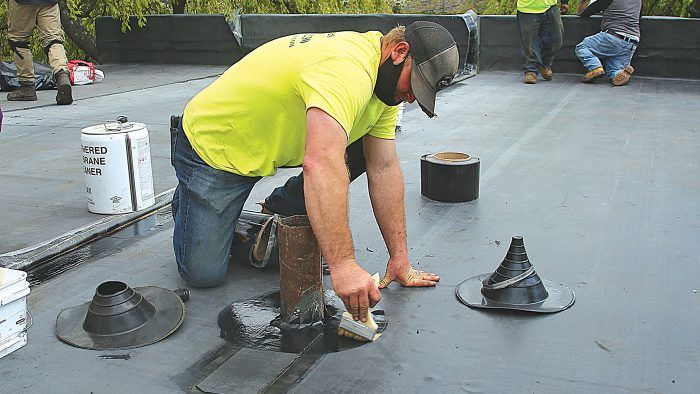 A vent stack or other pipe penetration is a common spot for a roof leak. The process for detailing a pipe penetration with a low-slope roof relies on redundant seals and compatible products. Here's how to make a pipe penetration watertight on a EPDM membrane roof.
Commercial roofing systems have tested methods for sealing common roof penetrations like pipes, ducts, chimneys, and skylights. In addition to multiple skylights—including a 6-ft. round one—this roof had plumbing and mechanical penetrations and an 8-ft.-wide masonry chimney with leaky flashing. Methods vary for dealing with penetrations, but a skilled roofer should be able to solve most problems with tested assemblies. Detail drawings are often available from the roofing manufacturer.
| | | |
| --- | --- | --- |
| Heal the cut. The EPDM membrane may need to be cut over penetrations. We wipe the area around the cut with membrane cleaner and coat it with primer before adding a patch of cured flashing tape. | Prevent lift-off. We clip the corners of the self-adhering flashing tape patch in order to prevent them from lifting and creating a toehold for a leak. | Roll the patch. The flashing tape has a pressure-sensitive adhesive that must be rolled for a strong bond. We roll the entire patch in both directions. |
| | | |
| --- | --- | --- |
| Prime for the boot. We wipe the area under the pipe flashing with membrane cleaner and then prime it with adhesive primer. | Bead at the top. Before installing the flashing, we add a bead of Water Block around the pipe, placed so that it will align with the top seal of the flashing boot when the seal is slipped over the pipe. | Fit the flashing. The flashing is molded to accommodate pipes from 1 in. to 6 in. in 1⁄2-in. increments and is trimmed to be just smaller than the pipe diameter, creating a tight seal. |
| | | |
| --- | --- | --- |
| Stick the bottom. The pipe flashing has pressure-sensitive adhesive that's rolled like flashing tape for a strong bond. Notice the bead of Water Block at the top of the boot. | Seal it up. The pipe boot bottom and the patch are sealed around their perimeter, with an extra blob of lap sealant where they meet. At the top, a tightened pipe clamp seals the waterblock to the pipe. | Cross your "T"s. We cover spots where patches and membrane seams intersect with T- joint covers made by the roofing manufacturer as a second line of defense against water. These are also rolled and their edges sealed with lap sealant. |
| | |
| --- | --- |
| Fix a leaky chimney. The chimney can't be seen from the ground, so it made sense to insulate it and cover it with EPDM so it could be more reliably flashed and in order to reduce thermal bridging. The insulation is held to the masonry with concrete screws. Drive anchors hold the termination bars. | Flash the top. Once the termination bars are in place, we prime the areas around them and cover them with uncured flashing tape, which is more flexible but not as long-lasting as the cured version. It must be rolled like other seams and transitions. The skinny roller in the foreground is for corners. |
---
RELATED LINKS