How-To
Foundation Insulation Options for a Concrete-Free Slab
A plywood slab-on-grade requires a similar foundation construction to the ones used when building a traditional concrete slab-on-grade home.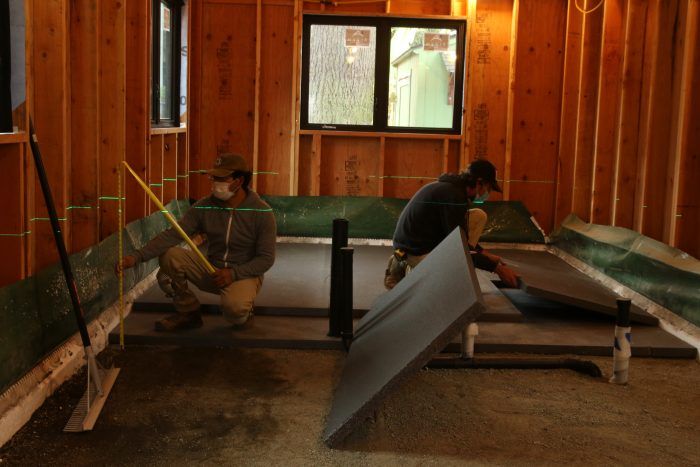 There are several benefits to building a concrete-free, slab-on-grade home, including a reduction in embodied carbon, less flooring headaches, and faster completion times. When choosing to build a home with a plywood slab, the foundation construction and insulation options are similar to the ones used when building a traditional concrete slab-on-grade home. At Birdsmouth Design Build, we build our foundations using insulated concrete forms (ICF), but if you would rather not use ICFs, here are two additional options.
#1 Raise the insulation layer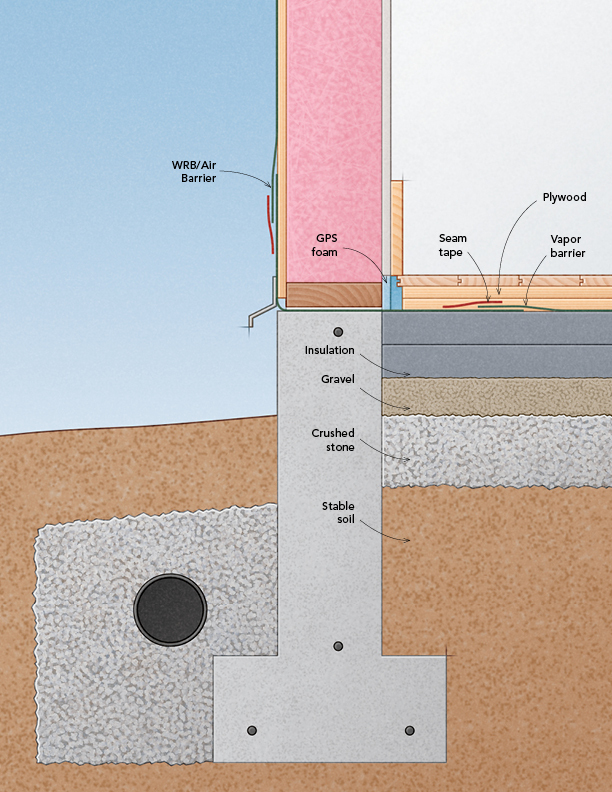 If you're okay with a step up into the home, you can simply raise the level of the horizontal insulation to be flush with the top of the stem wall (we also place a thin thermal break between the flooring and sill plate). This approach far and away exceeds minimum code requirements, but you'll need to create a landing at the exterior door to avoid a short awkward step, and be sure to flash the threshold carefully to prevent water entry.
#2 Place a vertical foam layer inside the stem wall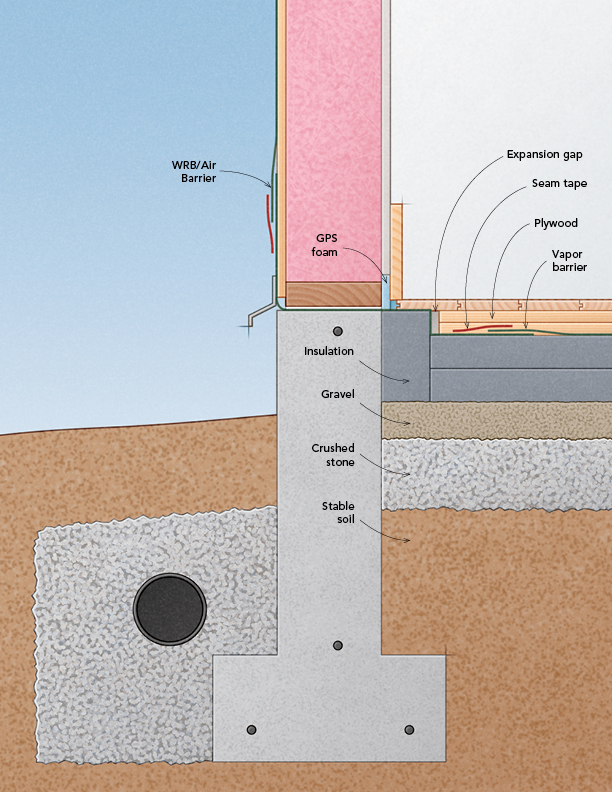 To bring the finished flooring down level with the threshold (in keeping with universal design) while creating the code-required thermal break at the edge of the slab, extend the continuous layer of foam under the slab into an L-shape at the edges. The downside here is a slightly larger space between the plywood slab and the flooring, making it difficult to attach flooring at the perimeter.
If you would like to learn more about the benefits of a concrete-free slab, or if you would like to see the detailed step-by-step process that will demonstrate exactly how to build one, check out the full story here.
Josh Salinger is founder and CEO of Birdsmouth Design Build, a residential design-build firm in Portland, Ore. Photo by Asa Christiana. Drawings by Peter Wojcieszek.
---
RELATED LINK