Podcast 437: Design Second Thoughts, Heating a Small Shop, and Cabinets on Steel Studs
Andrew, Ian, and Patrick hear from listeners about opportunity costs, ballooning project budgets, and redoing a bath in a one-bathroom house before taking listener questions about second thoughts on design, heating a small woodshop, and fastening heavy things to light-gauge steel studs.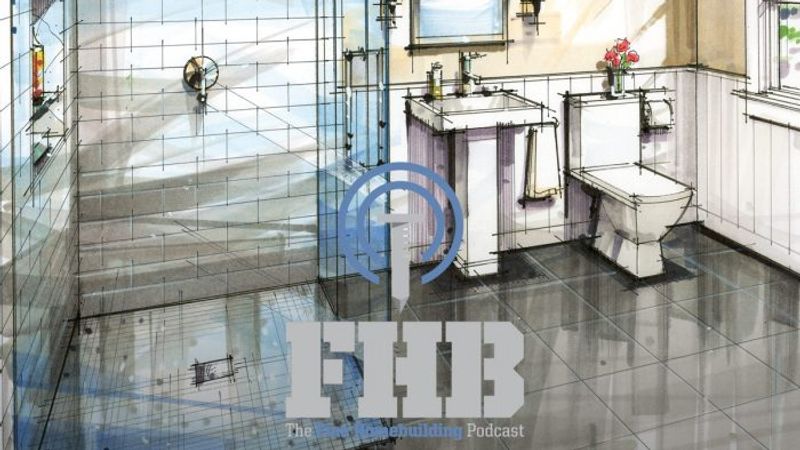 ---
Follow the Fine Homebuilding Podcast on your favorite app. Subscribe now and don't miss an episode:
Help us make better episodes and enter for a chance to win an FHB Podcast T-shirt:
www.finehomebuilding.com/podcastsurvey
Mark and Alex have thoughts on Tess's bathroom project. Chris has good advice for doing a full bath remodel in a one-bath house. Jeff asks about design mishaps with remodeling projects. Cory needs a heating system for his small shop. Dustin asks about detailing his crawlspace. John wants to know how to hang cabinets on steel studs.
---
Editor Updates:
Andrew's time at the Builders' Show and podcast
Ian's new position at TDS
Patrick's evolving workspace
---
Listener Feedback 1:
Andy Engel writes: Just listened to podcast 428. Ian's comments about opportunity costs were spot on. It really depends what you're giving up. For my building projects, I don't give up work time. I work on my house nights, weekends, holidays, and vacations. (And y'all give me shit for not finishing my house over the last two decades, but in that time, I also completely remodeled the house I grew up in, built and finished a shop and accessory apartment, and spent 10 years as a Scoutmaster. And I did finish a bathroom over this winter. In short, shut up.) There is no real lost opportunity cost–what else would I be doing that would be a better economic use of my time? The house I live in now is by far the best investment I've ever made. Fun stuff. I really should figure out ways to spend more time with the podcast.
Related links:
---
Listener Feedback 2:
Mark writes: Living in Vermont, the land of design/build, I wondered why Tess (from podcast 430), her chosen contractor (by the way, I agree with the suggestion to not shop around for cheap) and her contractor's plumber, do not sit down together and discuss the proposed design and project and where Tess might pull the cost back towards her initial budget? That's the strength of design/build. Get everyone with a stake in the project, and the knowledge about how to deliver a project, around the same table. Talking, imagining, brainstorming as to how to make for an effective remodel.
I can imagine the plumber saying 'forget the wall-hung fixtures!' and that will save you $7K. Pedestal sinks, claw-foot tubs, doorless walk-in showers all add thousands to a project and may not be necessary to meet the client's goals. We can't fault a homeowner for requesting those items but it's the job of the contractor to help guide the client back to reality. Design/build and specifically the design/build collaborative model can help smooth the path towards a successful project. It might even convince the client to up the budget if they understand the trade-offs and the reasons for project costs. With that, I've got to go. Vermont is also the land this winter of endless precipitation and I've got to get the snowblower out of the shed!
Related links:
---
I hope this breakdown gives listeners some insight.
Influenced by size or house or room
General Requirements – $4000 (Permit, Site Protection, Supervision, Project management)
Demo – $5000
Framing – $1500 (repair floor framing, med cabinet opening, can increase if changing the door opening or taking space from another room)
Insulation – $800
Drywall – $2000
Total cost – $13300 or 19% of job cost
Influenced by design decisions
Fixtures – $4000 (Toilet, Vanity faucet, Shower)
New Plumbing Roughs – $7000 (Assumes new locations. Reuse old locations is considerably less)
HVAC – $2000 (New bath exhaust)
Electrical – $3500 (Bringing old wiring up to code, New lights, Wire bath fan)
Paint – $1200
Tile Floor and Shower – $9000 (Could easily double or triple based on tile selection or amenities like zero threshold, fancy niches, benches)
Trim – $2500
Vanity – $2000
Shower Glass – $2500 (could double depending on design)
Bath Accessories – $800 (You can seriously spend whatever you want in this category)
Total cost – $34500 or 50% of job cost
Total Project Cost to Produce – $47800
32% GP – $22500 32% of job cost (For most professional remodelers this yields a 4-8% net profit)
Cost to client – $70300
Listener Feedback 3:
Alex in Minnesota writes: $78k bathroom really! I would love to see the bid for this project. As you mentioned, a sink and toilet would cost $5-10k a piece so there's like $60k floating around…I am a mason rehabbing entire commercial facades with $10k in lift rentals for less then what it supposedly cost to do a bathroom. Maybe I'm leaving money on the table but I know what I make, and what I pay my people (more than double the median income of where I live). So, when $30k can't get you a bathroom in an 880sq-ft house, something isn't right. Perhaps it's justified, if so, I'd love to hear you break it down.
---
Listener Feedback 4:
Chris in Chicago writes: Greeting from Chicago FHB crew:
Really enjoyed episode 430 and the discussion on remodeling a bathroom in a one-bath house. Back story to my comment. I spent ten years buying single-family homes and living in them while I rehabbed them. From mostly just cosmetic to full gut rehabs. So, I can tell you there are ways to do it while minimizing your time without the use of a toilet or bathing means. You can do demo down to the studs while leaving your bathtub in place and throwing up some plastic on the walls at the end of the day to shower. Or take a bath if you prefer. You can replace the tub and do associated plumbing in a day and be using your new tub the same night. Same goes for the shower valve and plumbing. As for the toilet, removing the tank and leaving the bowl in place will allow you to do most of the work in the room while still giving you use of the toilet with only the occasional flush with a bucket of water. When it comes time for the floor replacement, you should be able to demo and install a new floor in a day because it's a small area. If installing tile, the thinset will be dry the next morning and you can throw the bowl back in and your back in business. Having only gone without a toilet for a day. If you prefer you can rent a cheap hotel room nearby for a week or so and use it just for bathing and such. Still cheaper than 78k By the way $78k is the most expensive bathroom remodel I have ever heard of even with a wall hung toilet. It's only an 800sq foot house. How big can the bathroom be? Keep the great podcasts coming.
Related links:
---
Question 1: What design details should I think through ahead of time?
Jeff in Campton, NH writes: Hi FHB! You asked for design questions, and I think I have a doozy for you. I have recently completed my gut renovation (with your help, both answering my questions and teaching me how to work through issues). As an amateur, I am overall very happy with how it turned out. I opened up walls, added windows, insulated and air sealed, installed a DIY mini split, and generally modernized the space. It looks beautiful. But I'm realizing how many details you have to plan WAY ahead of time. One I messed up was living room layout. It looks beautiful, but I did not plan ahead where to put a couch and TV. I added French doors out to a porch and a big window (everyone loves open concept and windows, right?). In hindsight I would have put in windows I could put a couch in front of and moved a door over a couple feet to make a nice wall space for a tv or artwork. My question is, what other design details have you guys forgotten about? Or do you think through ahead of time? Thank you again for this fantastic podcast!
---
Question 2: How do I heat my woodworking shop with limited wall space?
Cory writes: Hello FHB Podcast Crew! I work out of a small woodworking shop (10×14') after work and weekends year-round. It only gets super cold here a few weeks out of the year but I want to be able to work through those times. I currently heat with a space heater and cool with a window AC which works fine but I'd like to have a more cost-efficient way of heating in the winter so I can keep the space above freezing round the clock instead of heating on demand. The space is mostly insulated and air-sealed. I need to sure up the ceiling still but I'm finding that it's so easy to put off anything that involves cut-and-cobbling.
Anyway, as wall space is at an absolute premium in such a small space, I've been looking at window unit heat pumps/AC to replace the current window AC unit. I can't seem to find much info on these online. Do they work similarly to a mini split? What are the pros and cons? I can't really afford the wall space to put in a regular mini split and it's such a small space it seems like overkill anyway. Would love any insight you may have. Thanks for all you do and keep up the great work!
Related links:
---
Question 3: If a crawlspace is pretty much just a shallow basement, can I treat my basement the same as a crawlspace?

Dustin writes: Hello, FHB podcast! I really enjoy your show and everybody's eager desire to solve all things building related. I have a topic I'd love for you to dive in on. There is plenty of material out there on how to encapsulate/insulate a crawlspace. Bulk water is always addressed and then air-sealing/encapsulating/vapor retarding. Here is my question. If a crawlspace is pretty much just a shallow basement, can I treat my basement the same as a crawlspace?
My basement is cmu block in a 1950s cape in zone 5 NY state. I do get water leakage in some spots from road runoff and downspout drainage which I hope to correct this summer. My basement has a perimeter drain that leads into a sump pump. During last summer's multiple downpours, the block would be wet and drain into the perimeter drain. One spot even has a tiny trickle that can occasionally shoot out and over the perimeter drain onto the floor making a small puddle. If mold grows on organic material and requires oxygen, wouldn't I be allowed to encapsulate the walls with a high perm plastic sheet, pinned to the wall with foam board? The sheet would be tucked into the drain to direct any bulk water down into it. The foam would keep any vapor from condensing on the cold wall and would keep all moisture on the side between the plastic sheet and the block wall. If wet dirt on the other side of the block wall isn't moldy, why would wet concrete between the block and plastic be moldy?
I would plan to seal the sheet completely at the top and seal completely at the floor. Obviously, there is still a void of air in the drain itself which is embedded in concrete, but with the water vapor not being allowed to enter the basement air at all and the lack of organic material trapped in the encapsulation assembly, is there really any harm? I'd love to not have to run a dehumidifier all summer long as new moisture is constantly being introduced as fast as its being taken out.
Excavating on the other side of the basement wall to correct drainage and waterproofing is the big thing I don't want to do, even though it really is the main solution. I think there are plenty of people that would love to solve for this problem of basement moisture and insulation that don't want to or can't take on the full blown project of excavating and creating new drainage for their basement.
I'd love for you to talk about it and dive into the details! Below is a link I posted on GBA forum a while back and there wasn't much of a definitive answer for this approach.
Thanks!
Related links:
---
Question 4: How do I screw into metal studs through drywall when trying to install a load-bearing ledger board?
John in Cincinnati, Ohio writes: Hey there! I consider myself a moderately above-average DIYer, but it seems that no amount of online research or YouTube tutorials has allowed me to figure out how to screw into metal studs through drywall when trying to install a load-bearing ledger board. I live in an old wood framed house that was partially rehabbed by the previous owner who used steel studs in many places. I had trouble hanging cabinets in kitchen, and now I'm having trouble building a lofted bed for our kids. If the studs were wood I wouldn't have any issues. With the metal studs, I am able to find the dead middle of the stud, and I've tried both with and without pre-drilling a small pilot hole (to ensure the screw doesn't "dance" across the metal stud). I try to drive the screw at the lowest RPM possible. Regardless, the screw always strips out the metal, resulting in zero holding strength. I'm using these wood-to-metal TEK screws and our walls are 1/2" drywall. Should I try a different screw? If so, what do you recommend?
Since the previous owner put in the metal studs, so I can't say anything about their specs. But (based on other material choices the previous owner made) I assume they're whatever was cheapest at the time (~15 years ago). My "workaround" is to use toggle bolts in the drywall away from the studs, but that's more work and less robust.
Thanks for your guidance!
Related links:
---
Check out our latest Project Guide: Siding & Exterior Trim!
Check out our FHB Houses:
Visit the Taunton Store  •  Magazine Index  •  Online Archive   •  Our First Issues   •  All Access
---
Help us make better episodes and enter for a chance to win an FHB Podcast T-shirt: www.finehomebuilding.com/podcastsurvey
---
If you have any questions you would like us to dig into for a future show, shoot an email our way:

[email protected]

.
If we use your question we'll send you a FHB Podcast sticker!
---
FHB Podcast T-shirts!
Represent your favorite podcast! Available in several styles and colors. Made from 100% cotton. Find the Podcast t-shirt and more cool products in the Fine Homebuilding Store.
---
This episode of the Fine Homebuilding podcast is brought to you by Benjamin Obdyke.
Benjamin Obdyke would like to thank the nuisances that builders and homeowners despise. Our premium products protect from those pesky things like rain, snow, UV rays and the neighbor's sprinkler system. Take HydroGap SA, the first self-adhered drainable housewrap that combines a true air barrier and drainage gap. Or InvisiWrap UV, an all-black WRB, perfect for long-term moisture protection behind open joint siding.  Backed by an unmatched 25 year warranty, Benjamin Obdyke's UV-Protected Rainscreen System not only features InvisiWrap UV, but HydroFlash UV+, a high performance, vapor permeable flashing tape.
Visit BenjaminObdyke.com to learn more about their comprehensive, durable systems.
---
Fine Homebuilding podcast listeners can now get 20% off anything in the Taunton store, including Insulate & Weatherize.
Use the discount code FHBPODCAST to take advantage of this special offer.
---
We hope you will take advantage of a great offer for our podcast listeners: A special 20% off the discounted rate to subscribe to the Fine Homebuilding print magazine. That link goes to finehomebuilding.com/podoffer.
The show is driven by our listeners, so please subscribe and rate us on iTunes or Google Play, and if you have any questions you would like us to dig into for a future show, shoot an email our way: [email protected]. Also, be sure to follow Fine Homebuilding on Instagram, and "like" us on Facebook. Note that you can watch the show above, or on YouTube at the Fine Homebuilding YouTube Channel.
The Fine Homebuilding Podcast embodies Fine Homebuilding magazine's commitment to the preservation of craftsmanship and the advancement of home performance in residential construction. The show is an informal but vigorous conversation about the techniques and principles that allow listeners to master their design and building challenges.
Other related links