Podcast 430: Escalating Remodeling Costs, Drying Behind Back-to-Back Tile, and Protecting Shingle Roofs From High Winds
Andrew, Patrick, and editorial advisor Mike Guertin hear from listeners about reducing the energy penalty of dust collectors and give a DIY project update before taking questions about drying behind wall tile, preventing wind damage to roofs, and airtight crawlspace hatches.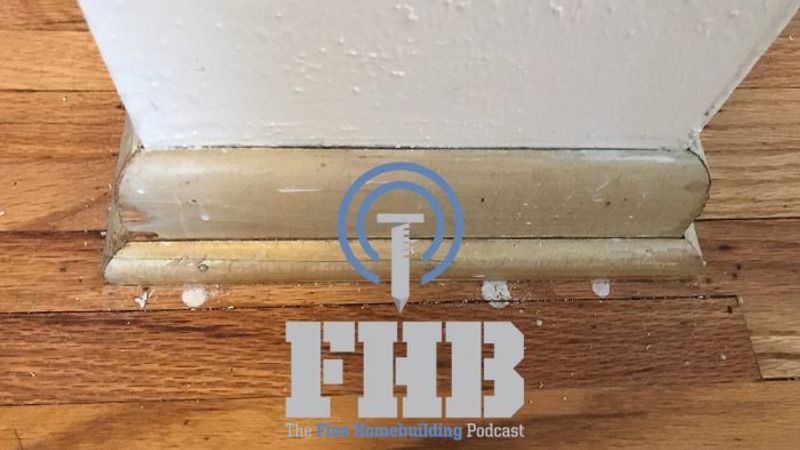 ---
Follow the Fine Homebuilding Podcast on your favorite app. Subscribe now and don't miss an episode:
Help us make better episodes and enter for a chance to win an FHB Podcast T-shirt:
www.finehomebuilding.com/podcastsurvey
Scott has advice from Fine Woodworking. Jim shares his thoughts on chimney chases. Tess sends an update on her trim replacement and asks how to make bathroom remodels more affordable. Jim from Milwaukee wants to know if walls with tile on both sides can dry. Jim in Asheville asks about making asphalt roofs hold up to high winds.
---
Editor Updates:
---
​
Listener Feedback 1:
Scott in Madison, WI writes: Hello Patrick and crew, New listener to the podcast, and I'm learning a ton and enjoying it immensely. On the recent question about the dust collector outside and avoiding the loss of conditioned air, I think it was episode 418, but to be honest I'm binging them so fast that it could have been another one. In any case, there is a picture of that very setup on page 12 (Workshop Tip: Place a dust collector outside the shop) of the current Tools & Shops issue of Fine Woodworking. In that instance, it was someone in Florida who was trying to avoid exhausting cooled air, but the principle is the same.

Thanks for a super interesting show. I've only been listening for a week and I've already sent several links to my sister for use as she plans her Passive House build.
---
Question 1: What do you suggest for keeping our bathroom remodel on budget?
Tess writes: Hey FHB Crew! I have a few updates since our last conversation in Podcast 217 with Patrick, Matt, and Rob and Podcast 273 with Patrick, Rob, and Kiley. But first I am so excited to have Andrew Zoellner at FHB (and hopefully regularly on the podcast). As someone who lives 15 mins from "Nordeast," I'm looking forward to hearing more about his house projects and the building/remodeling woes that come from the frozen prairie. By the way, when you joked about the weather here… Andrew forgot to mention the week before we were regularly in the -10 to -20F during the day. ⛄
As a quick refresher: I've been working on remodeling our 888 square foot 1955 "minimal ranch" in St. Paul (Roseville), MN. Our aesthetic for the remodel is mid-century Scandinavian with a heavy dose of nordic-noir. We started in 2019 and when Covid hit, several of our projects ran aground due to the shortages. Well, stubbornness prevailed and we were able to finish the trim, electrical plates, and lighting in all the rooms we had planned on. Below are a few photos of the before and after.
We're very happy with how the trim turned out. It was a major contributor to upgrading the look and feel of our space. However, I will never volunteer to do trim let alone miter cut trim for a 4 x 6 ft space with four doors ever again.
Now the saga (and woes) continues on to the bathroom. Working with an architect and an initial contractor, we made a plan for a bathroom remodel that kept the original footprint while allowing us to make the small space more functional. Originally our price point was planned at $30K based on feedback from the contractor we hoped to work with. When final designs were done, he gave us an updated quote of $78K. I was very disappointed the new figure didn't include our whole bathroom being grouted with 24 carat gold. After several attempts to rework the design and get quotes from multiple contractors, we were not able to get below $45K and are currently at a standstill.
If you were in our shoes as non-professional remodelers, what would you do? Would you attempt to do the work yourself? Would you wait with the hopes that labor and material prices will go back down?
This is our one functioning bathroom in the house and our hopes of using a contractor was to get it done in one fell swoop. There's a few tricky bits like the window that needs to be reconfigured. (We're not enthusiastic that right now our neighbors see our silhouettes from the shower.) The other thing that makes me nervous is making sure we pull the right permits at the right time and place. We're not clear on how to know when a permit is needed and maybe knowing that would distill our fears of taking on this project ourselves.
Attached are photos of the current bathroom and the remodel designs. The pink ceiling you see in the photo is the original color. We had to scrape off the existing white paint because it was bubbling and we feared it was from a leak in the roof. Luckily it seems that the paint just couldn't adhere to the ceiling, likely due to the high volume of hairspray a previous resident used at the vanity.
Related Links:
---
Question 2: What are best practices for installing tiling on both sides of the same wall?
Jim writes: FHB Podcast Crew, Hoping you can help guide me on a bathroom remodel question. We are installing a shower on an interior wall that will be tiled from floor to ceiling. One the other side of that wall is a tub/shower that will also have a tiled wall from tub to ceiling, resulting in an interior wall that will be a tiled sandwich. We will likely use either a Durock or Hardiebacker board as the base for the tile. I reviewed installation instructions for both and Durock is silent on a vapor barrier installation and Hardiebacker states it is optional and local building code should be followed. My question is what would be the best practice in this application?  I do not want to create a problem within the interior wall framing down the road. I have a building permit pulled for this work and it is quite possible I'll be having a conversation about this with my building inspector regardless of which route I go so I'd like to be armed with a little more building science information on my chosen approach.
As an FYI, we are using Intello Plus Smart Vapor Retarder on the inside of our exterior walls, as the outside has taped Zip sheathing along with foam board and I wanted to ensure there is some drying potential inward. We are located in the Milwaukee area. Thanks so much for your help.
Related Links:
---
Question 3: What happened to skilled craft of my roof?

Jim writes: During yesterday's windstorm in Asheville we lost a lot of composition shingles: This is just the part I can see–too dang cold and windy to go outside.

No one would ever install a metal roof without screwing down the edges so why are comp shingle roofs installed with nothing holding down the edge? (especially at the gable end). No nails, no screws, no adhesive. Hard to say it isn't necessary. About a week ago I wrote to you with a question about why composition shingles are not nailed at the edges. I think I found part of the problem:

The yellow arrows point to the clear strips that should have been peeled off of the tar strip on each shingle before it was nailed on. Also, the installer "high nailed" every row so the roofing nail only goes through a single shingle instead of two resulting in half as many nails holding each shingle. I applaud your "keep craft alive" initiative but I'm afraid craftsmanship died a long time ago. This saved the roofer a few hours but will cost me about $35,000 to fix.  But "you can't see it from his house."
Related Links:
---
Question 4: Are you aware of anyone who manufactures sealing crawlspace doors?

Randy in North Carolia writes: Hi Patrick and the Podcast Gang, you folks do a great job of covering a wide range of useful topics.  I have a question that I've not heard discussed in a podcast (yet)…………and it involves one of your favorite challenges……air sealing! There are often discussions on your podcast about the merits of sealing-off living spaces to separate them from unconditioned attics, as well as the benefits of sealed crawlspaces. In both these cases access to these spaces will often require a portal of some type between the conditioned and unconditioned spaces.  These portals are almost NEVER a standard size, nor or they well-sealed.
The classic scuttle hole into an attic can be sealed through some combination of weatherstripping, screws, fitted insulation and gravity………but any kind of off-the-shelf SEALING version of a scuttle hatch has escaped my search.  I've found fire-rated access ports to allow access for servicing plumbing valves, etc. but these are usually just stamped-metal doors with zero insulation and zero weather-stripping.
The classic access to most crawlspaces (at least down here in the South) involves a hole through the foundation with a piece of plywood mounted on hinges and stiffened with a couple of cross-bucks, then held closed by a turn-button.
Since a crawlspace doesn't usually have any way to access this space from the inside of the house, it seems any sealing of it would be compromised by a poorly-fitted access door through the foundation to the outside……………yet I have not found an exterior-grade door manufacturer that makes small versions of their doors usable for this purpose (say 24×36 or 36×36).
Are you aware of any manufacturers of sealing crawl space doors?  Many homes in the south have HVAC air-handlers installed in the crawlspace, as well as water softeners and water filters, so frequent service access for changing filters begs for an easily opened, but SEALING door.  Removing a ring of screws holding the door sealed is a pain.
Are you folks aware of any off-the-shelf solutions for these applications?
Keep up the good work Podcast Gang!
Related Links:
End Note: Don't miss FHB's coverage from NAHB's International Builders Show from Feb. 8-10.
---
Check out our latest Project Guide: Siding & Exterior Trim!
Check out our FHB Houses:
Visit the Taunton Store  •  Magazine Index  •  Online Archive   •  Our First Issues   •  All Access
---
Help us make better episodes and enter for a chance to win an FHB Podcast T-shirt: www.finehomebuilding.com/podcastsurvey
---
If you have any questions you would like us to dig into for a future show, shoot an email our way:

[email protected]

.
If we use your question we'll send you a FHB Podcast sticker!
---
FHB Podcast T-shirts!
Represent your favorite podcast! Available in several styles and colors. Made from 100% cotton. Find the Podcast t-shirt and more cool products in the Fine Homebuilding Store.
---
This episode of the Fine Homebuilding podcast is brought to you by Benjamin Obdyke.
Benjamin Obdyke would like to thank the nuisances that builders and homeowners despise. Our premium products protect from those pesky things like rain, snow, UV rays and the neighbor's sprinkler system. Take HydroGap SA, the first self-adhered drainable housewrap that combines a true air barrier and drainage gap. Or InvisiWrap UV, an all-black WRB, perfect for long-term moisture protection behind open joint siding.  Backed by an unmatched 25 year warranty, Benjamin Obdyke's UV-Protected Rainscreen System not only features InvisiWrap UV, but HydroFlash UV+, a high performance, vapor permeable flashing tape.
Visit BenjaminObdyke.com to learn more about their comprehensive, durable systems.
---
Fine Homebuilding podcast listeners can now get 20% off anything in the Taunton store, including Insulate & Weatherize.
Use the discount code FHBPODCAST to take advantage of this special offer.
---
We hope you will take advantage of a great offer for our podcast listeners: A special 20% off the discounted rate to subscribe to the Fine Homebuilding print magazine. That link goes to finehomebuilding.com/podoffer.
The show is driven by our listeners, so please subscribe and rate us on iTunes or Google Play, and if you have any questions you would like us to dig into for a future show, shoot an email our way: [email protected]. Also, be sure to follow Fine Homebuilding on Instagram, and "like" us on Facebook. Note that you can watch the show above, or on YouTube at the Fine Homebuilding YouTube Channel.
The Fine Homebuilding Podcast embodies Fine Homebuilding magazine's commitment to the preservation of craftsmanship and the advancement of home performance in residential construction. The show is an informal but vigorous conversation about the techniques and principles that allow listeners to master their design and building challenges.
Other related links