Ok, So How Much Does Building Your Own Home Cost?
Detailed budgets and learning to adapt when needed is crucial, especially if you're a self-designer/builder like Ian Schwandt. Follow the cost-by-cost break down of FHB House WI and how $124.34 per sq. ft. was achieved.
"It is 100% about the money 100% of the time" – My dad, Morry
Though I believe that my dad unleashed this observation partially in jest, it often rings true in residential construction. A client's budget (or lack of a budget) directly influences every material selection and decision made during the design and construction phases of a home build, and therefore the final cost of building a home.
I kept a fairly detailed spreadsheet throughout my design process that had my estimated costs for a phase of the build, and I tracked the actual costs against that estimate. For the scope of work that I needed to hire out, I got subcontractors involved early in the process, reaching out to some key subcontractors like my excavation company, JF Trucking & Trenching, while I still lived in New York. These subcontractors were able to provide me with cost ranges that I plugged into my spreadsheet along with the material takeoffs for my self-performed scope of work.
With our design finalized and my budget spreadsheet complete in August of 2020, we secured financing via a construction loan for $250,000 for our 2750-sq.-ft. house. This $250,000 figure was based on 80% of our bank's expected appraised value of our design at $312,500. The 80/20 loan-to-value matrix is very common in residential mortgage lending. I budgeted an additional $25,000 out of pocket, resulting in my self-design/build budget of $100 per sq. ft. As material costs steadily rose throughout the second half of 2020 and the first half of 2021, we faced a realization that to meet our budget we would either need to drastically value-engineer our interior finishes or possibly not build a portion of the project. The other option was to increase our budget; after looking at the new construction appraisal our bank provided and comparing it to what new homes and newly remodeled homes were selling for in our area, we felt that increasing our budget was worth the risk.
Below is a full breakdown—not including cost of land and permitting which can vary wildly—of what we spent to build FHB House WI.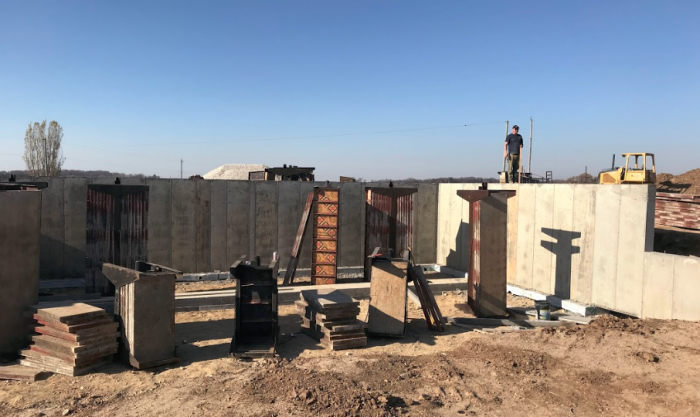 Sitework and Site Improvements
$1,886 – Electrical Service (Brought by the utility company from the adjacent road)
$14,092 – Well (250 ft. in deep, clay soils)
$15,000 – Three-Bedroom Mound Septic System
$15,776 – Excavation, Final Grade, Stone Retaining Walls, Driveway
Sitework Total – $46,754
---
Foundation and Concrete
$12,763 – Footings and Pour Foundation Walls (Self-performed labor for forming and setting footings; I worked on my concrete contractor's crew setting and stripping wall forms)
$3,000 – Waterproofing Materials (Self-performed labor, Mel-Rol Waterproofing)
$3,517 – Basement Concrete Floor (Self-performed labor for grading and radiant tubing; I manned a wheelbarrow on the day of the pour.)
$5,200 – Garage Floor
Foundation and Concrete Total – $24,480
---
Framing Lumber
$6,758 – First-Floor Framing (TJI, LP Legacy Subfloor)
$15,071 – Wall Framing (LSL Studs, Zip Sheathing)
$20,860 – Roof Framing ($6500 For Roof Truss Package, Zip Sheathing, 2×12 Rafters)
$6,767 – Deck Framing ($1650 for Triple PWT LVL, 2×8 Joists, 6×6 Posts, Helical Piles)
Framing Total – $49,456
---
Insulation
$7,176 – SprayFoam Roof System (4 in. closed-cell spray foam)
$2,500 – Foam Board (Basement walls, underslab)
$3,500 – Cellulose
$3,500 – Fiberglass Batts
Insulation Total – $16,676
---
Exterior Finish Material
$5,297 – Roofing Material (CertainTeed Landmark Shingles)
$5,782 – Exterior Doors (ThermaTru)
$14,690 – Marvin Window and Patio Door Package (Essential Windows, Ultimate Doors)
$15,100 – LP SmartSide, Aluminum Soffit, Windsor One Porch Ceiling
$3,000 – Exterior Paint
$16,000 – Decking Finish Material (Ipe decking, Peak glass railing)
Exterior Finish Materials – $59,869
---
Drywall
$20,692 – 8000 sq. ft. of Drywall Hung With a Level 4 Finish
---
Electrical
$25,382 – Including Light Fixtures and Generator
---
Plumbing
$17,200 – Includes $4000 for Iron Filtration System
$7,500 – Plumbing Fixtures (Kohler faucets, Grohe Shower Systems)
---
HVAC
$9,000 – Minisplit System
$5,000 – In-Floor Heat System and Boiler (Self-performed install)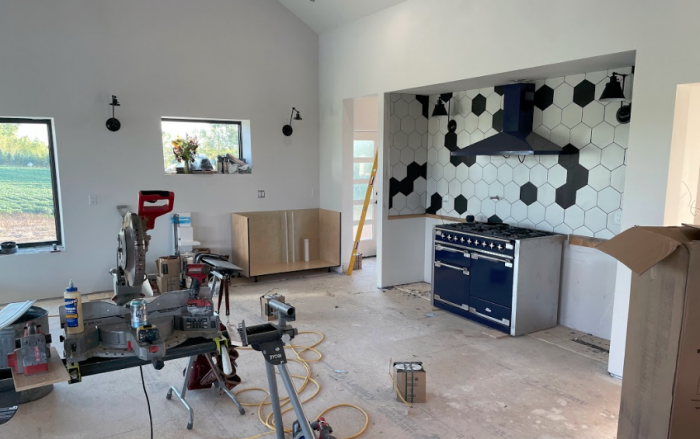 ---
Interior Finishes (all self-performed)
$11,000 – Tile
$6,000 – Wood Flooring
$5,000 – Doors and Trim
$7,000 – Site built cabinet and counter material
$16,912 – Appliances (AGA kitchen, Electrolux laundry)
$3,000 – Interior Paint
Interior Finishes Total – $48,912 
---
Debt Service
$11,000 – Interest Payments on Construction Loan and Credit Cards
---
= Project Total – $341,921
$124.34 per sq. ft.

In addition to the monetary cost, a large self-built project like FHB House Wisconsin comes with a cost measured in time. During the build I worked 20 hours a week at my job as an estimator and Project Developer for TDS Custom Construction and Sara worked full time. Between Sara and I, both of our fathers, and a few friends, we worked about 3000 hours on the build project. It would be easy for an observer to say that these hours need to be converted into dollars to give a true cost for the project, but I feel that this line of thinking misses the point and the spirit of self-building. We, like most of the self-builders you can find on social media, have chosen this path as it represents the only way to achieve the desired result. In that spirit, below is a rough breakdown of the hours that we put into each of the phases above.
Sitework and Site Improvements – 50 hours
Foundation and Concrete – 120 hours
Rough Framing  –  800 hours
Insulation – 120 hours
Exterior Finish – 700 hours
Interior Finishes – 700 hours
HVAC – 170 hours
Project Management – 250 hours
Total Hours – About 3,000 hours

Even though on paper this looks like a daunting outlay for one year of life for Sara and me, the decision to self-build as opposed to buy was an easy one. Having previously remodeled one house to the best of our abilities, and having been exposed to many interesting architectural styles through my interior carpentry work, we had a clear vision for what we wanted our home to be. Add in my desire for an energy- efficient high-performance home and our access to buildable land, and the choice to build new was clear. In the end, the added cost in dollars and time of building our house as a double-wall construction, high-performance home was negligible. The extra air-sealing, framing, insulating, and mechanicals added about a month's worth of work, 160 hours, and $10,000 in extra material—the bulk of dollars spent on framing for the double wall and extra insulation.
At many points along this journey, I have been asked, "Would you do it again?" There were certainly times when the stress levels were through the roof, the money was tight, and the patience had run dry, and I thought, "no way, not a chance." Having come out of the journey with a house of my own design, built with my own hands and the hands of my family, at a cost that I was able to shoulder, I can now answer that question with an emphatic "yes."