Podcast 479: One Story or Two, Basement Bunkers, and the Best DIY Spray Foam
Ian, Andrew, and Patrick hear from listeners about heat flow and population density by climate zone before taking questions on one-story vs. two-story construction costs, controlling vapor through a slab, and the best brand of DIY spray foam.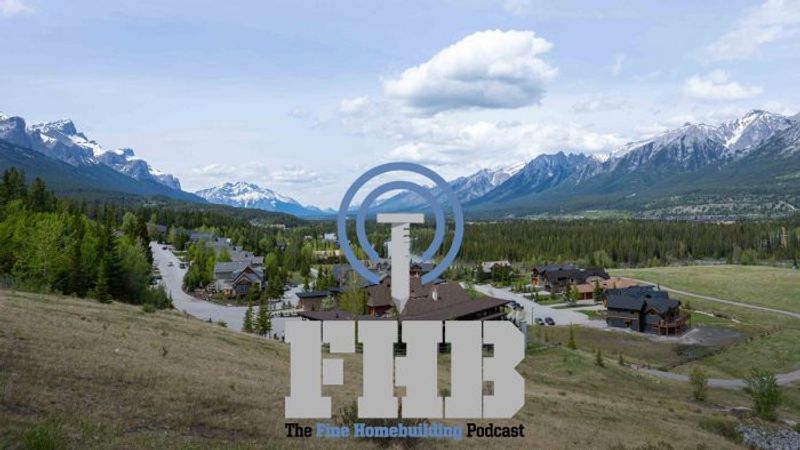 ---
Follow the Fine Homebuilding Podcast on your favorite app. Subscribe now and don't miss an episode:
Help us make better episodes and enter for a chance to win an FHB Podcast T-shirt:
www.finehomebuilding.com/podcastsurvey
Barbara thinks she might use spray foam for her shed. Engineer Pete says we got it wrong on heat flow. Edmund figured out U.S. population by climate zone for the FHB Podcast. William asks if it's less expensive to build the same square footage in one or two stories. Nelson asks for the best way to control water vapor through his concrete slab. Andy asks about the best spray-foam kit to insulate his basement band joist.
---
Editor Updates:
Andrew milling trees into lumber
Patrick's dishwasher repair
---
Listener Feedback 1:
Barbara writes: Update: I asked my dad about my shed project. He ran a metal building business for 40 years. I asked him if I should take the screws out of the wall panels and add mastic in between them to make it airtight like on a roof. He said it doesn't work on walls. On a roof you can stand on the seam to make it tight as you screw the panels together through the mastic, but on a wall even with a stitch screw every 2 feet you can't really make it seal. There's a lot of expansion and contraction in the metal with temperature and it opens up again. I think spray foam solves a lot of my problems in one step. Like the problem of not being able to get 24″ wide Rockwool without buying twice as much as I need. I'm still going to use something sticky at the bottom of the wall before they roll the Icynene truck. I've got a tube of Huber liquid flash coming from a giveaway on Instagram. Maybe I'll experiment with that.
Related Link:
---
Listener Feedback 2: On our discussion of heat flows
Pete writes: Sorry guys, radiant heat radiates in all directions and warms surfaces it falls on. Convective heat moves via convection from hot cold or as a function of the medium—think ocean thermal currents. So does heat rise, sort of as most people understand it because most people utilize convective heating in their homes. This is very basic engineering, and, yes, I are one. Get yourself an engineer to join the cast.
More from Pete: I asked him to be on Pro Talk.
Thanks, I think ….
Said something about the grounds at church a few weeks ago (we have 5+ acres), guess what team I am now part of….
I am formally educated with a BME. After a technical high school where I studied architecture so had 4 years of drafting, materials classes and great shop classes. Sadly, when I entered Architecture school at CUNY was told what the average architect made and it was what my dad who worked in a factory made–this was not going to get me out of Brooklyn. Looked at engineering as it was more technically challenging (no BS – "this is the way I see it or feel…) the CE or ArchEng route did not seem challenging enough for me but that was a lifetime or two ago so wound up in an ME program. My professional career started as in defense avionics packaging then I changed to telecom (was pretty successful there–back in the day–I was working on US standards and asking why would anyone want to send a limited text to anyone else and yest I appreciated that this could go on a signaling control channel for basically no cost — a titan of industry I am not). Well anyway evolved into systems engineering, recessions and layoffs led me a defense department gig which led me into PM where I am today – with a health care insurer no less. We do make sacrifices to stay in certain states even when the industry shifts. Before COVID I was a weekend Habitat warrior working hard on Sandy recovery here in NJ; did this for about 40 weekends a year for about 5 years until COVID changed the world. So yes, I know enough about residential construction to be dangerous, know enough of engineering not to be laughed at. And I wish I was 25 years younger–I would swap my industry in a heartbeat. I just turned 65.
Steven writes: Hello Podcast Team! I enjoy your podcast and am a long time listener.
Your podcast is full of great information and sometimes causes me to hmmmm…? and think.
This latest podcast has caused me to call "BS". My background is as a mechanical engineer in aerospace. My life is wrapped around heat and air flow. Talking about heat flow and radiant all followed very well–heat flows from hot to cold, up, down, sideways, etc.; this is obvious when stirring hot coffee with a metal spoon. Radiant heat follows a straight line, also in all directions, hot-to-cold. Stand in front of a fire or hot stove.
Hot air describes the air temperature, not heat. Hot air rises because it is less dense and rises up if there is no other force (fan) driving the air. Ceiling fans do just this by circulating air from top to bottom (or bottom to top). Your discussion about heat didn't raise any concerns. When discussing that humid air is "more buoyant" needs more support. Read any psychometric chart. For a given air temp and pressure, air density increases with increasing RH. A denser fluid will always settle downward, not rise. This is the Archimedes principle in action. If denser fluids were to rise above less dense fluid, the lakes and oceans would all be above us, not (nominally) below us. This isn't to denigrate Tiger Woods' observation about golf ball flight, but maybe is an example of misplacing his statement. Next time you talk with the master, get some context about golf ball flight at sea level in humid (Florida) versus dry (Palm Springs) air. I will continue to listen, but would like your team to clarify and support your statements about humid air. A little physics lesson for the listeners wouldn't hurt either.
Related Link:
---
Listener Feedback 3:
Edmund writes: Hi FHB podcast, On a recent episode, the panel was pondering how many people live in each US climate zone. You asked for listener help with the numbers, and I thought that sounded like fun!* I pulled county-level population data from the US Census and found a CSV of every county's climate zone. (Source links are in the spreadsheet.) A bit of data wrangling later, and I have numbers for you. In the attached spreadsheet (under the Results tab), you'll find one pivot table with national results and a second pivot table where you can drill-down to state-level results.
To answer the question you were debating (which US climate zone is most populous), the answer is climate zone 3. That's followed (very closely) by zone 5 and then zone 4. (But zones 3, 4, and 5 are so close it might as well be a tie. Each one covers about ¼ of the US population.)
But most importantly, we should all spare a thought for those 166,130 people living in climate zone 8. One note: the climate zone data I found appears to be based on the 2003 IECC zones, not the new 2021 zones. There is a by-county table of climate zones in Chapter 3 of the 2021 IECC, but their free-to-access version blocks copy-pasting. Nor have I found those updated data made available in a useful format elsewhere. A bit of data wrangling is fun. Manually transcribing climate zones for all 3000+ US counties… isn't.
* By training, I'm a neuropharmacologist with a PhD in Pharmacology & Toxicology, so my idea of fun is, admittedly, a little warped.
PS – If I might also ask a question: We're about to begin building a home here in Canmore, Alberta ** (a town of 15,000 an hour west of Calgary and just outside of Banff National Park in the Canadian Rockies). The podcast (and magazine and GBA) has been a great resource in growing my understanding of the building trades and building science. Especially since we're planning a net-zero Passive House in a somewhat chilly climate. We have a fantastic team of professionals doing the real work, so my question is: How can we help make our project a safe, rewarding, and pleasant (or even enjoyable) job for everyone who'll be working on it? My fiancée is thinking about regular deliveries of home baking. I've heard Matt Risinger extoll occasionally buying lunch for everyone on the site. This podcast (among other sources) has me thinking about minimizing change orders (by making thorough and considered decisions early, then sticking with them) and paying invoices promptly. Basically, how can we be good owners/customers? I'd love to hear everyone's thoughts and suggestions.
Related Links:
---
Question 1: Is it less expensive to build the same square-foot house as a two-story or one-story house?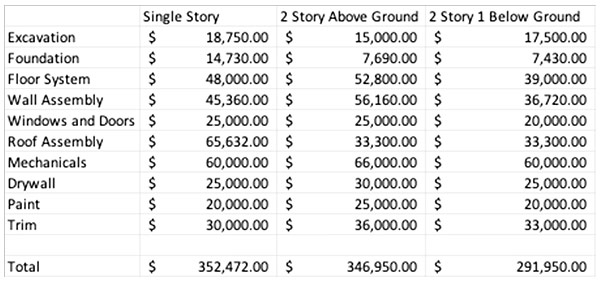 William writes: The question is, is it less expensive (not cheaper!) to build the same square foot house as a two-story or a one-story house. The first thing that comes to mind is that there is less foundation and less roofing. This would lead one to believe that two stories would cost less than a one-story house with the same square footage. I contend though, that it may be a wash. Two stories would need a stairwell. My plumbers charge more for working on a second story. There are longer wire and plumbing runs to be made. Siding and soffit work are done off of some type of scaffolding, adding to its cost.
I've never seen this addressed in any of the building magazines that I subscribe to. Want to try and tackle this one? Thanks so much.
Related Link:
---
Question 2: How can I mitigate the vapor intrusion in my concrete basement?
Nelson in Iowa writes: Greetings FHB Podcast crew! Long time listener (since Episode 001, in fact), first time asker. I live in a 1972 ranch-type home in rural Iowa. Directly beneath the 2-car garage is a 600 sq. ft. concrete-floored, concrete-ceilinged, block-walled storage bunker of sorts, with a walk-out door to the back yard and stairway access up to the garage. It is—or was—a dark and damp space used by the original owners for storage of lawn mowers and similar household tools & equipment. I've spent the last couple years fixing the groundwater intrusion problems, and framing, wiring, and insulating the walls & ceiling. I now have a quite-nice space for my hobby woodworking shop.
Currently this shop space is not conditioned. Because it's underground on 2 sides and shares a 3rd wall with the house (but does not share air with the house other than when the door gets opened), it stays comfortably cool in the summer, and I get by (for now) with an electric space heater in our cold Iowa winter. A mini-split is a likely future addition.
My question is about how to deal with humidity intrusion in the summer months. I've come to the conclusion that the house was built without a vapor barrier under this concrete floor. By running a dehumidifier in the space (and it runs a lot), I can keep the humidity at my preferred level of about 45-50%. Preferred, that is, for comfort, and also in consideration of the lumber materials and my hobby woodworking activities taking place in the room.
The concrete floor is visibly and continually damp (borderline wet) in the areas where I have foam anti-fatigue mats in place in front of my workbench, miter saw, and table saw. When I pick up the mats for floor cleanup, I find obviously wet concrete in the exact shape of the mats themselves. And so, I come to the FHB experts for any ideas or suggestions as to how I can mitigate this vapor intrusion – or if I should even attempt it.
I've done some cursory research on epoxy floor coatings of the sort typically used in garages – and that would be a doable and handsome solution! But my fear is that the relentless vapor migration through the slab into the room would sooner or later lead to the epoxy separating/flaking off of the concrete. Would you say this a likely scenario? Or could a quality epoxy coating be an effective and successful op-of-concrete vapor barrier? Are there any specific products you could advise either for or against in this effort? If stopping the vapor with some sort coating product on the top of the concrete floor is just not achievable or advisable, my next plan of attack will be to just live with the vapor issue and continue to rely on my dehumidifier. Then what I would like to do is cover the entire floor with some sort of floor padding or anti-fatigue panels, like the sort that lock together like puzzle pieces. This would be strictly for comfort on legs, knees, and feet, and making the floor easier to vacuum than the current pockmarked and imperfect concrete floor.
But of course, then I would be trapping water between the rubber mats and the concrete surface room-wide, like I currently see underneath my existing smaller foam mats. Would having that wetness under the room-wide rubber mats continually have any negative consequences with regard to the concrete floor, assuming the mats themselves are made of some type of rubber or otherwise waterproof material? (I've heard that horse stall mats can be a good product for this type of application.)
As someone who works in the building trades (residential plumbing & HVAC), I greatly appreciate the podcast for its many and ongoing contributions to the home construction & maintenance knowledge base. I feel like I learn something new from the show nearly every single episode, so THANK YOU ALL for your sharing endless insights and knowledge!
Related Links:
---
Question 3: What brands of spray foam should I consider to finish my rim joist insulation?
Andy on GBA's Community and Q&A writes: I'm considering getting a spray-foam insulation kit to finish sealing my rim joist insulation and looking for a reputable supplier. I have installed 3 1/2″ polyiso blocking to the rim joist between the floor joists and would like to put a layer of foam over the blocking to seal the blocking in and deal with any penetrations thru the rim joist and bottom plate leading to the first floor. I'm also planning to use some foam to seal in some foam blocking that is above my top plate on the wall in a few locations, especially where I will have a cathedral ceiling. The total amount of material I will need is approximately 300 board feet if I hit a nominal 1″ thickness of foam. What are good brands to look at for this application.
Related Links:
---
END NOTES:
Check out the Members-0nly Aftershow Podcast.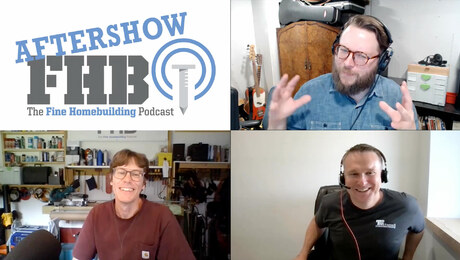 ---
Check out one of our Project Guides: Siding & Exterior Trim!

Check out our FHB Houses:

Visit the Taunton Store  •  Magazine Index  •  Online Archive   •  Our First Issues   •  All Access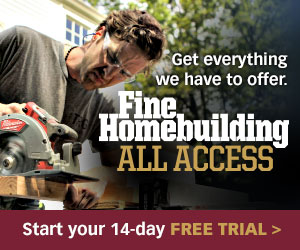 ---
Help us make better episodes and enter for a chance to win an FHB Podcast T-shirt: www.finehomebuilding.com/podcastsurvey
---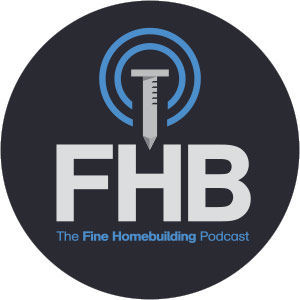 If you have any questions you would like us to dig into for a future show, shoot an email our way:

[email protected]

.
If we use your question we'll send you a FHB Podcast sticker!
---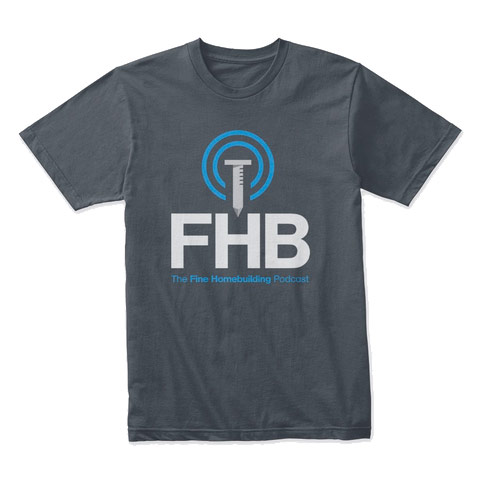 FHB Podcast T-shirts!
Represent your favorite podcast! Available in several styles and colors. Made from 100% cotton. Find the Podcast t-shirt and more cool products in the Fine Homebuilding Store.

---
This episode of the Fine Homebuilding podcast is brought to you by Andersen Windows.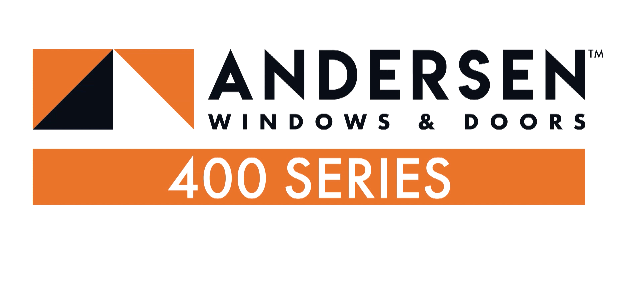 If you're a window installer, you deserve a simple choice: Andersen 400 Series windows. They're the windows contractors trust the most based on a 2022 survey of U.S. contractors. Probably because they have fewer callbacks, and extra peace of mind. And thanks to shortened lead times, they're available faster. Make your go-to windows Andersen 400 Series. Request a quote at AndersenWindows.com.
---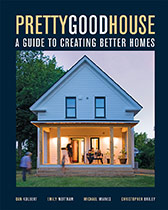 Fine Homebuilding podcast listeners can now get 20% off anything in the Taunton store, including Pretty Good House.
Use the discount code FHBPODCAST to take advantage of this special offer.
---
We hope you will take advantage of a great offer for our podcast listeners: A special 20% off the discounted rate to subscribe to the Fine Homebuilding print magazine. That link goes to finehomebuilding.com/podoffer.
The show is driven by our listeners, so please subscribe and rate us on iTunes or Google Play, and if you have any questions you would like us to dig into for a future show, shoot an email our way: [email protected]. Also, be sure to follow Fine Homebuilding on Instagram, and "like" us on Facebook. Note that you can watch the show above, or on YouTube at the Fine Homebuilding YouTube Channel.
The Fine Homebuilding Podcast embodies Fine Homebuilding magazine's commitment to the preservation of craftsmanship and the advancement of home performance in residential construction. The show is an informal but vigorous conversation about the techniques and principles that allow listeners to master their design and building challenges.
Other related links