Longer-Lasting Trailer Decks
Seal the ends of wood deck boards with composite decking for an equipment truck bed that stands up to the elements.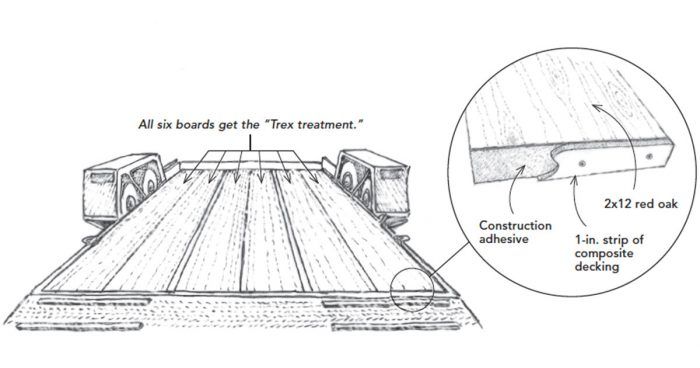 I just installed new deck boards on one of my equipment trailers. I wanted boards that would stand up to years of hauling skid steers and small dozers, so I installed 2-in.-thick, band-sawed red-oak boards. I reseal the decking on my trailers every year and the boards I replaced were in decent shape everywhere except for at the very ends. The ends are in a pocket that collects debris and makes them difficult to reach with sealant. To prevent the ends on the new boards from rotting, I capped each one with 1-in. strips of Trex composite decking. Before fastening the strips in place with exterior-rated screws, I fully embedded them in construction adhesive.
—Grant Litts, Norway, Mich.
Edited and illustrated by Charles Miller.
From Fine Homebuilding #312