Tools & Materials
Use a Rainscreen to Protect Siding
Joe Cook and Travis Brungardt detail the benefits of using the Slicker Max Rainscreen from Benjamin Obdyke to protect the siding of the FHB House.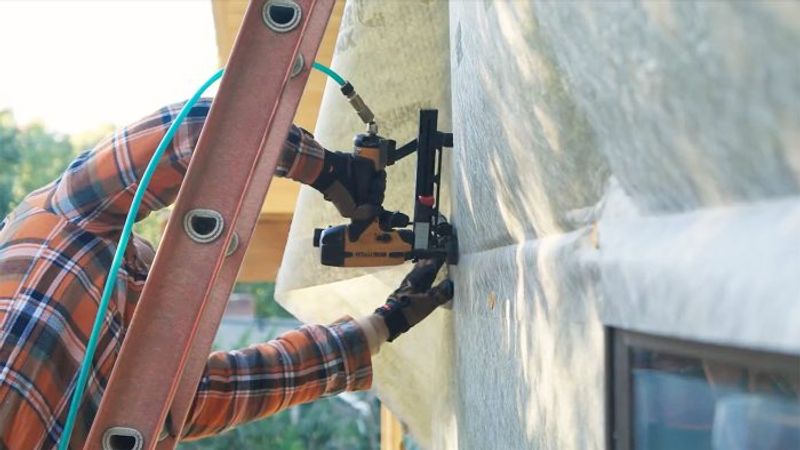 The most important part of a build is keeping bulk water out and promoting drying, and the rainscreen is essential in allowing a wall assembly to drain and dry when it inevitably gets wet. There are a variety of kinds of rainscreen systems, but for the Fine Homebuilding House in Kansas, we chose Slicker Max from Benjamin Obdyke. It's really easy to install and will work well with the combination of stone and siding on this house.
Slicker Max has a nice fabric over the drainage matrix, which will keep vines from getting into our rainscreen, and when installed on the bottom course, it acts as a bug screen. The fabric is also critical in keeping the rainscreen in place and free of mortar when we add the brick cladding. (You can get the Slicker independently, which is just the yellow monofilament matrix, if the fabric isn't necessary in your assembly.) Slicker Max has vertical channels that let water drain out of the bottom of the assembly, and its wavelike pattern gives it structure. This rainscreen helps our siding dry out and gives a nice firm space between the siding and the water-resistive barrier (WRB). In this case, we're using ZIP sheathing, but you can use this product over any WRB.
Install the rainscreen just as you would any other building product—in shingle-lap fashion. The fibrous matrix lying over the front makes it easy to staple, and for quick installation, slap-staple it up and then go back and add cap staples every 3 feet.
This specific area on the house will get a Roman split-face brick, which makes this rainscreen fabric even more important. The fabric keeps the monofilament matrix from being stretched and producing variances. The fibrous fabric layer also keeps the drainage plane free of debris. The mortar that is used for the brick can sometimes produce droppings, or "snots," that fall off the backside of the brick. In cases where you don't have this fabric layer, these droppings will accumulate at the bottom of the wall and essentially defeat the purpose of the rainscreen by blocking the monofilament drainage plane. Instead of having back venting and drainage, you get a glob of mortar that holds water in suspension against the sheathing, leading to rot and ultimately premature failure. Slicker Max is approved for use behind masonry because it minimizes that risk.
This is actually the first time we've used Slicker Max, and it's gone really well. It is easy to work with and cuts easily, and I've heard no complaints so far from the crew for all the detailing around the exposed rafter tails.
---
RELATED STORIES