Tools & Materials
Rainscreen Systems for Stucco
If you want to install stucco and not rot your walls, choose one of these products to create a drainage plane and ventilation space between the water-resistive barrier and the stucco.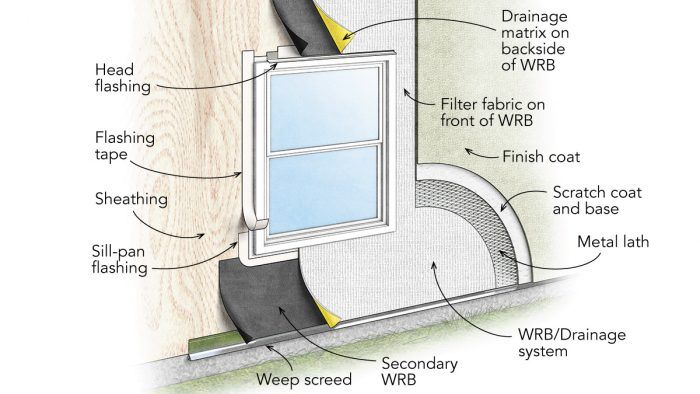 Synopsis: A drainage space located behind stucco siding will let water that gets past the siding drain down the wall and to the ground. When it comes to drainage products, there are typically two general types of rainscreens. Masonry Technology Incorporated founder John Koester and building scientist Christine Williamson give their take on some of the best products on the market to help keep the rot away.
---
If you ask too many questions about how to install stucco right, you will eventually hear some discouraging anecdotes of what amounts to a conspiracy—builders knowingly installing stucco poorly to save money and hedging their bets against callbacks, warranty claims, and extensive repair work. While it may make for interesting investigative journalism and potentially protect some home buyers, that story is not helping teach builders who really don't know how to install stucco right.
Cost, however, is an important part of this story. John Koester, founder of Masonry Technology Incorporated (MTI), told me that he believes that the residential building industry will move away from manufactured products for stucco installation—products like his company's Sure Cavity rainscreen drainage matt—and adopt site-built assemblies using furring strips. John said he simply cannot price his product at a cost that builders are willing to pay. And it's not the cost to manufacture the product that is the problem.
"It costs more to market and sell the product than it does to make it," John said, "Early on I had a potential investor who asked me how much it would cost to notify the entire building industry about our products. I told him that if I had that much money, I'd retire." John told me that he thinks builders would be willing to pay as much as $0.20 per sq. ft. for a rainscreen product to use with stucco. But while prices vary widely for these products, none of them meet John's $0.20-per-sq.-ft. threshold.
John's commentary is interesting for a few reasons. Like the rumor of builders knowingly installing stucco wrong, it's another peek inside the building industry. And it's interesting because before builders can move away from rainscreen drainage matts to create a drainage plane and ventilation space behind their stucco installations as John suggests, the industry must first accept that this is best practice.
---
A closer look at drainage products
Drainage systems for stucco and adhered stone use a waterproofing layer and a drainage matrix for managing bulk water and inward-driven water vapor.
| | |
| --- | --- |
| | |
| DuPont's new Tyvek DrainVent Rainscreen is a 6.8-mm-thick "honeycomb" mesh with an applied filter fabric and an integral insect screen. Like most of its competitors, DrainVent is a good option for stucco but can also be used behind other masonry siding materials as well as wood and metal sidings. Installation details are familiar—though instructions specify a fastener schedule of 1/2-in. staples, the product is essentially tacked into place until lath is installed. Tyvek recommends taping vertical seams with their housewrap tape. The product has a 10-year warranty, including labor if installed with a full lineup of Tyvek products. DrainVent costs about $1.20 per sq. ft. | Kingspan's GreenGuard DC14 is a 4-ft. by 48-ft. fanfold sheet of extruded polystyrene with drainage and ventilation channels on both sides. The lengths of the product connect in a shiplap style between courses and the installation calls for taped seams. Kingspan also calls for specific fasteners for different building types and requires 3/4-in. penetration into studs. The product does not have a filter-fabric screen like many of its competitors, nor do they call for additional housewrap or paper-backed lath to serve this purpose. Kingspan offers a 10-year warranty on GreenGuard DC14, upped to 15 years when installed with their compatible WRB and flashing products. It costs about $0.45 per sq. ft. |
---
Building codes only give hints
By now you have probably heard the mantra "all siding leaks" from experienced builders and leading building scientists. This is as true for stucco as it is for lap siding, and getting flashing details right is imperative with all siding. A drainage space behind the stucco will allow water that gets behind the siding to drain down the wall to the ground.
Along with other masonry siding materials, stucco comes with another concern: It's a so-called "reservoir cladding." This means that when stucco gets wet, it absorbs water, and it can hold that water for a while. Sometimes, it will dry to the exterior. But when weather conditions are right, the absorbed water will be driven inward and can make its way into the walls. In this situation, the ventilation space allows for inward drying of the stucco.
On wood-framed homes, the International Residential Code (IRC) section R703.7.3 (water-resistive barriers for "exterior plaster," or stucco) calls for a "water-resistive, vapor-permeable barrier with a performance at least equivalent to two layers of Grade D paper." Flashing is to be integrated with the first layer of building paper, the code says, which is an attempt to create a drainage plane between the two sheets.
Photos: courtesy of the manufacturers, except where noted.
From Fine Homebuilding #303
To read the entire article, please click the View PDF button below.
---
RELATED LINKS
View PDF
Previous:
Understanding Rainscreens
Next:
Why We Need Building Sensors