Podcast 577: Lap Siding Over Vertical Siding, Concrete-Free Slabs, and Expansion Tanks
Deck lateral loads, airtight garage doors, bath fans, lap siding, making changes under slabs, and expansion tanks.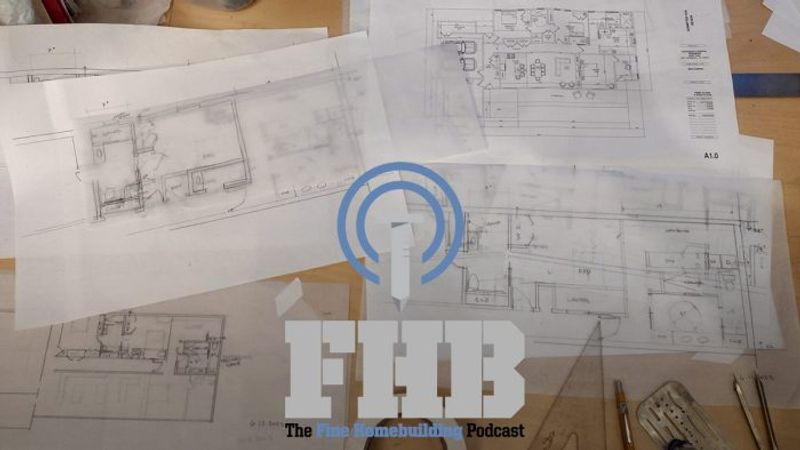 ---
Follow the Fine Homebuilding Podcast on your favorite app. Subscribe now and don't miss an episode:
Help us make better episodes and enter for a chance to win an FHB Podcast T-shirt:
www.finehomebuilding.com/podcastsurvey
Jim reminds us to consider a deck's lateral loads. Evan shows us a more airtight garage-door system. Chris and Jeremy share their experience with bath-fan installation. Ted asks about installing lap siding over vertical siding. Jake is contemplating foundation options. James wonders if he really needs an expansion tank.
---
Editor Updates:
Mike's: burnt board testing
Mark's: shop siding ideas
Jeff's: deck railing
Patrick's: yard sale tools, DeWalt 16-gauge finish nailer DeWalt hammer drill PC Brad and 15-gauge nailers
---
Listener Feedback 1:
Jim Wylie, Village Handyman, writes: Greetings from Southern California.
In Podcast 567, the team talked about attaching a deck or balcony to a house. Specifically, you said that the deck ledger should be attached to the blocking between the floor joists rather than screwed into the ends of the studs. Screwing into the blocking should protect against gravity or shear loads common to decks that are attached to a house. However, the answer neglected lateral loads. Here on the West Coast, also known as "Earthquake Country," we have to think about seismic forces. Earthquakes can produce significant lateral loads. The deck or balcony needs to be connected to the joists. That can be done with a Simpson Strong-Tie DTT2Z Deck Tension Tie. It connects the deck joists to the house joists.
You included a link to an article, 8 Ways to Make an Old Deck Safe from Issue 238, written by Mike Guertin. That article included lateral-load connectors. Another example can be found in Fine Homebuilding issue 228: "How it Works: Deck Loads." Apparently, consideration of lateral loads is now in the IRC. Your questioner should be encouraged always to consider lateral loads. Issues can occur anywhere. For example, high wind events like hurricanes and tornadoes can also produce significant lateral loads.
Related Links:
---
Listener Feedback 2:
Evan Bache-Wiig, mold-assessment consultant, writes: Good afternoon!
A recent listener question was discussed regarding how to properly air-seal a garage door. Will King of High Cotton Homes discussed a product called ThermoTraks on the Build Show Network. I put a link below. It's a rather ingenious-looking solution to the problem. Hope this helps that listener!
Related Links:
---
Listener Feedback 3:
Chris writes: Hi guys,
Thanks as always for the podcast, magazine, online content—it's awesome. I was just listening to episode 569 and the pontificating of whose job it is to install the bathroom vent fan, and that really struck a chord with me, having installed maybe hundreds at this point myself. Of all things I'm primarily a tile installer. I do almost exclusively bathroom and kitchen remodels, and I've been doing it for 19 years now. In addition, I currently work part-time building houses with Habitat for Humanity. You guys are right to point out that a lot can go wrong with this seemingly simple job, and I can understand why some guys wouldn't want to touch the electrical or get up on a ladder or a roof to drill a vent hole, but I made a decision a while ago to broaden my building horizons and learn as much about all of the trades I could. Partially this came from me being cheap and doing the work on my own houses myself, and partially to avoid the monotony of doing the same thing every day for 20-odd years.
I took the job with Habitat to expand my horizons. I had never framed a house before or read a blueprint, but I learned pretty quickly. I got to pick other carpenter's brains about how to be more efficient and ask the other trades on the job questions about things I was interested in learning.
Three years back I put my skills to the test rebuilding my father's burnt-out house. Don't worry, no one was hurt and nothing too precious was lost (and oil stain-soaked rags DO spontaneously combust!). The first thing I did was buy the current ICC code book and do a little light reading. The town's building inspector was really accommodating. He let me pull all of the permits myself, and I did most of the work myself as well, from the electrical to the roof to sandblasting the foundation. I had a licensed electrician and plumber check my work before I potentially embarrassed myself in front of the inspector, and I knew well enough to not try doing the HVAC stuff. In the end, it was a great 15-month process.
I encourage any tradesperson out there to stay curious and expand your trade knowledge, and Fine Homebuilding is one fine way to do it.
Keep up the good work,
Chris
Related Links:
---
Listener Feedback 4:
Jeremy, project manager for C&Z Construction, writes:
Listening to Friday morning's episode was perfect timing for me. It seems like I'm constantly having this argument with the electrician and the HVAC guy about who is to install the duct for the bath fan. And then they want to argue with me about what type of duct to use. Mike brought up a couple of other really good non-trade-specific tasks that fall through the cracks. Definitely a good topic for discussion for a future episode.
---
Question 1: Can you install lap siding over vertical siding?
Ted writes: Hi Podcast Team,
Thank you for all the work you do. I can't believe I've listened to 569 hours and counting.
I'm trying to determine how to best install new HardiePlank lap siding over a client's existing siding. The client's existing siding is 1×4 tongue-and-groove cedar installed vertically on 3/4-in. continuous furring strips over 2×4 studs with fiberglass batt insulation. There's a 1/2-in.-thick fiberboard nailed to the studs like a sheathing placed between the furring strips so there's a 1/4-in. gap between the cedar planks and this fiberboard. The fiberboard doesn't have any structural integrity; it seems like more of an old school WRB.
We are using HardiePlank on the addition, and the client is considering covering the rest of the house with the same siding. Should we put the Hardie directly on the cedar? Put a WRB on the cedar (either self-adhered or mechanically fastened) before the Hardie? Or something else?
Thanks for all your help!
Related Links:
---
Question 2: What's the best foundation option?
Jake writes: Hello podcast team,
Longtime listener, first time emailer. I've been thinking about FPSFs, slabless slabs, and PWF designs for a little while and was interested in the intersection of these unconventional assemblies. I loved the discussion in the episode 565 aftershow regarding PWFs, and then watched the linked BS*+Beer episode where Mike goes into more detail and shows the assembly he is considering, which uses a permanent frost-protected, shallow-wood foundation with a slabless slab (PFPSWF?). I won't go into my background or site-specific context because I'd like to have a more general discussion and don't want to get bogged down in too many specifics. However, the FPSF discussion obviously applies to more northern climates. So here are my thoughts and questions, primarily directed to Mike:
Have you considered using foam glass for any of these assemblies? It looks particularly promising for PWFs because it is a combination insulation/drainage layer so it can both keep the sheathing warm to prevent condensation from interior moisture AND keep the wall dry[er] from exterior moisture. In addition, for PWF designs with imbalanced backfill (basements), backfilling the entire exterior of the PWF with foam glass seems to have the added benefit of significantly reducing the inward thrust on the walls because the foam glass is much lighter than native soils or typical stone/gravel drainage layers and can potentially render the lateral restraint at the bottom of the walls less of an issue.
Similarly, I wonder if foam glass could streamline a slabless slab design? You could replace the rigid insulation under the slab with a thicker, compacted bed of foam glass and remove the EPS/XPS from the assembly entirely. I know it all comes down to availability and pricing, but it seems worth exploring. In a combination PFPSWF (I'm sticking with the acronym) with slabless slab, the foam glass could perform several different functions and replace multiple different products.
My general hesitation with slabless slabs is the same as my general hesitation with all slabs in living spaces—how do you design for flexibility and serviceability? I dislike the idea of burying major interior infrastructure in the ground and beneath a slab. The plywood slab would certainly be easier to cut into than a concrete slab, but neither are as adaptable or inspectable as a conditioned crawlspace or basement. To me, designing for the long-term means disentangling the structure from the infrastructure (i.e., using service cavities) and allowing the interior spaces and partitions of a building to be reconfigured indefinitely without hacking into structural components or control layers. However, two layers of plywood is certainly less labor and material than a framed floor assembly, and much less site work. To that end, what do you think about a design that sandwiches a service cavity between the plywood layers of your slabless slab, such as 2x4s on the flat or even on edge? Constructability would be more of an issue, but let's set that aside for now because this email is already getting long. Alternatively, what about simply framing a 2×4 or 2×6 floor structure directly on the insulation layer (potentially foam glass) with the typical single subfloor layer? I suppose this is essentially a grade-level deck inside. Would the framing have to be pressure treated? It would be at or above grade level and protected from moisture from below, so I wouldn't think so. You would be going almost all the way to a full framed floor system, but could potentially use smaller framing members if they are bearing continuously and not spanning. The advantage would be some room for electrical, supply plumbing, and maybe short drain runs that are not buried in insulation or penetrating air/vapor control layers. Just some thoughts. Personally, I'm liking the idea of a typical conditioned crawlspace with framed floor system and a frost-protected shallow stem wall/footing with insulation and vapor barrier on the ground rather than in the floor system. The stem wall/footing could either be concrete or treated wood. This would make it possible to leave the floor system above uninsulated and wide open. The trick here would be finding the right tradeoff between keeping the stem wall shallow enough to minimize site work and concrete use, while going deep enough the give yourself a reasonable amount of space to crawl. Perhaps raising the top of the stem wall more than the typical 8 in. above grade would be a good solution (yes, the above-grade stem wall still needs exterior insulation). All these systems have pros and cons.
What are your thoughts? Am I making too big a deal out of the notion of adaptability/serviceability? The real kicker here is the DWV system, since almost every other service can be run through a wall or ceiling service cavity, with the exception of items that are not attached to any wall or ceiling (kitchen islands).
I've been a longtime print and all-access subscriber and have gotten so much value out of all things Taunton, so thank you all very much. To those non-Taunton contributors who regularly devote your time to making this podcast better (Mike and Ian in particular), your contribution is hugely appreciated.
Related Links:
---
Question 3: Do I really need an expansion tank?
James writes: Hi Patrick and crew,
Longtime listener, first-time caller.
I am a residential remodeling contractor who is moving to a new city in the Pacific Northwest, going from a rural area to a small city. I have looked at multiple homes in my new city and have seen more use of expansion tanks on water heaters—both electric and natural gas—than I have seen in the past.
In the attached picture, plumbers have installed this expansion tank so it blocks the operation of the cabinet door on the left. I am wondering about changing this. I could get very clever and relocate the expansion tank inside of the cabinet, or, just cut off the copper and put a cap on it, omitting the expansion tank.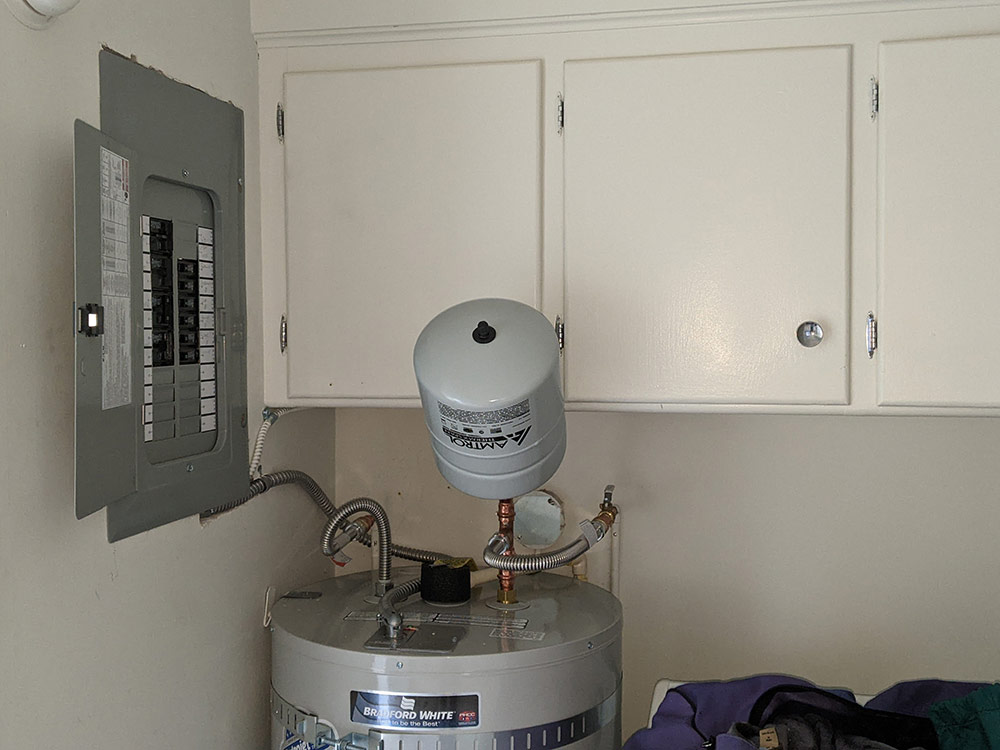 On to my question: Mike, will you please give me permission to just put a cap on the damn thing and omit the expansion tank?
It's on city water, and I don't have a lot of other info about the other plumbing in the house. The incoming line into the hot water heater is 1/2-in. copper.
Best, James
From Mike Lombardi of Lombardi Plumbing and Heating, Danbury, CT:
Patrick,
Please let James know I always prefer a thermal expansion tank on commercial and residential water heaters. A properly charged tank should match the incoming water pressure and works best when connected near the cold-water inlet to the heater as pictured. I like his idea of relocating the tank; if he does, he can extend the piping as needed from the existing tee.
Thermal expansion tanks can extend water-heater life by reducing the stress of fluctuating pressure as water temperature increases. As unlikely as it seems, even steel-reinforced tanks will flex (like an old-fashioned bellows) as pressure rises and falls. Expansion tanks will decrease this effect and will greatly reduce the potential for water hammer when a fast-closing valve shuts off (dishwasher & washing machine solenoid valves, for example). Water hammer can create dangerous high pressures.
There are cases where an expansion may not be needed. Private well-water systems' water storage tanks can absorb excess pressure, and public water-supply systems can have room for some expansion. But water main and branch supply piping check valves, pressure reducing valves, and back-flow preventers can create closed systems with no room for expansion; a thermal expansion tank is a simple and effective way to overcome known or unknown conditions.
Related Links:
---
END NOTE:
Podcast 577: Members-only Aftershow — Home Ventilation
Mark, Mike, and Patrick talk about home ventilation systems, why indoor air quality needs more attention in modern homes, and the pros and cons of various ventilation strategies.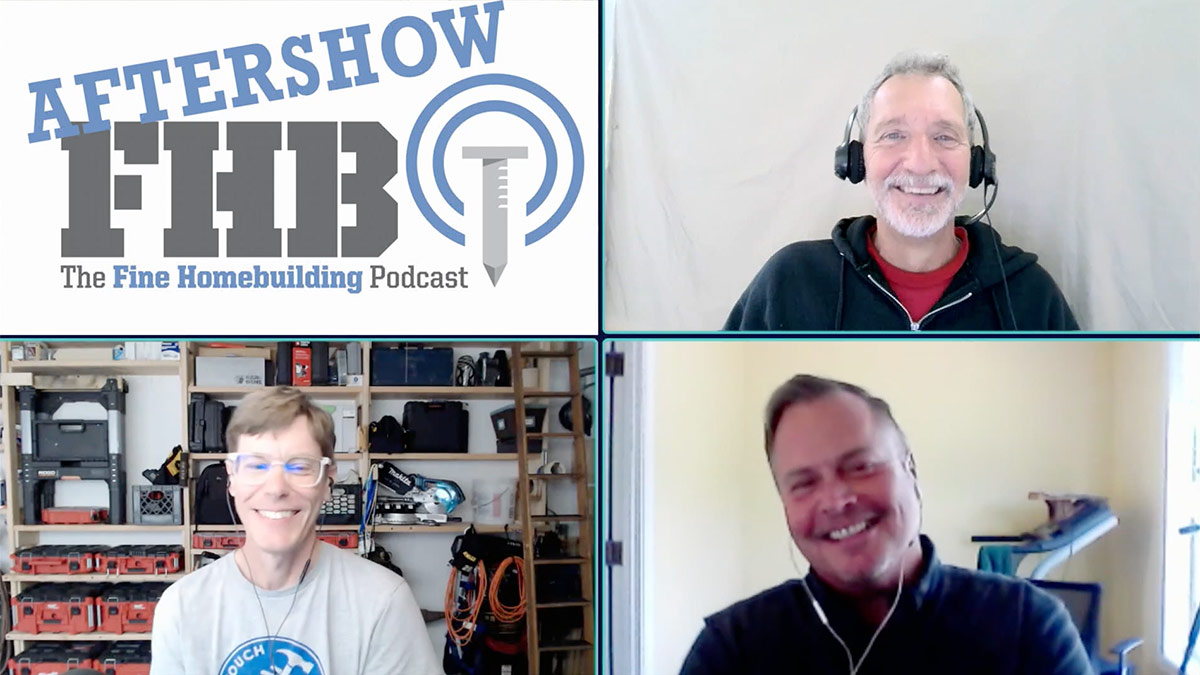 ---
Check out one of our latest Project Guides: Energy Retrofit!

Check out our FHB Houses:

Visit the Taunton Store  •  Magazine Index  •  Online Archive   •  Our First Issues   •  All Access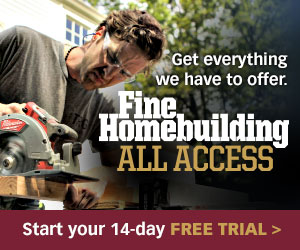 ---
Help us make better episodes and enter for a chance to win an FHB Podcast T-shirt: www.finehomebuilding.com/podcastsurvey
---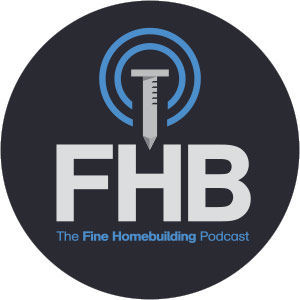 If you have any questions you would like us to dig into for a future show, shoot an email our way:

[email protected]

.
If we use your question we'll send you a FHB Podcast sticker!
---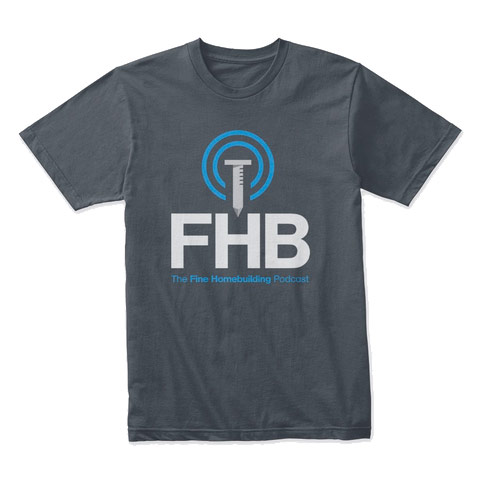 FHB Podcast T-shirts!
Represent your favorite podcast! Available in several styles and colors. Made from 100% cotton. Find the Podcast t-shirt and more cool products in the Fine Homebuilding Store.

---
Fine Homebuilding podcast listeners can now get 20% off anything in the Taunton store, including Pretty Good House.

Use the discount code FHBPODCAST to take advantage of this special offer.

"Finally, knowledgeable people talking about building reasonably-sized, high-performance houses for normal people with real budgets!"
— DanD, VA, 8/19/22, Amazon.com review
---
We hope you will take advantage of a great offer for our podcast listeners: A special 20% off the discounted rate to subscribe to the Fine Homebuilding print magazine. That link goes to finehomebuilding.com/podoffer.
The show is driven by our listeners, so please subscribe and rate us on iTunes or Google Play, and if you have any questions you would like us to dig into for a future show, shoot an email our way: [email protected]. Also, be sure to follow Fine Homebuilding on Instagram, and "like" us on Facebook. Note that you can watch the show above, or on YouTube at the Fine Homebuilding YouTube Channel.
The Fine Homebuilding Podcast embodies Fine Homebuilding magazine's commitment to the preservation of craftsmanship and the advancement of home performance in residential construction. The show is an informal but vigorous conversation about the techniques and principles that allow listeners to master their design and building challenges.
Other related links