Podcast 603: Flashing Masonry Openings, Protecting Fence Posts, and Making Hot Water
The crew hears from listeners about ceramic paint, prefinished siding, and tiny houses in Texas. Discussion questions include flashing windows in masonry walls, protecting buried fence posts from rot, and using boilers for domestic hot water.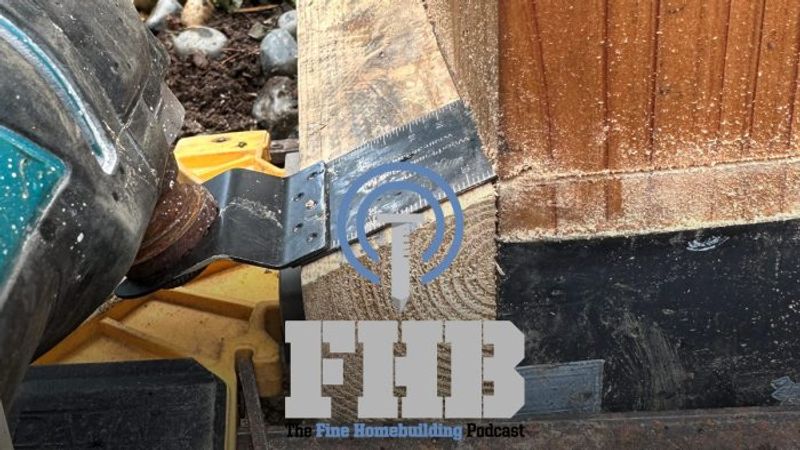 ---
Follow the Fine Homebuilding Podcast on your favorite app. Subscribe now and don't miss an episode:
Help us make better episodes and enter for a chance to win an FHB Podcast T-shirt:
www.finehomebuilding.com/podcastsurvey
Mark asks about ceramic paint. Scott says siding makers subcontract finishing. Vic shares a story about affordable homes in San Antonio. Dan needs help flashing windows. Robert wants to build a long-lasting fence for his clients. Scott is framing a dormer addition. Steve is considering using a boiler for domestic hot water, but the plumber is reluctant.
---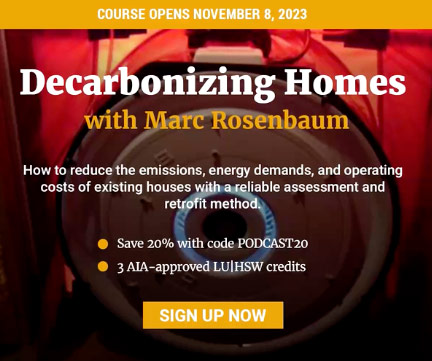 We've created a custom eLearning coupon for podcast listeners – code: PODCAST20
The Sustainable Home Building Accelerator
This intensive, interactive online series of courses is designed to rapidly advance your knowledge of sustainable home design and construction. Whether you're an architect, builder, or a homeowner, we'll give you the information and confidence to design and build well-crafted, practical homes that maximize performance and comfort.
Over 11 hours of video. AIA Approved 10 HSW/LU Credits. Resnet 10 PD Credits.
When you purchase all three courses, you'll receive access to a year of GBA Prime as well as a copy of the Pretty Good House book!
Remember the code PODCAST20 for any Fine Homebuilding courses.
Editor Updates:
Mike: Babesiosis
Jeff: Enjoying the new heat-pump water heater
Brian: Getting a shop space together
Patrick: Energy engineer, Marc Rosenbaum, taking your questions
---
Listener Feedback 1:
Mark writes: I was surprised there was no mention of the ceramic coating (paint) I see advertised. https://www.gorhinoshield.com/micro/painting/residential/
Your thoughts? Thank you, Mark
Related Links:
---
Listener Feedback 2:
Scott in Madison, WI, writes:
It's possible that LP might not supply the paint code because they simply don't know. When I had LP siding put on my house, the color coat was done by a third party. I got the sense that these places also act as a distributor for the siding contractor. While LP does offer their own color program, the warranty on the third-party coating I bought is far better—30 years vs. the 5 to 15 years from LP.
Ironically, I did choose the color based on the formula from Sherwin Williams from the last time I had the house painted, and the color match was spot on but the sheen is slightly different.
The contractor left me with a small jug of touch-up paint for my house and trim colors, plus a couple of tubes of color-matched caulk. I also kept some of the flashing coil stock and a few pieces of lap siding just in case. They offered to leave me whatever I wanted, but I didn't want to store it. They said they keep it in their warehouse for a few years and then at some point their staff will use up all the old surplus material on their own houses and just paint over it. It would be pretty fun to see one of those houses before the paint goes on!
Related Links:
---
Listener Feedback 3:
Vic writes: When will they start building these in Greenwich?  😁
Tiny homes on small lots popping up in San Antonio area
From the San Antonio Report: Miami-based homebuilder Lennar Homes started construction months ago in the Spring Meadows subdivision near Converse, building two styles of detached homes that range from about 350 and 660 square feet — a size that's comparable to a studio apartment. At least 30 are in various stages of construction in Elm Trails. A total of 100 houses eventually will be built.
The two-story homes come with one bedroom and one or two bathrooms, depending on the model, and an open floor plan with a fully-equipped kitchen. In the Cooley model, a built-in ladder is used to access the upper-level open space, and in the Henley, a narrow set of stairs leads to a sitting area and bedroom. The houses stand side-by-side along a street named Elm Cove, two-tenths of a mile long, and three smaller streets. The homes are built on lots that measure about 20 feet across, leaving a narrow space between each residence. Building codes in Converse, as in San Antonio, require most new single-family homesites to be a minimum of 60 or 65 feet wide, with some exceptions. But Elm Trails is outside of city limits, where lot size is not regulated.
San Antonio is the first city where the nationwide homebuilder has built its small-scale homes, said Brian Barron, San Antonio division president for Lennar.
"We've been working on bringing these homes to market for the past two years or so," Barron said. "We took what we had seen nationally with the growing acceptance of small-footprint homes and began researching what it would take to do that across an entire community." The National Association of Home Builders reported in November that the median size of new family homes is 2,276 square feet, down from a high of about 2,700 square feet in 2015. Rising interest rates and construction costs are partly the reason for the trend toward smaller homes. Small-home developments could be the answer to housing shortages and rising costs. But zoning is often a roadblock.
"As more and more municipalities address affordability, we believe it will be important that traditional zoning requirements are updated to reflect new types of housing," Barron said. While Elm Trails is a full residential development made up of tiny homes, the prevalence of small homes by way of backyard casitas or granny flats could soon become more widespread in parts of San Antonio.
Late last year, City Council approved 191 amendments to San Antonio's unified development code, including changes intended to make it easier to build accessory dwelling units. In March, a state senator from Houston introduced a bill that would nearly eliminate most zoning with lot size requirements in municipalities that are in counties with a population of 300,000 or more. Approved by the state Senate, SB 1787 was passed to the House on May 11.
Related Links:
---
Question 1: What's the best way to flash replacement windows and doors?
Dan from Ontario, Canada, writes: Greetings and salutations my fine Fine Homebuilding friends!
I have a question about our 1880s two-story, yellow-brick farmhouse regarding how to properly flash new windows and doors into the non-existing WRB.
It is a three-wythe brick house with the lathe and plaster removed, interior 2×6 walls with fiberglass insulation, and polyethylene vapor barrier caulked and stapled on the inside underneath 5/8-in. drywall. (Why 5/8 in. you ask? Beats me, but when renovating the upstairs I did find evidence of fire damage in the second-story ceiling joists adjacent to the chimney area). The old fireplace has since been cemented shut, but I digress…I had to remove some of the drywall to add some reinforcing 2x8s to a post supporting a beam we used to remove a dividing wall. While open, I studied the make-up of the wall. It appears to have been coated with some type of surface-bonding cement/mortar, but it looks original to the structure, as there are old stock 2x4s embedded in the mortar horizontally. There is a 1-in. air gap between the old brick wall and the back of the new interior 2×6 walls with fiberglass insulation. Other than several mouse tunnels and snail skeletons, the insulation and 2xs in both walls seem bone dry with minimal to no mold on the fiberglass.
My question is: I want to replace the old rotten drafty wood double-hung windows with more modern tight windows (style still to be selected) and convert an existing bay window (from a previous owner's renovation) to a new double door with sidelight entrance way. How do I go about flashing these fenestrations to ensure they last as long as possible? Do I avoid wood altogether? Do I make a buck out of pressure-treated wood and flash on top and down the front of it? There is no WRB to tie into, so I though of somehow encapsulating the sides, top, and face so moisture will not seep in from the brick, while allowing any moisture that makes it through the giant brick sponge to dry to the 1-in. air gap behind the brick wall. Is there any detail from the industrial world with CMU construction that might apply here? I have an uncle with an account at a window dealer to get a great price and was hoping to install these myself.
I look forward to hearing you all muse on the subject. Love the show. You inspire me to continue to learn more and more about building science and try to convince my children to go into the trades. My son and I love listening to your podcast on trips to the arena early on Saturday mornings.
Related Links:
---
Question 2: What do you think of my plan to make long-lasting fence posts?
Robert writes: Howdy FHB!!
I'll make my intro quick, then get to the point! I'm 29, and I've been in the carpentry field for roughly ten years. I never had a formal internship, but I have always striven for learning as much as I could. Your podcast has been an invaluable way to absorb knowledge on road trips or the daily commute. I listened to you guys almost the whole drive from Colorado to Alaska a few years ago—all 40 hours of it! I finally made the leap to self-employment this year, and there is so much I don't know, but it's nice to have trusted resources I can turn to as I continue my lifelong internship. The code book and the TCNA Handbook are useful, but they just aren't as fun to read as a copy of Fine Homebuilding. Now that I've buttered you guys up, let's get to the nitty-gritty: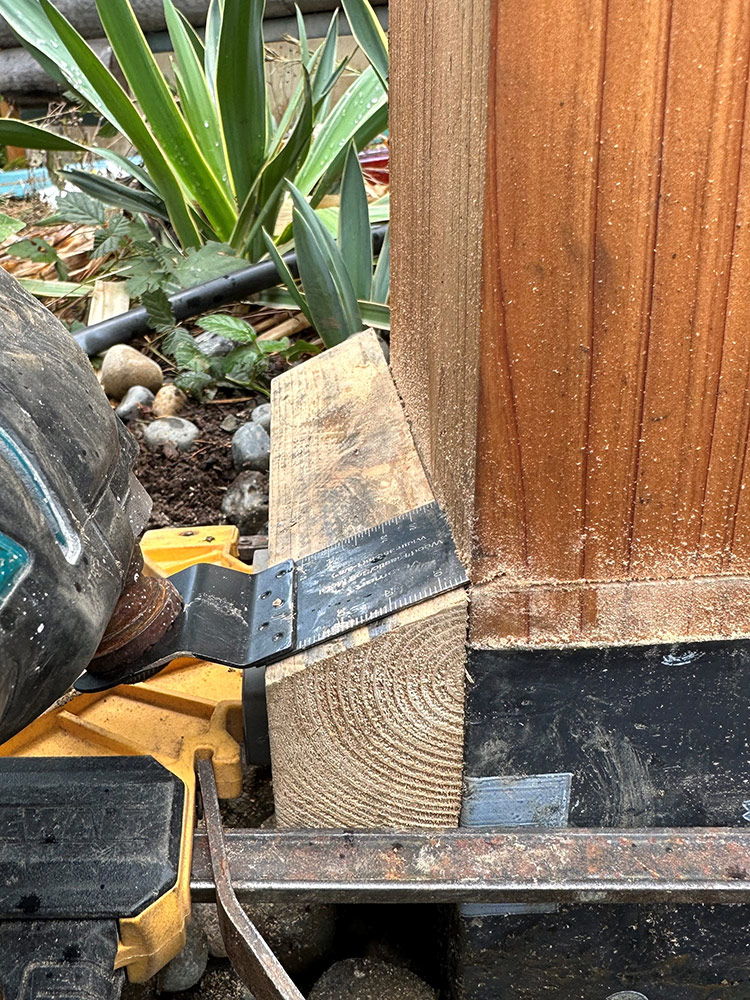 I am building a custom hog-wire fence for a client of mine, loosely based on the ideas in issue 221. I had been beating my head against a wall (not literally) trying to figure out how to maximize the life of my buried posts. The client was adamantly against using PT lumber (thankfully, since it's ugly and I hate it), so I went with western red cedar, as it's readily available in Washington, gorgeous, and relatively rot resistant. Since this fence is costing them five figures, I wanted to make sure it lasts as long as possible. It seems crazy that there wouldn't be one, but I have not been able to find a standard accepted practice for installing fence posts in the ground. Correct me if I'm wrong on that. There's about a hundred and one different opinions about this online, and each person would have you believe that their method is the only way to do it. What I ended up doing was staining the entirety of each post with Red Label Penofin, then wrapping the base of the posts with Vycor from the base to about 3 in. above grade. I put a few inches of 3/8-in. pea gravel in the base of each hole, then poured concrete up to 1 in. below grade, and troweled it so that it sloped away from the base of the post. After seeing it all done, I was still skeptical—and that night's rain confirmed my fears. The Vycor wrap formed a funnel on a couple of the posts where it wasn't stuck tightly, so that those posts had basically a polyethylene bag holding water around the base. I pondered everything I knew about drainage and moisture management, and had a light-bulb-over-the-head moment where I came up with the following method, which I've attached pictures of. Please tear it apart and let me know if I'm onto something here or just fooling around.
First, I ripped a bevel on a short piece of 2×4 at roughly 25 degrees. This serves as a guide for my multitool blade that I clamped onto the post to make sure I got a nice consistent angle and straight cut. I cut a 1/4-in. groove all the way around the base of each post, 4 1/2-in. off the troweled concrete base. The 2×4 jig ensured that I got that upward cut. Next, I cut a piece of 4-in. aluminum coil stock a couple inches bigger than half the perimeter of the post. I held the coil stock up to the post, eyeballing it so it was centered, then made two marks on the stock that lined up with the outsides of the post. I cut 1/4 in. down on those marks, the same depth as my multitool relief cut, then bent those 1/4-in. flaps over with a hand brake. Then I folded each wing over 90 degrees, and slid the whole piece onto the base, with the flaps tucked into the relief cuts. It was pretty easy to slide on because I had planed each post so they were consistently shaped. I repeated the process for the other side, and nailed the two halves into the base with stainless steel trim nails, which the Vycor should seal around. I would have used aluminum nails but couldn't find any locally last minute. This essentially acts as a 360-degree head flashing—water runs down the post, hits the aluminum, and rolls off, instead of going down into the Vycor. Since the Vycor is 3 in. above grade behind the coil stock, there would have to be a small pond forming on the property before the water gets up to that level. It also has the added benefit of being a rather handsome way of hiding the ugly Vycor wrap. Once I dialed in my method, it only took 12 minutes per post—a decent investment for hopefully a few more years of longevity. I'll check back in 10 years, haha. I wouldn't do this for every fence or fence post, just those that really need to look nice, or that cost a whole heck of a lot of money. I can't be the first person to come up with this. I would love to know if you've heard of it before, and what you guys think!
Related Links:
---
Question 3: How can I frame a dormer without an LVL ridge beam?
Scott writes:
I'm planning on building a detached garage and want to be able to use the second floor for storage and a small work space. The floor will be framed with 2x10s with a three-ply LVL down the center to support the 2x10s. The rafters will be 2x10s, and the slope is a 12 in 12 (45-degree angle). The usable floor space—where there is more than 6 ft. between the floor deck and bottom of the rafters—will only be about 8 ft. down the middle. To gain more usable floor space, I'd like to frame a dormer on the front side. It'll add some character and gain some headroom. I'd like to set back the dormer wall 2 ft. in from the wall of the garage below. This will make the eave look a little more substantial than just the 12-in. soffit projection would look if I had the dormer wall stacked on top of the lower-level wall. The engineer I engaged to help me size the joists, beam, and rafters says that I need to install a 16-in. LVL ridge beam the full 24-ft. length of the garage for the 20-ft.-wide dormer. Now for the question: is there any way to frame the dormer roof without a ridge beam and instead just use a 2×12 ridge board?
I've seen lots of Cape-style homes that have dormers framed with 2×10 and 2×12 ridge boards. I'd like to avoid the LVL beam mainly because I don't know how I'll be able to raise such a large beam about 22 ft. up in the air and over 12 ft. above the second floor. The three-ply LVLs supporting the floor will be 9-1/2 in. x 24 ft. and weigh about 150 lbs. each. I can slide them up 8 ft. high on some pipe scaffold frames I have and block them up into position then screw them together. The 16-in. LVL ridge beam will weigh about 220 lbs. I'm working alone and don't think I can lift it up 12 ft. then temporarily support and brace it securely enough until I build the gable walls to support it.
Hoping you have some ideas on a conventional ridge board and rafter framing that will be easier to handle.
Thanks for your help. Scott
Related Links:
---
Question 4: Can I run my DHW off my new heat pump?
Steve writes:
Patrick/Mike/Jeff & team—
I'm a homeowner on a new residential build. You all previously provided great answers to my other questions, so here's another brain-buster (related to HVAC).
I'm having an air-to-water heat pump installed for hydronic radiant. I'd like to run domestic hot water (DHW) off of this system, but my HVAC contractor is not enthusiastic about combining DHW with the hydronic heat pump. Any thoughts on combining these systems, or should they be segregated? (My fall-back is a separate heat pump strictly for DHW.)
Gracias amigos.
Related Links:
---
END NOTE:
Podcast 603: Members-only Aftershow — Maintaining Quality Control
Who should be making sure your project is built right, and what are the metrics to determine if the work is completed in a quality manner?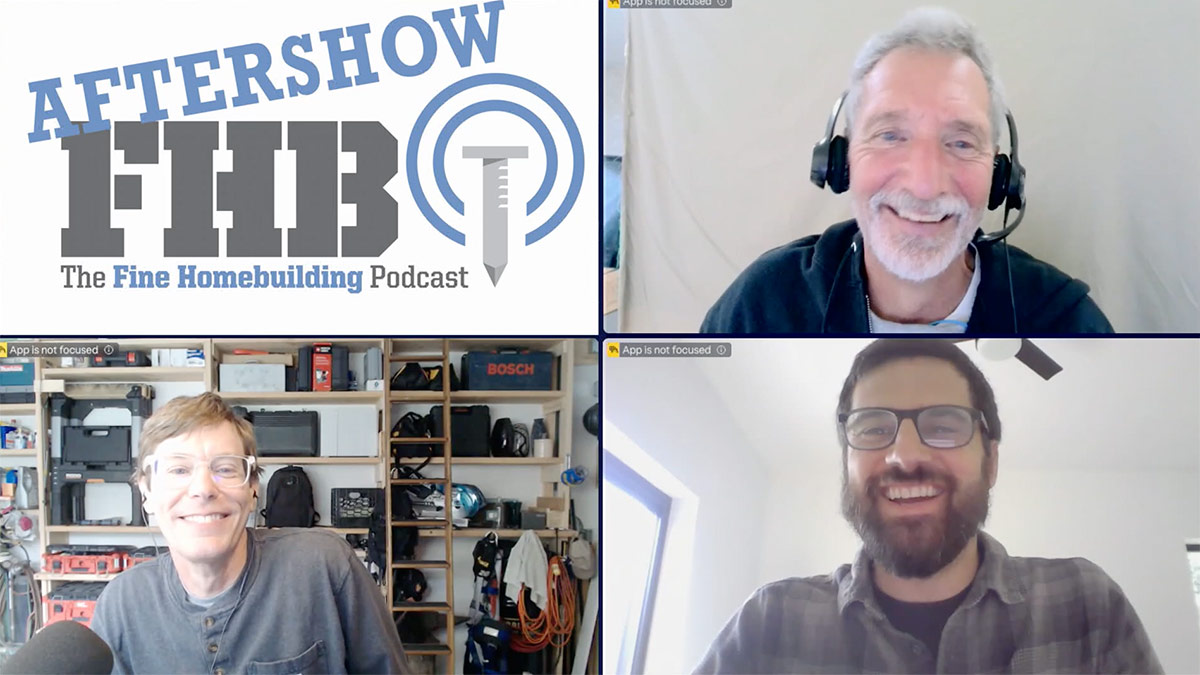 ---
This episode of The Fine Homebuilding Podcast is brought to you by Loctite's PL Premium Max

Say no to outdated and run down, say yes to projects that last with Loctite's PL Premium Max construction adhesive.
Indoor or out, PL Premium Max is our toughest construction adhesive. It can be applied in all weather conditions and bonds to any common building material.
Whether you're framing a custom home, upgrading to granite counters, or fixing up your latest flea market find, PL Premium Max is the right adhesive for the job.
Say yes to a second chance. Say yes to Loctite.
Visit Loctiteproducts.com for more information.
---
Check out one of our latest Project Guides: Energy Retrofit!

Check out our FHB Houses:

Visit the Taunton Store  •  Magazine Index  •  Online Archive   •  Our First Issues   •  All Access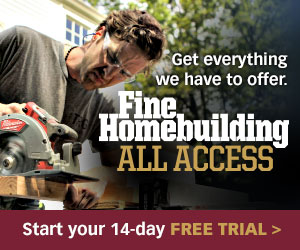 ---
Help us make better episodes and enter for a chance to win an FHB Podcast T-shirt: www.finehomebuilding.com/podcastsurvey
---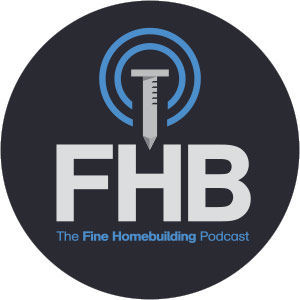 If you have any questions you would like us to dig into for a future show, shoot an email our way:

[email protected]

.
If we use your question we'll send you a FHB Podcast sticker!
---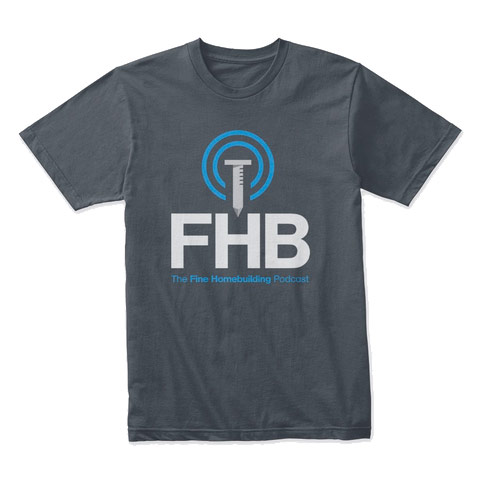 FHB Podcast T-shirts!
Represent your favorite podcast! Available in several styles and colors. Made from 100% cotton. Find the Podcast t-shirt and more cool products in the Fine Homebuilding Store.

---
Fine Homebuilding podcast listeners can now get 20% off anything in the Taunton store, including Pretty Good House.

Use the discount code FHBPODCAST to take advantage of this special offer.

"Finally, knowledgeable people talking about building reasonably-sized, high-performance houses for normal people with real budgets!"
— DanD, VA, 8/19/22, Amazon.com review
---
We hope you will take advantage of a great offer for our podcast listeners: A special 20% off the discounted rate to subscribe to the Fine Homebuilding print magazine. That link goes to finehomebuilding.com/podoffer.
The show is driven by our listeners, so please subscribe and rate us on iTunes or Google Play, and if you have any questions you would like us to dig into for a future show, shoot an email our way: [email protected]. Also, be sure to follow Fine Homebuilding on Instagram, and "like" us on Facebook. Note that you can watch the show above, or on YouTube at the Fine Homebuilding YouTube Channel.
The Fine Homebuilding Podcast embodies Fine Homebuilding magazine's commitment to the preservation of craftsmanship and the advancement of home performance in residential construction. The show is an informal but vigorous conversation about the techniques and principles that allow listeners to master their design and building challenges.
Other related links