How-To
Pro Tips for Choosing Paint
Some of the things you need to consider before you head to the paint store are whether the paint is for interior or exterior use, for new wood or previously painted surfaces, and if you want high or low sheen.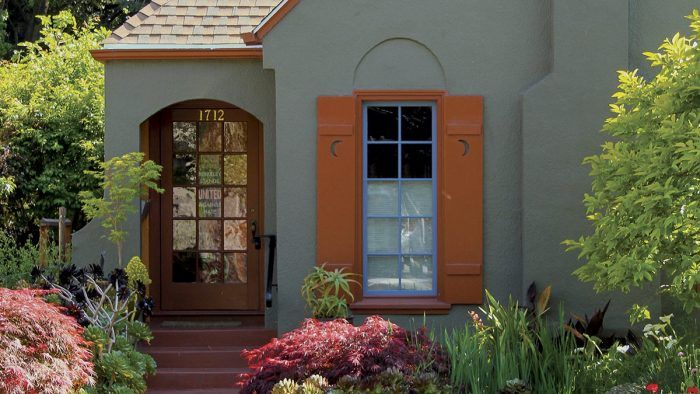 Manufacturers frequently reformulate their primers, paints, and stains, so look for a reputable supplier who keeps up with changes. Before buying paint, examine the surfaces to be painted and think about the conditions it must endure. Then ask the following questions.
Four Telling Questions
Interior or exterior paint? Beware of paint labeled "interior/exterior." It's probably cheap. Quality exterior paints contain additives that repel moisture, block UV rays, and discourage mold. These additives are not substances you'd want to inhale indoors while the paint is curing. In general, don't use exterior paints indoors and vice versa.
Has the surface been painted before? Surfaces should be primed if they (a) have never been painted, (b) have been extensively scraped or sanded, or (c) are "chalky" or poorly prepped. However, if existing paint is well adhered, priming probably isn't necessary; just paint over the old coat.
What type of finish (sheen) do you want? Topcoat finishes range from flat (also called dull or matte) to semigloss (aka eggshell, velvet, satin) to gloss. Glossier finishes tend to be more durable and easier to clean, so they're favored in high-use areas such as bathrooms and kitchens. Enamel, which dries to a hard, durable finish, is best for window sashes, doors, and casings.
Is the surface unusual? Specialty paints are available for masonry; hard, nonporous surfaces; high-humidity areas; and nonslip surfaces. If you have an unusual surface to paint, ask your supplier to recommend a finish.
PRO TIP: Buy the best paint and equipment you can afford. Good paint adheres better, dries smoother, and lasts longer. Generally, quality paint has higher percentages of solids (pigments and binders) that yield a thicker film of paint when dry. Using cheap paint is a waste of time and money.
Oil-Based v. Latex
Whether you're painting exterior or interior surfaces, latex paints are probably the best bet. The next sections explain why. Two essential definitions.
Oil-based paints and stains may contain linseed oil, tung oil, or synthetic resins called alkyds. Because alkyds are the most common "oil" in oil-based paints, professionals often use the term alkyd instead of oil based. However, oil based is the broader, more inclusive term for products that must be thinned and cleaned up with solvents.
Latex paints, also called "acrylics," are water based. They can be thinned with water and cleaned up with warm, soapy water. In recent decades, acrylic latex paints have improved so dramatically that they now meet almost every painting need. Basically, you no longer need to use oil-based paint.
Colorful Language: Primers, Paints, and Stains
Primer. An important base coat, primer is applied to substrates such as raw wood, drywall, plaster, or previously painted surfaces. Above all, primers must stick to the substrate; they may also contain stain blockers, preservatives, pigments, or other additives to hide flaws and ensure more uniform topcoats of paint.
Paint.  If primer's job is adhesion, paint's is protection—protecting the primer and substrate from moisture, mild abuse, and (if it's exterior paint) UV rays. Paint must also hold color, dry smoothly, and withstand weather, so its pigments, solvents, and additives must be carefully blended and held together by a binder, or resin.
Binder. Binders determine a paint's penetration, adhesion, drying rate, flexibility, and durability. In relation to pigment, the more binder a paint has, the shinier and more durable its finish will be. Glossy paints tend to have high binder-to-pigment ratios.
Pigment. Color is determined by pigment. The more pigment a paint has, the more intense its color and the better it hides what's beneath.
Vehicle. A paint's liquid component, the vehicle, is needed to suspend the pigments and binders. Oil-based vehicles (linseed oil, tung oil, or modified oils called alkyds) thin with mineral spirits, also known as paint thinner. Latex paints suspend polymer particles (plastic) in water.
Stain. Penetrating or semitransparent stains are most often pigmented oils that soak into wood and form a thin film on the wood's surface; there are also water-based stains. You can see wood grain through stain. Although stains may contain water repellants, preservatives, and some UV blocking, they don't protect wood as well as paint does and so must be reapplied periodically—say, every two to four years.
Solid-color stain. Despite the name, solid-color stain, a fast-growing group of exterior coatings, is more like thinned paint than stain. It's popular because wood texture (but not wood grain) remains visible. However, solid-color stains have only about half the life span of painted surfaces. Acrylic latex solid-color stains are the most durable.
Oil-Based: Advantages and Disadvantages. Oil-based paints are durable and tenacious, adhering even to glossy or chalky surfaces. Thus, many pros still insist on an oil-based exterior primer, even if they'll be applying latex topcoats. Many old-school painters also favor oil-based paints for interior trim because they dry slowly and level well, thus minimizing brushmarks.
The problem is that oil-based paints never completely cure. Rather, they oxidize and, over the years, erode and crack. Any siding, especially wood, expands and contracts as temperatures fluctuate, so the inflexibility of oil-based paints leads to cracking and more commonly to chalking, a powdery residue of oxidized oil and pigment. In addition, mold feeds on the organic compounds in oil-based paints. But the biggest problem is their solvents: noxious, volatile, polluting, and tedious to clean off tools and equipment. Availability may also be an issue: Because of more stringent regulations on volatile organic compounds, or VOCs (such as in California), oil-based paints are increasingly harder to get.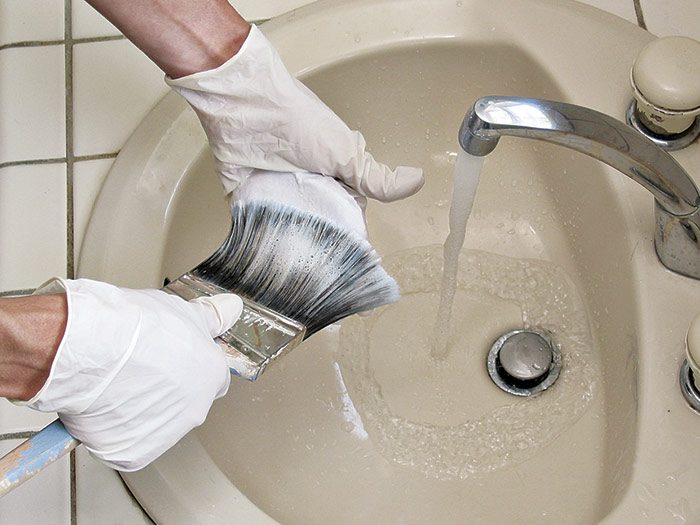 Latex: Advantages and Disadvantages. Acrylic latex has almost everything a painter or a substrate could want: As the paint or stain dries, its water base evaporates with minimal odor, leaving a flexible coat of polymer particles (plastic) that rarely cracks, as oil-based paints often do. Latex also is semipermeable, so moisture generated inside the house can migrate, through the paint, to the outdoors. Because latex is synthetic, it's inhospitable to mold. Finally, latex cleans up easily and dries quickly.
Inside, latex is the only paint to use on drywall because it won't raise the paper facing of panels. Exterior latex is colorfast, durable, and easy to apply. However, its quick-drying characteristic can be a problem if you're painting an exterior in 90º F heat, which causes the paint to dry on the brush. In that case, additives such as Flood Floetrol will slow drying time and extend its brushability.
---
Tips for the Paint Store
Before heading for the paint store, calculate the square footage of surfaces to be painted. Then compare those figures with the coverage figures listed on the paint containers. Unless a wall is mostly glass, don't bother to subtract the square footage of windows and doors from your total. You'll need the paint someday for touchups.
Predicting the coverage of stains is more difficult, especially if the wood is untreated. Add 15% to 25% if you need to special-order the stain and must wait more than a day or two for delivery. That way, you'll be ensured of having enough stain to finish the job.
PRO TIP: Less expensive than finish paints, tinted primers also hide more and therefore ensure a more uniform finish color. So you can save money by having your paint store tint the primer closer to the color of the finish coat. This is especially true if you're painting over existing paint that's darker than the new paint.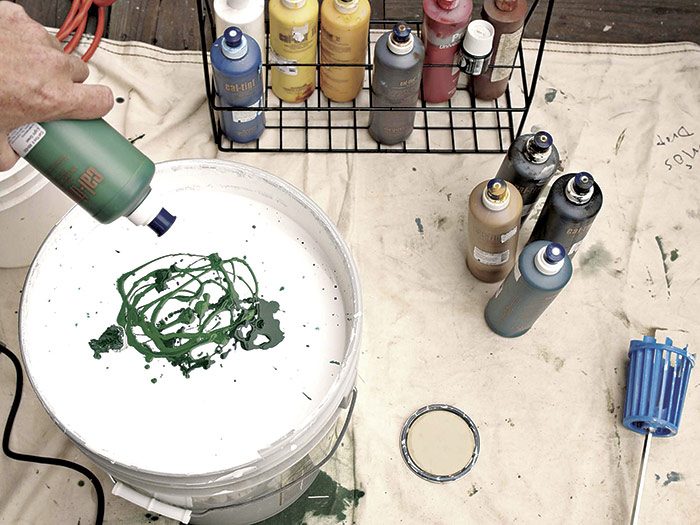 If the job is big, you'll save money by buying 5-gal. rather than 1-gal. containers. However, if you need only a few 1-gal. cans, ensure uniform color by mixing their contents in a clean, empty 5-gal. bucket. This way, you'll avoid finishing one can in the middle of a wall and resuming with a noticeably different hue.
Have the paint store mechanically shake the paint for you—unless, of course, the manufacturer's instructions indicate it shouldn't be -shaken. For example, polyurethanes and varnishes trap air bubbles when shaken.
Clear Finishes
Clear finishes include polyurethane, varnish, lacquer, and shellac. Polyurethane, also called poly, is the most durable of the clear finishes and thus the most suitable for heavy-traffic surfaces, such as trim and stair parts. Although poly and varnish resist moisture, they may become cloudy with sustained exposure to wet conditions. Shellac also clouds up near water. Spar varnish—originally used on boats—has a hard finish that stands up well to water, if well maintained.
Next:
Choose the Right Primer for Your Next Painting Project