Longer-Lasting Wood Posts
These plastic resin sleeves encase a buried portion of a post or pole to protect the wood from decay.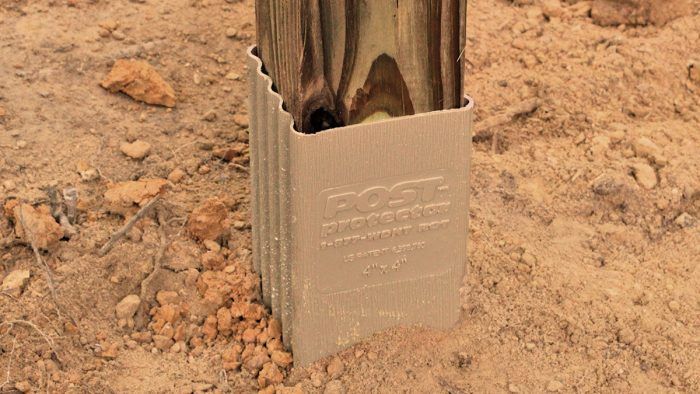 When you call 1-877-WONT-ROT, you hear, "Post Protector! Ken!" Buying direct is worth it just to chat with the charismatic inventor, who initially created the Post Protector to help some friends build more durable and affordable pole barns. Post Protector is a simple-to-install plastic resin sleeve that encases the buried portion of a post or pole to isolate it from the creepy-crawly microbes that cause wood to decay. They save you money by eliminating the need for concrete piers—just bury your posts in the ground atop concrete footings, which in many cases can be poured as you're setting the posts. Because the posts go directly in the ground, there's no post-to-footing hardware to buy either. And because you don't fill the hole with concrete, you can refill it with whatever you dug out of it instead of having to move it and find a place to get rid of it. Post Protector comes in multiple widths and lengths to wrap posts and poles for fences, decks, barns, and more. Prices start at $21 for a 4-in. by 4-in. by 42-in. sleeve.
—Mark Clement, remodeling carpenter
From Fine Homebuilding #297
Previous:
Deck Footing Options
Next:
Precast Footings: EZ-Tube