Design
Remodel within the Bathroom Footprint
Three transformed baths show how radically a little room can be changed without adding square footage.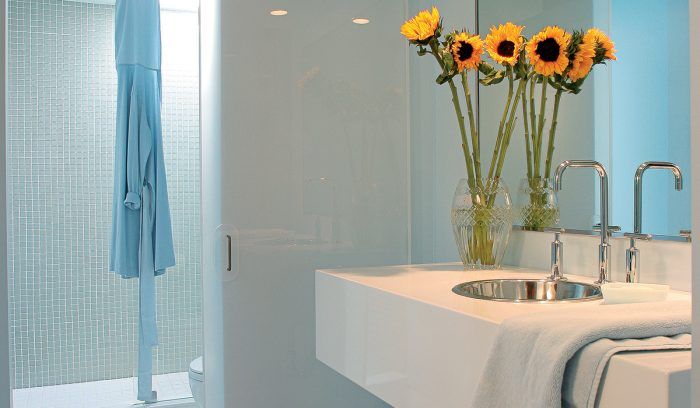 Blue Bath Special
A gloomy bath sheds its claustrophobic character without losing a single wall.
Question: What do the words "polished," "open," and "W Hotel" have in common?
Answer: They were all on the list of aesthetic criteria that Terilynn Perez used to describe what she wanted in her remodeled bath. Rounding out the list were modern, light, and unique. A glance at the "before" photo explains the inspiration for this list. Architect Eric Dumican had one other criterion to consider as he pondered potential solutions: Don't move any walls. And oh yes, given the bath's location inside the house, windows weren't an option.
Dumican's plan for the new bath kept all the fixtures and walls in the same place, with an operable skylight over the shower funneling daylight into the room. The central lavatory space is flanked by translucent sliding doors; one leads to the shower room, and the other to a walk-in closet. Made of 1-in.-thick acrylic panels, the doors are sandblasted on one side. When closed, the shower-side door is a luminous plank that lights up the serene blue walls.
Methodical and orderly, rectilinear details such as the square glass tiles in the shower, the inset tile baseboards, and the powder-coated steel vanity bring polish, light, and a modern touch to this recast bath. Unlike the original blocky base cabinet, the new vanity floats above the floor, its shape echoed by the soffit above.
Design: Eric Dumican, principal; Dumican Mosey Architects, San Francisco, Calif. www.dumicanmosey.com

Builder: Abela Construction, San Jose, Calif.
Sources:
Plumbing Fixtures

Showerhead: Taboret, polished chrome

Shower control: Purist, polished chrome

Toilet: Rialto

Sink: Bolero Round, mirror finish

Faucet: Triton Widespread Base with gooseneck spout, polished chrome by Kohler

Finishes

Paint: Benjamin Moore, Blue Seafoam

Floor/base tile: Walker Zanger, D-Line, 12-in. by 12-in. ceramic, Standard White

Wall tile: Walker Zanger, Fusion, 1-1/4-in. by 1-1/4-in. glass, Mosaic Pearl

Skylight

Velux, manual operating

Rolling Door

1-in. acrylic panel, sandblasted on one side only, with McMaster-Carr I-Beam Roller Track Set
---
Cool Slate, Warm Wood
Foggy-gray tile and stone are the backdrop for a splendid Douglas-fir cabinet.
"Give it the spirit of Japanese architecture, but don't create a literal copy." That's the essence of what Wayne Lovegrove's clients requested when describing how they wanted to transform their suite bathroom. With its sloped ceiling, generous skylight, and view of an evergreen forest, the original bath had plenty of attributes. But style and substance were not among them. The existing economy-grade materials, too-low counter, and fixtures were to be completely replaced. To maximize investment in quality design and materials, there would be no structural or plumbing-location changes.
Design: Wayne Lovegrove, Lovegrove Design, Kenmore, Wash.; www.wlovegrovedesign.com

Builder: Cieplik Brothers Construction, Tacoma, Wash.
Lovegrove's design began with the subtle organizational underpinnings that characterize traditional Japanese homes. The floor is a grid of custom-cut slate tiles centered on both the sink and the toilet. The cabinet, made of vertical-grain Douglas fir, features doors and drawers with delicate reveals between rails, stiles, and panels. The counter, raised now to a comfortable height, steps down to become the windowsill. It is a schist slab, double thick at the edges for a sense of solidity. The new bath captures the calm richness of traditional Japanese architecture without having an overt Japanese style.
Sources:
Plumbing Fixtures

Toilet: Toto UltraMax

Faucet: Arwa Twin

Wall and Shower Tile

Casalgrande Pietre Native Blue Moon series Decorative tiles distinguished as Decoro Assortito

Door and Drawer Pulls

Whitechapel: 58CABAR5

Light Fixture

Minka Lavery
---
Mission Modern
A remodeled bath opens up with longer sightlines and calm, uncluttered finishes.
The owners had two goals in mind when they decided to upgrade the guest bath in their '70s ranch house. First, they wanted to lose the dated vinyl flooring, glowing fluorescent valance, and cheesy yellow tile, and fashion a bath more in keeping with their collection of Mission-style furniture. And second, they wanted a tub that made it easier to bathe the grandchildren.
Designed by Anthony Anderson of MAK Design+Build, the new bath makes the most of its modest 55 sq. ft. Anderson fixed the bathtub problem with an extra deep, drop-in tub detailed with a curb that makes a comfortable place for a grandparent to sit or lean. The tub is deep enough for the kids to splash around in a bubble bath without inundating the surrounding area. And the hinged glass splash guard swings out of the way, making access to the tub controls a lot easier than with the original sliding doors.
Instead of the chunky base cabinet in the old bath, the lavatory now sits atop a console-style quartersawn oak cabinet reminiscent of a Mission-style table or desk. The custom oak-framed mirror, with raised plugs at the corners, completes the composition.
Design: Anthony Anderson
Builder: MAK Design+Build, Davis, Calif.; www.makdesignbuild.com
Sources:
Plumbing fixtures
Toilet: Toto Aquia
Shower/tub mixer and faucet: Jado IQ
Soaking tub: Hydrosystems Lacey (60 in. by 36 in.)
Sink: Kohler DemiLav Wading Pool
Faucet: Kohler Purist K-14402-4
Finishes
Caesar Stone Countertop in Raven
Roca Avila Tile by Laufen in Gris, Alga, and Marron on walls; Arena on floor|
Hardware and Lighting
Hubbardton Forge
From Fine Homebuilding #207
Previous:
Bathroom Remodeling on Any Budget
Next:
How to Avoid the Seven Sins of Bathroom Design