Design
Linear Drains for Custom Showers
These sleek drains open shower-design possibilities, but at a cost.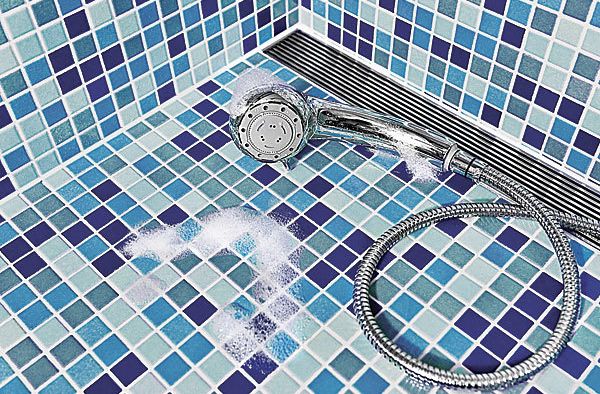 Synopsis: A conventional shower pan must be sloped on four sides toward the drain, which limits the layout of the shower. A linear drain, however, allows for much more creativity. In this article, senior editor Justin Fink discusses some of the specific advantages of linear drains: The slope is only in one direction, large tiles can be used on the shower floor, and a barrier-free entry is easier to build. He acknowledges the huge cost difference ($15 for a conventional drain vs. $100-500 for a linear drain), but reports that manufacturers claim that this difference will be less in the end because of the reduced labor costs incurred with a simpler one-way slope. Fink then looks at four installation styles for linear drains, each of which is illustrated with a detailed drawing: extension style, clamp ring, bonded flange, and metal flange. Photos show specific products with unique features: site-sizable drain kits, tile-in grates, debris-catching strainers, and drain bodies with a side-outlet waste.
There are no two ways about it: A site-built shower is one of the best parts of a custom bathroom. By shedding the constraints of a factory-made tub or shower unit, you expand design options. You can get creative with the shower's size, layout, and door location, and you can include features such as niches and benches. Custom showers have always been held back, though, by the four-way fall required with a traditional, centrally located drain. Linear drains offer several design options that were previously difficult, if not impossible.
These drains may change your installation methods, though. If you're comfortable with PVC membrane, a mortar bed, and a traditional clamp-down shower drain, rest assured that several companies make linear drains that essentially sit on top of a standard clamp-style shower drain. There are also several options for more modern waterproofing methods. Many linear drains are intended for a "thin bed" installation, where the waterproofing layer is just below the finish tile rather than under a thick bed of mortar. Many times, the drain is designed to be part of a larger system of available waterproofing components.
Along with requiring some new installation methods, linear drains also cost more, and that can be a barrier. Compared to a conventional $15 clamp-style shower drain, a 30-in. linear drain can sell for $100 to $300 or more. The argument made by manufacturers is that the savings comes in reduced labor for the tile installer because it's faster and easier to create a one-way slope, but homeowners likely choose them for their custom look.
Down the drain
With a conventional shower drain, the surrounding shower pan has to be sloped toward the center from all directions, referred to as a four-way fall. Installers are limited to tiles that are 4 in. or smaller to cover the slope smoothly on all four sides.
Linear drains at the perimeter of the shower pan offer three big advantages over a centrally located drain: (1) The fourway fall is replaced with a much simpler one-way slope; (2) Large format tiles can be installed; and (3) a barrier-free shower is easier to build because the linear drain can be placed at the entry, where a curb would normally separate the wet area from the rest of the bathroom.
4 installation styles
Aside from fit and finish, the difference among drains is in how they install and how they integrate into the waterproofing used in the shower pan. The first step in choosing a drain is determining how the shower pan will be built.
Extension style
There is some variation in the installation process, but all the linear drains in this category are essentially an extension of the common clamp-down shower drain. Depending on the brand, the connection is made either with a threaded tailpiece attached to the linear-drain body or a rubber adapter that bridges the gap between the clamp-down drain and the linear-drain body's rigid tailpiece.
For more photos, drawings, and details, click the View PDF button below to read the entire article:
View PDF
Previous:
Ready-Made Stainless Shower Pan
Next:
Sioux Chief Tile-In Drain