How-To
Build Your Own Bathroom Vanity
This traditional, Shaker-inspired bathroom vanity is easily achieved with straightforward building materials and common power tools.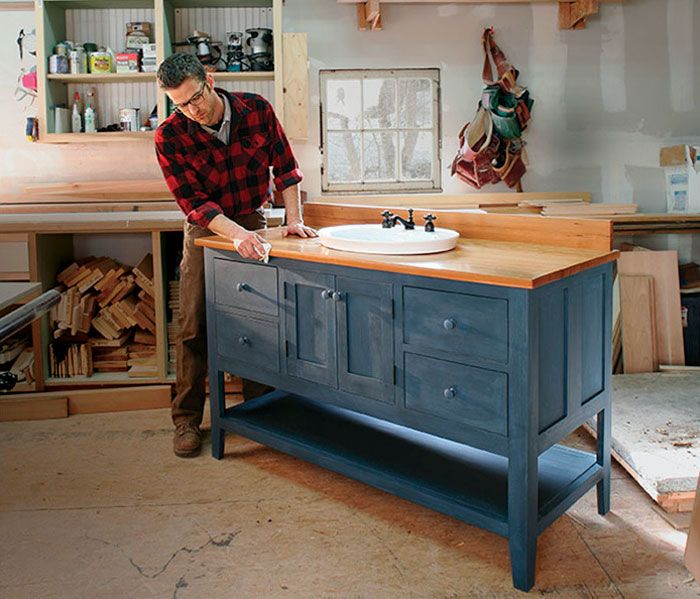 Synopsis: With some common power tools and a slight increase in cost, you can build a traditional Shaker-inspired bathroom vanity that is stronger and more aesthetically pleasing than a production model. In addition, it requires only a couple of weekends to complete. This article includes an exploded drawing that identifies each piece in the vanity's construction.
---
The details of a bathroom make a statement, and a vanity is often a focal point that ties those details together. The simplicity and clean lines of Shaker-style furniture appeal to me because they aren't adorned with excessive trim, appliqués, or other embellishments, yet they are more inviting and comfortable than modern pieces in a starker style. In addition, I think the Shaker style can work as well in a suburban raised ranch as it does in a 200-year-old farmhouse. To build this vanity, you don't need a cabinet shop, and you don't need weeks of build time. With some common power tools and a slight increase in cost, you can build a vanity that is stronger and far more stylish than a production model, and that requires only a couple of weekends to complete.
A classic look with a lot less effort
When designing this Shaker-inspired piece, I started with the same height, depth, and compatibility with standard plumbing fixtures that would be present on a store-bought vanity. From there, I added some details that you won't easily find, such as mortised butt hinges, full-extension ball-bearing undermount drawer slides, a solid-wood top, and a traditional milk-paint finish. Compared to the details on a production-line vanity, these small changes can make a big difference in the overall feel of the finished project, and they aren't that hard to execute. My goal in building this type of project is to respect the principles of traditional woodworking, but challenge some of the techniques to make the building process a bit less fussy.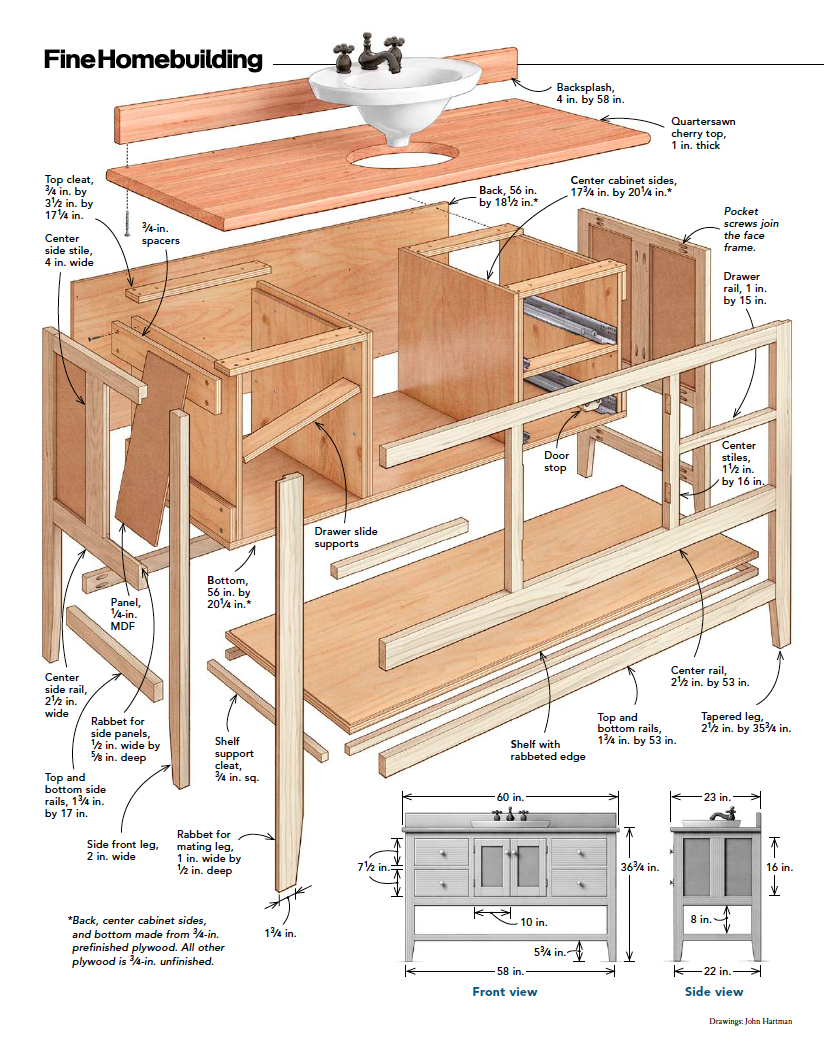 Although the drawing may look intimidating, the necessary techniques for this build are basic, and I've included tips and tricks to increase your accuracy. The result is a vanity that looks and feels like a handcrafted piece of furniture, but one that goes together with more ease. The most luxurious tools I used here were a track saw and a thickness planer, but even those are negotiable. If you don't have a track saw, then you can break down sheet goods with a circular saw and a homemade cutting guide. Also, even though you may be purchasing rough lumber that requires planing on its face and edges, most hardwood suppliers will do this work for a reasonable rate (my supplier charges 25¢ per bd. ft.) if you don't have a thickness planer.
Slide Show Extra: 33 additional step-by-step photos to help you with this cabinet project.
For more photos, drawings, and details, click the View PDF button below:
View PDF
Previous:
Keepsake Vanity Countertop
Next:
Yard-Sale Bureau Becomes a Bathroom Vanity