Air Barriers Are Essential for a Modern, High-Performance Home
Controlling air movement through the walls and ceilings is a key step toward comfort, energy efficiency, and building durability.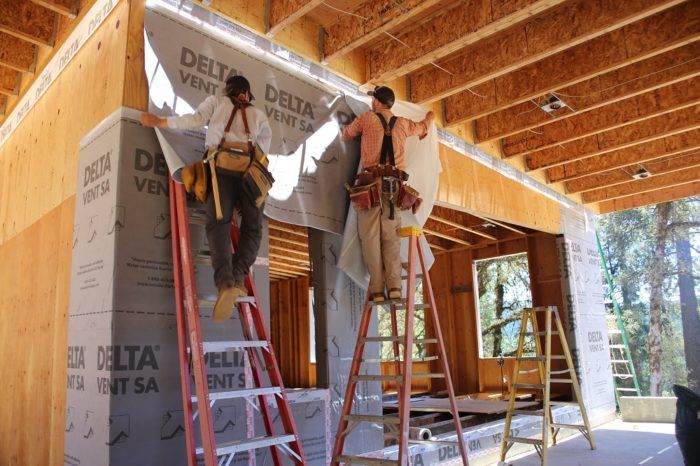 Nothing gets a building scientist or energy geek going quite like this old chestnut in the house-building business: "Your house needs to breathe." "No," they will tell you; your house does not need to breathe.
Far from making houses happy, a free exchange of air between the inside and the outside induces many problems. Drafty houses (houses that breathe) are less comfortable, more susceptible to moisture damage, and use more energy than houses that are airtight. Plus, drafty houses will not meet the requirements of certification programs such as Passive House, and they will increasingly run afoul of tightening building codes.
As a result, many builders are devoting more time and energy to sealing the building envelope as carefully as they can to create an effective air barrier. Pros sometimes call this an "air-control layer."
Many materials can be used as part of an air barrier. Concrete, drywall, glass, self-adhering membranes, flashing tapes, caulk, and plywood all are good at stopping the flow of air (oriented strand board—OSB—may not be as effective). A technology that has been around for a while called AeroBarrier uses an atomized latex sealant dispersed by aerosol nozzles to plug gaps and holes.
Air barriers are not the same thing as vapor barriers, and building scientists generally think air barriers are the more important of the two in most climates.
The edges are a major challenge
The trick is in assembling these materials into a continuous seal at the boundary of the conditioned space. The key word is "continuous." The most difficult spots to seal are not in the field but at the edges of the field, and the transitions from one material to another.
For example, plywood and rigid-foam insulation make good air barriers, but only when the seams between sheets have been sealed with a high-quality flashing tape.
One of the earliest approaches to air-sealing—a technique called the Airtight Drywall Approach—relies principally on sheets of gypsum drywall for the air barrier. Taping the seams creates a good air-seal in the field. Yet this system also relies on sealing the edges with beads of caulk at the top and bottom plates and around door and window openings.
Penetrations through this barrier at electric boxes and recessed fixtures also must be sealed with caulk or special gaskets. Similarly, potential gaps between the bottom plate and the subfloor should be sealed with caulk or with a gasket. In other words, when two dissimilar materials meet, the potential for a leak is higher.
One material that is rarely used these days as an air barrier is polyethylene sheeting, the stuff that once was routinely promoted as a vapor barrier. One reason is that it's difficult to seal polyethylene at penetrations, between sheets, and around electric boxes.
Hidden problem areas also include utility chases, fireplace surrounds, recessed light fixtures, holes for plumbing under tubs and behind showers, and scuttles for attic access. An air barrier has to be continuous in order for it to be effective, so overlooking these spots can undo a lot of hard work elsewhere.
A good resource for making sure all of these potential trouble spots are managed is the Energy Star Thermal Bypass Checklist Guide (https://www.energystar.gov/ia/partners/bldrs_lenders_raters/downloads/TBC_Guide_062507.pdf).
Include the air barrier in plans for the house
Designers who know the value of an air barrier will make sure it's noted clearly on the construction drawings that builders will use. Here's a test: Can you trace the air barrier around the perimeter of the conditioned space without lifting your pencil off the paper? That's a sign of thorough planning.
Next is to make sure that everyone working on the house knows the importance of maintaining the air barrier. Prebuilding confabs involving everyone on the team are an excellent way of making sure all the subs get it. Architects sometimes call these get-togethers "charrettes."
Plumbers and electricians are often blamed for boring holes haphazardly and creating a leaky building envelope. The chances of this happening are much lower when the GC explains how important the air barrier is.
This is not a problem exclusive to snow country
It may be tempting to skip all these details if you live in a part of the country where heating bills are low. In a leaky house in the humid south, however, the cool, conditioned air that's leaking out of the house will be replaced by hot, humid air from outside. That's a comfort and energy-loss issue.
Moreover, the moisture that the incoming air brings with it may condense on cool surfaces inside walls and ceilings. That may result in moisture problems, such as mold.
Don't forget the ventilation
One important caveat to building an airtight home: It will need a whole-house ventilation system. All that trapped air needs steady mixing with outdoor air in order to stay healthy for people to breathe. In an airtight house, builders typically do this with energy-recovery or heat-recovery ventilators. Both of these similar devices draw in fresh air and expel stale air through a core that exchanges either heat (an HRV) or heat and humidity (an ERV).
---
More on air barriers:
Previous:
Air Leaks: How They Rot Houses and Waste Energy
Next:
Evolving an Energy-Efficient Envelope