Tools & Materials
Self-stick WRB
A continuous, self-adhered housewrap like Henry Blueskin VP100 makes the job of renovating a leaky old house a lot easier.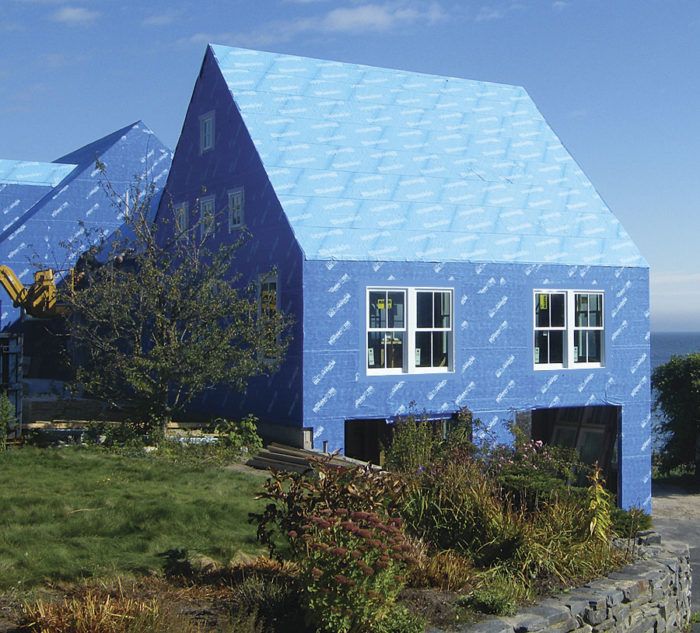 Even though some of my colleagues said I should tear it down, I decided to renovate the 150-year-old house I recently purchased for my family. After removing the aluminum siding, cedar shingles, and clapboards — yes, three layers — I needed a way to deal with the sheathing, which was made up of boards of various sizes installed in a less than ideal manner. The air leaks created by the many gaps between boards would really hurt the effectiveness of my wall insulation and would likely lead to cold spots where mold and rot could get a foothold.
To control air leakage without resheathing (which I considered), I covered everything with self-adhering Henry Blueskin VP100, which I had seen at a local trade show. To prevent compatibility problems, I used Henry products on the entire house: VP100 on the exterior walls, WP200 for below-grade locations, the company's butyl flashing for doors and windows, and its Crystal Clear sealant around penetrations.
The VP100 was easy enough to install, but it's definitely a two-person job because the adhesive backing does not come apart if you accidentally touch it to itself. Even though the wrap's backing is split in half for easier removal, it can be tricky to get started, even when you fold a corner and rub the material back-to-back as the manufacturer suggests.
We ran most of the VP100 horizontally because we were working off pump jacks, but on the last wall I decided to install the pieces vertically, which is much easier. With gravity in our favor, we rarely had a piece stick to itself. And because the manufacturer doesn't require any additional steps for vertical installations, this is how I plan to install it in the future.
Although it's significantly more expensive than conventional housewrap (62¢ per sq. ft. vs. 12¢ per sq. ft.), VP100 allowed us to retrofit an especially leaky home with an effective, vapor-permeable air and water barrier without resheathing.
Previous:
WRB FAQ (That's Water-Resistive Barrier)
Next:
Peel-and-Stick Drainable Housewrap