Automated Indoor-Air-Quality Sensors
The Overture system from Broan-NuTone monitors air quality and brings in fresh air when needed.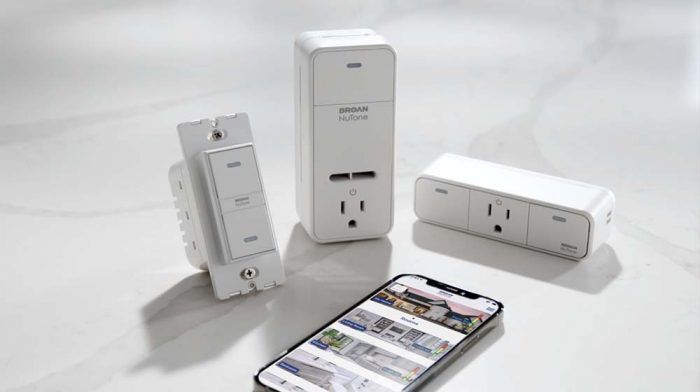 With the growing focus on building airtight homes for better energy efficiency, managing indoor air quality becomes even more important for homeowners. Cooking, breathing, showering, painting, vacuuming, and a host of other daily activities can add health-deteriorating pollutants to the air. Broan-NuTone's cloud-connected system Overture combats contaminants by monitoring the air in your home and turning on your home ventilation system when air quality is poor. It's designed to interface with Broan's balanced ventilation systems, as well as their supply-only fresh air systems.
Overture's system includes three parts: a room sensor, a wall control, and a smart plug. The room sensor monitors for particulate matter measuring less than 2.5 microns in diameter (PM2.5), which is microscopic debris that can travel deep into the lungs and cause serious health problems. The room sensor also measures total volatile organic compounds (TVOCs), humidity, temperature, and CO2. The wall control connects directly to ventilation fans and/or range hoods in rooms such as the kitchen, bathroom, and laundry room until air quality improves. To control whole-house ventilation with an ERV or HRV, the smart plug is powered by a standard outlet and has ports to connect low-voltage control wiring to tie into the home's ventilation system.
The Overture system is controlled via a smartphone app. It allows you to configure individual device features while also giving you an overview of your home's air quality. It breaks down sensor-by-sensor stats, provides historical data of the air quality in your home, and can be controlled by Amazon Alexa and Google Home.
The wall control has a price tag of $319, while the room sensor is $425. The smart plug is listed at $119. To monitor the air quality in your whole house, you'll probably need a few different room sensors, as well as wall controls near your kitchen and bathroom exhaust fans.
Photos courtesy of the manufacturer
---
RELATED STORIES:
Previous:
Simple Mechanical Ventilation System for a Small House
Next:
When is a House Tight Enough to Need Mechanical Ventilation?