Accurately Cut Miter Angles Without Using Measuring Tools
Carpenter Mike Stevens shows that the best way to cut mitered trim is to not measure miter angles at all.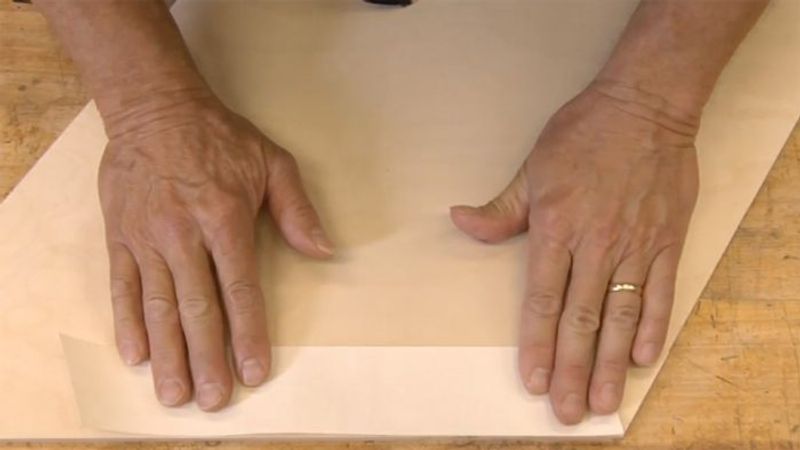 If you need to cut a mitered angle that's other than 90 degrees, you could hunt around for your protractor, but there's a better way.
Seasoned carpenters know that the best way to measure things is to not measure them at all. Try to figure out a way to not use a tape, or a protractor, or any other measuring device. Simply use the tools at hand, mark where you want to cut, and you eliminate a lot of problems.
Here's how Mike Stevens from Carlstadt, New Jersey (in the shadow of Giants stadium) does it. Mike likes to use adding-machine tape–we don't have any, but we do have some good-old-fashioned paper drywall tape, so that's what we're going to use to demonstrate this technique. Let's pretend the scrap of plywood we're using is a parallelogram-shaped panel for a stair-wainscot panel or something like that.
First we slide the corner of our tape up to our obtuse angle, and then we tape this to our panel to keep it in place. Now we take another piece of drywall tape with a nice pointy end on it and do the same on the other leg of the angle we're measuring. The key is to make sure that you're getting this right on the corner and right up against the edge. Next, we tape these two pieces together where they overlap–that's the important part of this technique.
Now, what we've got is a replica of this outside angle that we need to fold in half. Once that's folded in half, you can take the tape to your miter saw, put it against the fence, and swing the blade over the fold. You've just bisected the original angle.
This works every time whether it's an acute angle or an obtuse angle.
Mike, that's a great tip. Thanks for sending that in.
Previous:
Precision Caulking
Next:
Matching Paint-Grade Trim