Help for Solo Crown-Molding Installers
Use nails to support the weight of the crown molding when you don't have an extra pair of hands.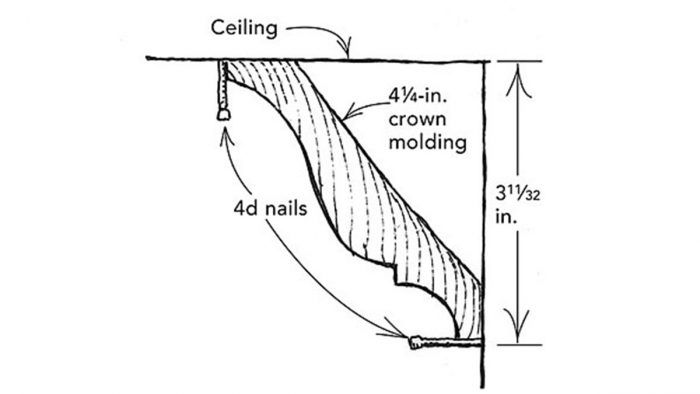 I recently installed 4-1/4-in. preprimed crown molding in my living and dining rooms. I was working by myself, so I needed a way to support and fit it together.
I measured down from the ceiling 3-11/32 in. and drove 4d nails halfway into the drywall, about every 4 ft. or so. These nails supported the weight of the crown molding. To lock the molding in place, I tapped a couple of nails into the ceiling, as shown in the drawing. Now I could go to the next wall, fit the coped joints, and temporarily support the molding in the same manner. Once I had all the crown molding fitted to my satisfaction, I nailed it to the walls and ceiling with an 18-ga. brad nailer loaded with 2-in.-long brads.
I then pulled out the 4d support nails and caulked the edges of the molding along the ceiling and wall with acrylic latex caulk. This filled any minor gaps in the trim and the holes from the support nails all in one process.
Otto Rhodes, Pueblo, CO
– Edited and Illustrated by Charles Miller
From Fine Homebuilding #173
Previous:
Hiding a Wavy Ceiling in Crown Molding
Next:
Installing Crown Molding around a Cathedral Ceiling