Hiding a Wavy Ceiling in Crown Molding
Scribe the top edge of the crown to accommodate a pronounced dip in the ceiling.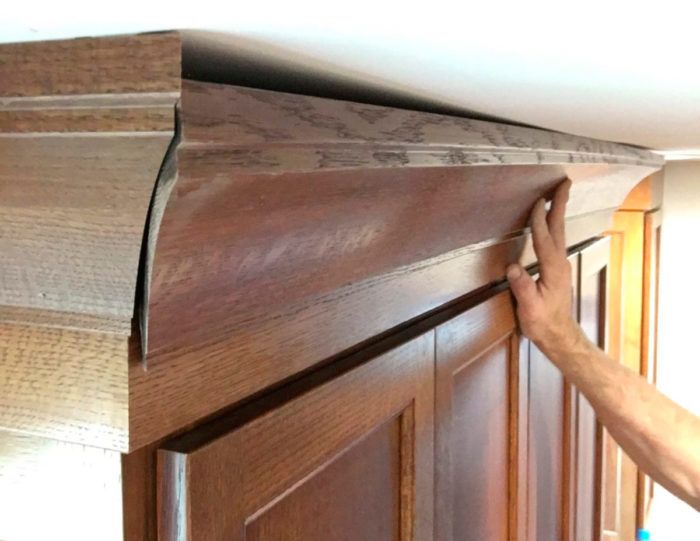 There are a number of different ways to install crown molding over a wavy ceiling. Bend the molding, feather the ceiling, split the difference, caulk it (if it's paint grade), or "let the painter deal with it."
I recently ran into this issue on a kitchen renovation. I had a fairly large dip over a short distance where feathering the ceiling just didn't make sense, so I decided to scribe the top of the crown. The profile had enough meat on the top edge to allow this to be done without being too noticeable, and it was also in a narrow hallway of the room so it would never be a direct focal point.
Marking the Scribe
Similar to scribing baseboard you're going to want to hold the crown molding level, keeping the reveal consistent between the bottom of the crown and top of the cabinetry. Push the molding up till you hit the lowest point of the ceiling. You'll see in the picture here that the dip is centered on the molding. Take your scribe tool of choice (I'm using FastCaps AccuScribe) and set it at the same distance between the ceiling and the top edge of the crown molding where it is farthest from the ceiling. Run the scribe tool along the entire piece of crown, creating a cut line.
Cutting the Scribe
I typically will run my molding through the table saw, but a coping or jig saw will work just fine. The key here is to make sure you are cutting at the same angle (or more) as the crown spring angle which is 45-degrees in my case. I set my table saw at 45-degrees and cut right up to the line, finishing off with a palm-sander.
Install the Crown
Now that the "ceiling relief cut" has been completed your install is standard practice. I use 18ga. brads to attach the crown molding to the cabinet soffit as well as into the ceiling blocking. Titebond II at the corners and PL Power Grab for extra insurance along the back edge at the ceiling.
If I were to deal with this issue again, adding the difficulty of smaller molding AND located in a direct focal point, I would split the difference; scribing the molding, as well as feathering out the dip as much as possible with joint compound. The goal is to make the dip less noticeable, don't draw attention to it by creating something funky.
TIP: If you haven't invested in Collins Tools Miter Clamps, do your self a favor and pick a set up. While you're at it, grab a carabiner to store them neatly.
IG @nsbuilders
Previous:
How to Install Crown Molding Alone
Next:
Help for Solo Crown-Molding Installers