How to Use Spring Miter Clamps
These spring-steel pincers simplify glue-ups of cabinet faces, trim, and other carpentry projects.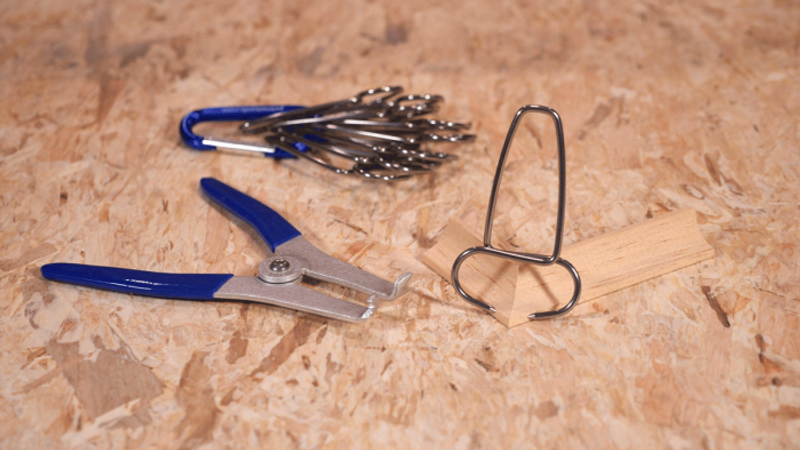 Spring miter clamps are a great tool for closing and holding miter joints tight during glue up. They're especially useful for small moldings and profiles where other miter clamps can't get a good hold. Watch this video to see how they work.
Spring clamps are made of spring steel, and come with special pliers that insert into each clamp to open the jaws to apply them to or remove them from the workpieces you're assembling. The clamps shown here, made by Collins Tool Co., have sharp points that stick into the workpieces, as do several other brands of woodworking clamps.
What you will need:
Spring miter clamps
Spring-clamp pliers (used to open and close the jaw of the clamp – often comes with the clamps)
Wood glue
Mitered workpieces
How to use a spring miter clamp:
To assemble a miter with these clamps, first apply glue to the joint and position the pieces.
Then use the pliers to open the jaws, and position the clamp.
When released, the pronged ends grab the wood as the spring tension closes the joint and holds it fast while the glue tacks up.
When only one clamp is used—as is often the case with small moldings—it should be centered on the depth of the miter. If you put the clamp too close to the points of the miter, the pressure can cause the back of the joint to open; the reverse happens when then clamp is positioned too far back. When multiple clamps are used, they should be positioned to equalize pressure along the joint's depth.
For miters with a longer reveal, use multiple clamps to close the joint, spacing them out to maintain even pressure along the length and depth of the joint.
The Collins clamps shown here come in just one size, but there are other options. For larger joints or where more pressure is needed, the spring miter clamps by Ulmia may be a better option, though they leave a slightly bigger hole, especially in softwoods.
More about spring miter clamps:
Video: Make a Simple Clamp for Perfect Miters 
Shop for the Collins clamps shown in the video
Shop for Ulima spring clamps, which come on multiple sizes
Note: Fine Homebuilding may earn a small commission for any purchases made through these Amazon links 
Previous:
Scribing Made Simple
Next:
Trim-Saving Pry Bar