In Favor of Wood-Fiber Insulation
Learn about the benefits, properties, and installation methods of this unique insulation developed in Germany.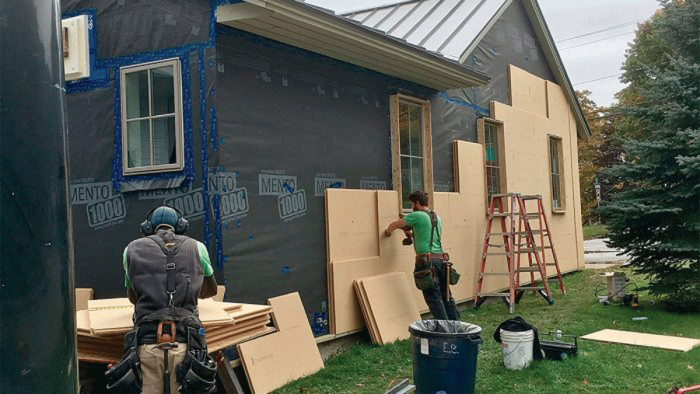 Synopsis: Contributing editor Michael Maines describes the introduction of wood-fiber insulation, first produced in Europe, to residential building. Wood-fiber insulation is made from softwood chips with either a wet or dry method, and the composition varies depending on the product type: batt, board, or blown. Maines explains the different applications and installation methods as well as the wood-fiber insulation products currently in the market, and their manufacturers and distributors.
---
What would you say if you were told that there is a type of insulation made from a renewable resource that performs well and is both water resistant and vapor-open? Plus, it doesn't make you itch, it has zero VOCs, and it has an exceptionally low carbon footprint compared to other insulation materials. You may have heard of wood-fiber insulation board—also called low-density fiber board (LDF)—but you probably haven't used it yet. Maybe you should.
The product was first produced in Europe in the 1930s, but it wasn't until the mid 1990s that it started to penetrate the market. Since that time, it has grown to become a small but significant part of the insulation market, and is starting to gain ground with environmentally conscious designers and builders in North America. Wood-fiber board makes use of softwood residual timber, and in Europe it competes with extruded polystyrene (EPS) rigid-foam insulation in price and performance. The imported products available in North America sell at a higher price point, but they are arguably within reason if you consider their features and benefits. Also, costs could drop if they were to be manufactured domestically. Currently, there is at least one company—Maine based GO Lab—looking to build a manufacturing plant in the U.S.
Composition
Wood-fiber insulation and cellulose insulation are made from the same raw material, but cellulose is newspaper, whereas wood fiber comes from softwood chips. According to GO Lab president Josh Henry and marketing director Matthew McConnell, the company is gearing up to produce wood-fiber insulation in a former paper mill in Madison, Maine. They describe the process of making it as similar to making paper. There are two ways to do it—the dry method and the wet method—and each results in a product with different properties. Similar processes are used to make medium-density fiberboard (MDF) and hardboard such as Masonite.
The wet method has been around longer and is more like paper-making: Wood chips and shavings are ground and mixed with water and binding additives, and the pulp is then compressed and dried. (The reclaimed water is used in the next batch and scraps are mixed back in with fresh pulp.) The result is relatively dense sheets up to 3⁄4 in. thick, though they can be laminated with water-based glues to make thicker boards.
For the dry method, the ground wood fiber is dried, then mixed with a pMDI (polyurethane) binder and paraffin wax for water resistance, compressed, and cured with steam and pressure. The result is a  wide range of available densities. This method uses up to 40% less energy than products made using the wet method.
The composition varies a bit between manufacturers, but even more so by product type: board, batt, or blown. Common dry-method boards such as Gutex Multitherm are 95% wood fiber by weight, 4% resin binder, and 1% paraffin wax. GO Lab is planning to make a batt, similar to those on the European market, containing approximately 85% wood fiber, a polyester binder, and ammonium polyphosphate (a common food preservative) as a flame retardant. The blown-in is usually composed of wood fiber and a flame retardant such as borate.
Properties
Depending on density and additives, wood-fiber insulation can be dry fibers for loose-blowing or dense-packing, batts for installation between framing members, rigid and semirigid boards used primarily for continuous exterior insulation, or rigid boards for insulating structural sheathing or flooring underlayment. The most common material in the U.S. is rigid insulation board, which is made using the dry method, with waxes and tongue-and-groove edges on all four sides. There are only two companies now supporting this market in North America: Gutex, sold exclusively by 475 High Performance Building Supply in Brooklyn, and Steico, sold by Global Wholesale Supply in Maryland. A similar product, available in limited quantities, is Agepan, sold by Small Planet Supply. Another company, MSL in Quebec, manufactures  wood-fiber board using the wet method to create sheathing that is structurally comparable to OSB but with far better insulating qualities.
The most popular of these products all come in manageable sizes, have tongue-and-groove edges on all sides, and have a paraffin-wax additive that sheds water while allowing the product to remain vaporopen, which many designers and builders consider to be a more resilient approach than continuous insulation like foam that blocks vapor flow.
Gutex and Steico both offer several other rigid boards in various densities, R-values, thicknesses, and edge styles; with varying levels of wax, depending on the need for water repellency. The commonly available types can remain exposed to the weather for several weeks, and the recommended details for all of them include taping flashing to the face of the insulation board. A feature of wood-fiber insulation that is often touted, especially in European advertising, is its high thermal-storage capacity, almost ten times more than mineral wool. That can be a benefit when the days are warm and sunny and the nights are cool, because heat stored in the wall assembly can slowly radiate to the interior.
One of the most exciting things about wood-fiber insulation is the size of its carbon footprint— it's miniscule. In Europe, it's carbon negative. According to Floris Keverling Buisman, 475 High Performance Building Supply co-owner, that's partly because only 3 in. are typically needed to achieve high levels of energy efficiency there, and largely because the FSC-certified wood content comes almost entirely from within 80 miles of the factory. Of course, the wood still needs to be dried, which uses energy. And when it's shipped to North America, its embodied carbon level climbs. But Floris has calculated that in many cases, it can still be a carbon-negative material, even with shipping.
Applications and installation
Wood-fiber insulation is available for almost any above-grade application, either as batts in framing lumber bays, loose-blown for attics, or as rigid board for continuous exterior insulation. Products are even available for slab insulation, though the insulation has to go above the slab. It can also go on the interior side of walls or roofs, and some types can be directly plastered over.
Fiber boards are usually installed over structural sheathing, but they are stiff enough to span studs or rafters if there is other lateral bracing. Due to their high compressive strength, they are easier to install on the exterior, using battens and long screws, than mineral wool or even most rigid foam, because they don't compress significantly. Also, because of the tongue-and-groove design, the joints between panels don't have to land over framing. Rigid board can be installed on the interior or exterior of  masonry buildings, though it should not be used for interior or exterior basement-wall insulation unless there is also an impermeable insulation layer to provide dew-point control.
Steico and 475 High Performance Building Supply both have documents showing a variety of installation details. Europeans tend to rely on acrylic tape for waterproofing more than U.S. designers and builders, and the installation details reflect that—the face of the insulation board is treated as the water-resistive barrier (WRB), with flashings taped to the insulation. However, there are some reports of wind driven rain getting through the tongue-and-groove joints, so for North American builders who are not comfortable relying on wood-fiber panels as their WRB, they can use structural sheathing behind the insulation as the airtight layer and as the location for a secondary WRB.
Regardless of whether the panels are used as the WRB or not, the most common products available in North America are all tongue-and-groove, and are installed horizontally with the tongue facing up to shed water.
Will Grupenhoff, co-owner of Global Wholesale Supply, says that in North America, woodfiber insulation board is almost always installed with rainscreen battens to create a rainscreen gap, though it is also possible (and common in Europe) to use the insulation board as a base for a stucco system. Albert Rooks, owner of Small Planet Supply, says that in colder and damper climate zones it's critical to include at least a 3⁄4-in. ventilated rainscreen—though 11⁄2 in. is safer—to allow walls to dry quickly, before mold or fungus can take hold on the wood-fiber board.
GO Lab claims its product will be able to stay exposed on roofs for up to ten weeks before ultraviolet rays degrade the paraffin's waterproofing properties.
Special considerations
The wet method of making wood-fiber insulation does not include the moisture-repelling wax, so a separate WRB is required. MSL has some products with a pre-adhered WRB.
Blown-in and batt wood-fiber products are not often used in the U.S., at least not yet, but Gutex and Steico offer those products (Gutex Thermoflex and Steico Flex), and GO Lab intends to as well. Formulations include a polyolefin binding agent and ammonium phosphate as a flame retardant. The specs for each are similar, R-3.9 to R-4 per in., which is equal to or better than most of the fibrous cavity insulation alternatives.
Blown-in fiber does not have synthetic binders or paraffin, but it does have about 9% ammonium salts as a flame retardant. The insulating value is R-3.6 to R-3.8 per in., similar to cellulose and higher performing blown fiberglass.
Wood-fiber board's sound attenuation is excellent—from 36 to 50-plus decibel reduction, depending on product and assembly. This is thanks to its high density, irregular airspaces, and interlocking, air-blocking tongue-and-groove joints.
Contributing editor Michael Maines is a design/build contractor in Palermo, Maine.
Photos by: John Deans, Emerald Builders, courtesy of Oliver Klein, 475 High Performance Building Supply, and courtesy of Global Wholesale Supply
From Fine Homebuilding #284
Previous:
"Warm and Fluffy" Insulation
Next:
Rigid-Foam Insulation